Nintendo has re-confirmed that no further major free updates or paid DLC are coming to Animal Crossing: New Horizons after November, following confusion and doubt from some Animal Crossing fans last month.
This news comes from a fresh statement provided to IGN this week by Nintendo of America clarifying the future update and DLC situation for Animal Crossing: New Horizons after the significant new content coming in November.
While the Animal Crossing Direct stated quite clearly that the Version 2.0 Update would be the 'last major free content update', the door was technically left open for more paid DLC content like the upcoming Animal Crossing: New Horizons — Happy Home Paradise expansion.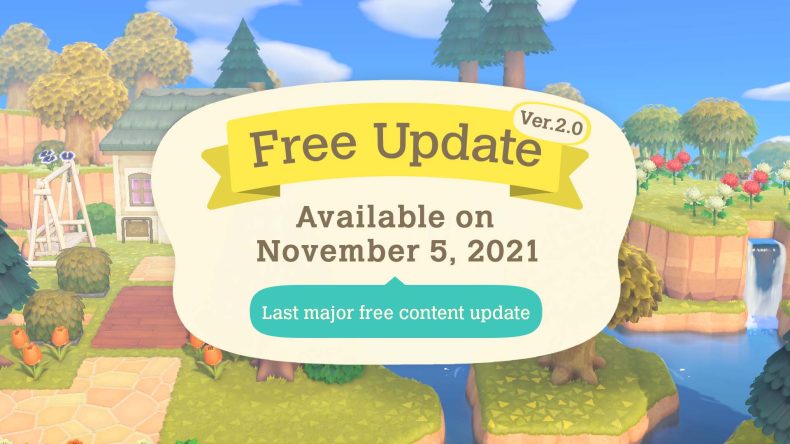 Initially, we were quite excited about the possibility of more content expansions being released next year in 2022, even if they would require a purchase — like for some multiplayer mini-games that are unfortunately still not available.
Later in the day after the Animal Crossing Direct broadcast though, it was revealed by IGN in a news article that Nintendo had privately confirmed to them that the company would only be supporting Animal Crossing: New Horizons with 'small changes' and no more major updates — without the specification of free. We extensively covered that information in a previous article.
However, after publishing that article, we received many comments and responses from readers across platforms expressing doubt that it could be true with some insisting that more paid DLC could be coming later and that IGN was either misunderstanding or lying.
To be honest, that was a pretty frustrating experience as the facts appeared pretty clear to us, but Nintendo has thankfully chosen to follow up with a new statement to IGN re-confirming the situation. That should hopefully resolve any remaining confusion on the topic that might have remained in the Animal Crossing community.
Here's the new direct statement from Nintendo explaining the future of Animal Crossing: New Horizons, provided by IGN with emphasis added by us:
The free update launching on Nov. 5 will be the last major free content update. We hope that players will continue enjoying their island life in real time and throughout the changing seasons. Animal Crossing: New Horizons – Happy Home Paradise introduces a new gameplay experience in which the player joins the Paradise Planning team and helps make their client's dream resort home become a reality.

It is a major update to Animal Crossing: New Horizons, and offers a distinguishing and different gameplay experience. Therefore, it made sense to include it as the first and only paid DLC for Animal Crossing: New Horizons.
Furthermore, IGN also quotes the following from a Nintendo spokesperson later in their article:
This is the last major free update and the paid DLC will be the only paid DLC for this title.
So based off these new statements, we can safely say for sure this time that all major support for Animal Crossing: New Horizons will be coming to an end after this year. It's certainly not an ideal outcome, but every game has to come to an end eventually for the next one to be developed. We'll just have to look forward to the next Animal Crossing game!
For more thoughts from us on what the future of Animal Crossing could hold including where the development team is going, background on the '3 years of updates' promise, and what future minor updates could entail — read our original article about this topic here.
Stay tuned to Animal Crossing World for everything on Animal Crossing: New Horizons, including our extensive Guides section here. Our most popular pages include Prepare For Version 2.0, 16 New Villagers, Happy Home Paradise DLC, Series 5 Amiibo Cards, Version 2.0 Update, Mushroom DIY Recipes, New November Critters, Redd Art, and Sea Creatures.