The newest Animal Crossing games like Animal Crossing: New Horizons don't celebrate anything on July 4th, but there was an Independence Day event back on the GameCube version of Animal Crossing! Let's take a look back today at what this long forgotten event had to offer.
Although we're referring to the event as Independence Day, it's interesting how Animal Crossing for GameCube is intentionally vague about what its celebrating. Despite clearly being held on July 4th every year in game, the event is officially referred to as the Fireworks Festival with a rather suspicious reason for celebration.
According to The Bulletin Board near the houses, the Fireworks Festival is to commemorate the anniversary of the opening of the town Train Station, not any sort of Independence Day or other American holiday!
Just like the bulletin message says, you can find plenty of fireworks, fun, and food down by the town lake from 7PM to 9PM on July 4th. Well, maybe not food. Since Animal Crossing on GameCube used more of a top-down camera approach rather than the rolling world we have now, you can't actually see the fireworks in the sky directly.
Instead, the game take advantage of that top-down view by using the lake's waters as a canvas for fireworks reflections! All throughout the lake acre, you can find beautiful fireworks reflecting on the water as the world's environment lights up with them.
A few of your town's villagers can be found surrounding the lake enjoying the fireworks and taking part in the festivities as well, like Mitzi in the screenshot below.
Like any good salesman, Crazy Redd is ready to take advantage of a holiday opportunity by opening a fancy booth next to the lake during the Fireworks Festival.
You can buy many different varieties of Pinwheels from him to celebrate the event including:
Yellow Pinwheel
Red Pinwheel
Tiger Pinwheel
Green Pinwheel
Pink Pinwheel
Striped Pinwheel
Flower Pinwheel
Fancy Pinwheel
Each Pinwheel from Crazy Redd sells for a surprisingly reasonable 680 Bells and you can purchase multiple varieties if you speak to him again.
In addition to the Pinwheels from Redd, you can get another celebratory item from the town mayor Tortimer if you hunt him down usually in a nearby acre.
After a brief talk about how the Fireworks Festival commemorates the day that the very first train stopped at your town's Train Station, he gives a special Bottle Rocket furniture item you can place in your house. Don't worry though, it's not functional!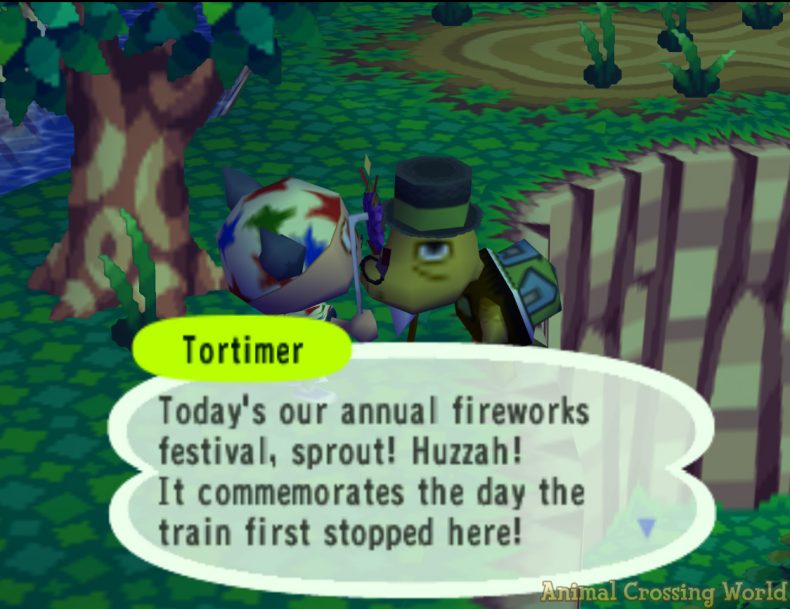 Here's a screenshot of the Bottle Rocket in Animal Crossing for GameCube, as much like many other holiday items from the game, there's little to no information or photos on the internet for it:
Anyway, that pretty much wraps up the entire Independence Day on July 4th event in Animal Crossing for GameCube! It's always fun looking back on the classic Animal Crossing games and giving them a well deserved highlight.
The GameCube Fireworks Festival is the only Animal Crossing event that actually takes place directly on the Fourth of July, but you can get the same taste of fireworks in Animal Crossing: New Horizons later this year in August! Other recent Animal Crossing games such as New Leaf feature fireworks during August as well.
Stay tuned to Animal Crossing World for everything on Animal Crossing: New Horizons, including our extensive Guides section here. Our most popular pages include Bug-Off Event, New In July 2021, New July Creatures, Upcoming Seasonal Items, UNIQLO Clothing, Sanrio Villagers & Items, Sanrio Amiibo Cards, Redd Art, and Sea Creatures.