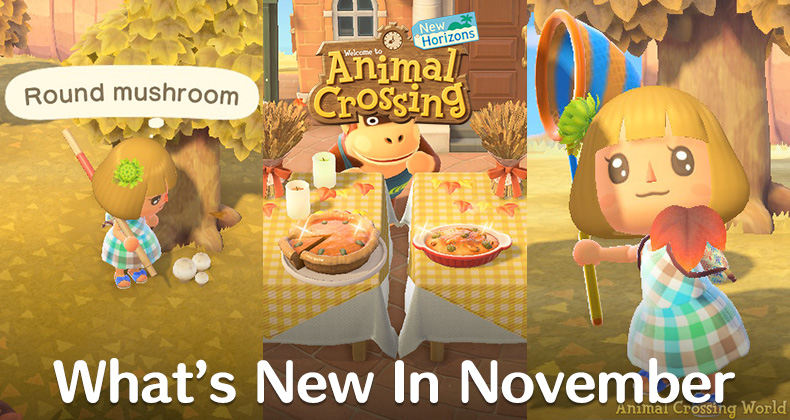 With the Halloween season past us, November has arrived in Animal Crossing: New Horizons bringing a fresh batch of new seasonal content throughout the month for the late autumn season!
In this article, we'll cover absolutely everything new or noteworthy to enjoy during November 2022 in Animal Crossing: New Horizons including events, limited time seasonal items, new creatures to catch, and more.
Article Contents
Mushroom Items & DIY Recipes (All November)
Straight the month off strong, a new set of Mushroom seasonal crafting materials and recipes are available to enjoy throughout November in the Northern Hemisphere! All month long, you'll be able to find and collect five different types of Mushroom items across your island to craft new Mush and Forest themed items.
Specifically, the five types of Mushrooms will spawn around random trees on your island for picking up. Each day, take a tour around your island and pick all the Mushrooms you can spot for crafting later!
Helping you to get started, either Isabelle or Tom Nook will unlock the Mushroom Wreath crafting recipe during their morning announcements near the start of the month if you don't have it already.
You can then unlock more Mushroom DIY Crafting Recipes to create autumn items by shooting down flying balloon presents across your sky during November, such as the Mush Log, Mush Parasol, Mush Table, Mush Umbrella, and more.
Mushroom DIY Crafting Recipes & How To Get Them
Perhaps the most coveted Mush item though is none other than the Mush Lamp. A lamp made out of mushrooms might not sound very exciting at first, but the item features a beautiful glowing effect at night AND can customized into five different glowing colors!
When you finally get the Mushroom Lamp DIY from r/AnimalCrossing
By the way, the seasonal Acorn & Pine Cone materials introduced back in September with DIY Crafting Recipes are still available during November. However, this will be the last month for them, so make sure you have everything you need before November ends with our Acorn & Pine Cone DIY Crafting Recipes Guide.
Acorn & Pine Cone DIY Crafting Recipes
Unfortunately for Southern Hemisphere players, there's not much new going on for seasonal materials and items this month. Likewise with the Acorns & Pine Cones in Northern islands, the Young Spring Bamboo Materials & DIY Crafting Recipes including the musical Pan Flute are still around until the end of November.
Maple Leaf Items & DIY Recipes (November 16th to 26th)
But wait, there's more! During the month of November, the Northern Hemisphere actually gets a second set of seasonal materials and crafting recipes to enjoy with the Maple Leaf!
Maple Leaves will float down from the sky across your island during November 16th to November 26th (same dates in all years) in Animal Crossing: New Horizons — look for them in the sky and catch one with your net.
In terms of mechanics, they're very similar to Cherry Blossoms found during the Spring due to their floating in the air and limited time nature since Maple Leaves are also available for only 10 days. Remember the panic of getting everything in the Spring? Here we go again!
Maple Leaf DIY Crafting Recipes & How To Get Them
You can use the Maple Leaves you catch during this period to craft special autumn items with Maple Leaf DIY Crafting Recipes, which are obtained by shooting down balloon presents during the period of November 16th to November 26th. These items include the Maple-Leaf Pochette, Maple-Leaf Umbrella, and more.
Handheld Lantern Seasonal Item
The Lantern Festival seasonal event is celebrated in Animal Crossing: New Horizons from November 1st to 11th in 2022. These dates are the same for every other year as well.
During this time, players can pick up the special Handheld Lantern item for 1,100 Bells from the Seasonal tab of Nook Shopping's Special Goods section. The Lantern Festival seasonal event is based on the real-world St. Martin's Day holiday in Europe!
Best of all, there's six different item variation designs for the Handheld Lantern including Stars, Moons, and Stained Glass — check them all out below:
Here's the official event description from Nintendo:
Celebrated throughout Europe, this traditional event features a night of children carrying lanterns and singing songs to usher in the start of winter.
Chitose Ame Seasonal Item
Another seasonal event taking place later during November in Animal Crossing: New Horizons is the Shichi-Go-San event with a new item! It's celebrated from November 11th to 20th in 2022, as well as during every other year.
For this event, which celebrates the Japanese Shichi-Go-San holiday where rituals are held for girls aged 3 and 7 or boys aged 3 and 5, you can find the Chitose Ame item available in Nook Shopping from November 11th to 20th.
Here's the official event description from Nintendo:
Mainly celebrated in Japan, this holiday honors children ages three, five, and seven. Long candy sticks called chitose ame are given to the children, along with the hope that they all live long lives.
Turkey Day Thanksgiving Event
Towards the end of the month, we can look forward to the latest holiday event in Animal Crossing: New Horizons as your island celebrates Turkey Day for American Thanksgiving!
Taking place on November 24th in 2022 (2021: Nov 25th; 2023: Nov 23rd), the Turkey Day event brings special character Franklin to your island for a delicious feast at Resident Services! With your help gathering ingredients, you can complete numerous dishes for your villagers to enjoy.
Turkey Day Thanksgiving Event Guide: Ingredients, Recipes, Rewards
By participating in this event and assisting Franklin in his feast, you can earn exclusive items like the Turkey Day Rug and Cornucopia. Many new recipes can be unlocked as well, such as for the Turkey Day Hearth item.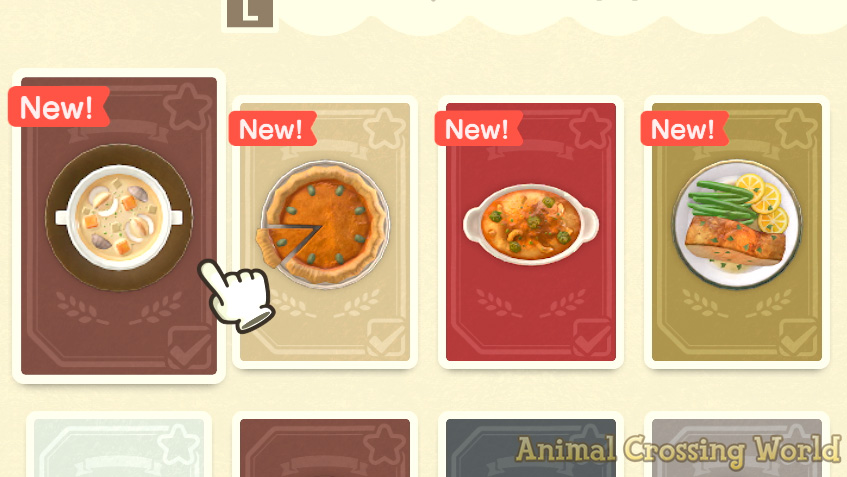 Plus, newly added in the Version 2.0 edition of this event in late 2021, you can unlock four special Turkey Day cooking recipes matching the dishes found in the event. If you haven't played since before then, don't miss out on these new additions.
Overall, we consider Turkey Day to be one of the game's best holiday events with a great pair of fun gameplay elements and solid number of quality rewards to collect.
For more details on Turkey Day in Animal Crossing: New Horizons, check out our complete guide here including recipe ingredients and rewards!
New Holly Bushes Begin Blooming
Islands in the Northern Hemisphere are saying goodbye to the Tea Olive bushes on November 1st and saying hello to a brand new type of blooming bush– the Holly Bush!
This simple holiday bush blooms across our islands during the holiday season from November 1st all the way until December 31st after Christmas passes.
While we love having the Holly Bush for the festive occasion, it starts a little early in our opinion and the middle of November would be a lot nicer. We're not really looking forward to having nothing but Holly for two months.
Bush Types & Colors List, Blooming Season Dates
Unlike the other types of bushes in Animal Crossing: New Horizon though, the Holly Bush doesn't come in any color variations — there's just one.
Don't have any Holly Starts to plant yet? Be on the lookout for Leif selling shrubs outside of Resident Services on your island soon as he'll always sell the currently in season type of bush, so you're guaranteed to find Holly Bushes for sale when he arrives!
Finally, in the Southern Hemisphere, the Azalea Bushes will continue to keep blooming during the Spring season up until the end of November. They'll be replaced by Hydrangea Bushes afterwards.
New Bugs, Fish, and Sea Creatures To Catch
Just like any other new month in Animal Crossing: New Horizons, the rotation of bugs, fish, and sea creatures currently available to catch on your island have been switched around for November beginning today.
Most notably for those who love to hunt down the most menacing of dangerous bugs, the Tarantula and Scorpion have been swapped. That means players in the Northern Hemisphere will now see Tarantulas again, and Southern players will meet the Scorpion again. Watch out!
New Bugs, Fish, Sea Creatures In November
Other major changes in the Northern Hemisphere include the arrival of three big high value fish with the Blowfish, Tuna, and Blue Marlin all found in the ocean during November.

On the Southern Hemisphere side, players will find more new Spring creatures popping up around their island including butterflies like the Great Purple Emperor and beetles like the Rosalia Batesi Beetle.
For a complete list of New Bugs, Fish, and Sea Creatures to catch in November for both hemispheres, check out our complete guide here!
---
That's just about all of the exciting new things to enjoy during the month of November in Animal Crossing: New Horizons! Let us know in the comments below what you're most looking forward to or enjoying on your island during this month.
Stay tuned to Animal Crossing World for everything on Animal Crossing: New Horizons, including our extensive Guides section here. Our most popular pages include What's New In November, Redd Art, Mushroom DIY Recipes, Maple Leaf DIY Recipes, Turkey Day Event, November Critters, Bush Types & Colors, Villager Houses, Sea Creatures, K.K. Slider Songs.