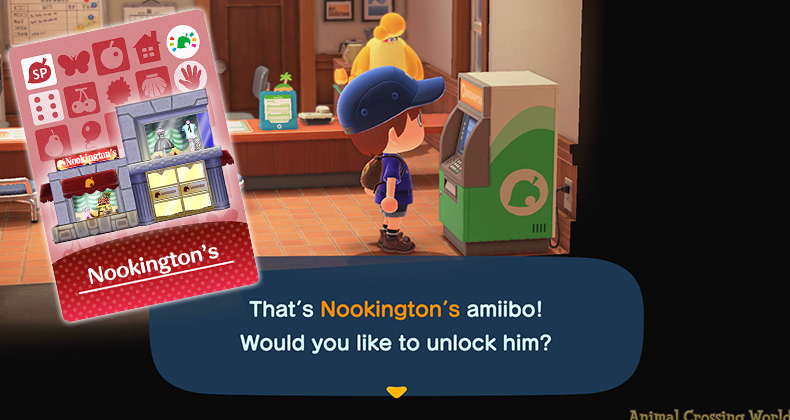 Addressing fan disappointment after the end of support for Animal Crossing: New Horizons in 2021, Nintendo has just announced a sixth series of Animal Crossing Amiibo Cards with the aim of finally finishing the game this year.
The upcoming Series 6 Animal Crossing Amiibo Cards are planned to consist of 25 new cards that can be scanned into Animal Crossing: New Horizons unlocking new features and content that fans have been missing and hoping would be introduced in future updates.
Perhaps the most notable and shocking new card that Animal Crossing players will find in Series 6 is the Nookington's amiibo card! After scanning this very special card, the Nookington's villager will join the randomly selected pool of villagers that can be found when visiting mystery islands with Nook Mile Tickets.
After a few hundred attempts of using Nook Mile Tickets, players will eventually find a walking and talking Nookington's shop building on a mystery island, who can be spoken with allowing Nookington's to move onto the player's home island!
When Nookington's moves in to your island, the Nook's Cranny shop run by Timmy and Tommy can finally be upgraded into an expanded third tier store with many more items for sale, like in past Animal Crossing games.
Please note that in an attempt to prevent fraud, visitors from other islands online will be subject to an amiibo card scan check upon entering Nookington's to ensure players cannot enjoy the upgraded store without owning their own copy. Nook Inc takes strong measures to ensure that only paying customers receive the company's best products and services!
Another exciting new Series 6 addition that we can look forward to is the Toy Hammer amiibo card. After obtaining the Toy Hammer item from scanning the card, a special new Tortimer's Island filled with multiplayer mini-games to play with your friends can be unlocked under specific conditions!
Players must board the boat from Kapp'n at their dock, equip the Toy Hammer item, wait until the 7th line of his song, swing the Toy Hammer in the western direction twice, swing in the southeastern direction three times, and finally hit Kapp'n on the head once. This will cause Kapp'n to come to his senses and sail you to the multiplayer mini-games island!
The Kapp'n sequence is somewhat similar to the procedure required to make Redd's boat appear in early versions of Animal Crossing: New Horizons, as we broke the news on Twitter back in 2020:
https://twitter.com/ACWorldBlog/status/1265764777894113280
Where To Buy Series 6 Amiibo Cards
Available through an exclusive partnership with retail chain Target, the Series 6 of Animal Crossing Amiibo Cards will only be available at a single handpicked Target store located in rural Nebraska. Nintendo provided the extensive map below in a press release outlining all of the different North America locations where Series 6 can be found.
After extensive consultation, this was determined to be the best way of delivering new content to all Animal Crossing fans by building on the successful launch of Sanrio Animal Crossing Amiibo Cards in spring 2021.
https://twitter.com/ACWorldBlog/status/1375431532437995526
Well, that's all we know about the upcoming Series 6 amiibo cards so far. As of press time, pre-orders for the Series 6 Amiibo Cards could be found on eBay.com with bidding starting at $22,341 per pack — have a great April Fool's Day everyone! (special thanks to Animal Crossing QR Designs for amiibo card asset)
Stay tuned to Animal Crossing World for everything on Animal Crossing: New Horizons, including our extensive Guides section here. Our most popular pages include Redd Art, Cherry Blossom Petals, Young Spring Bamboo, Bunny Day Event, New April Critters, Prom Season, Bush Types & Colors, Villager Houses, Sea Creatures, K.K. Slider Songs.