September 2023 has arrived in Animal Crossing: New Horizons with the beginning of Autumn season bringing plenty of seasonal content to discover on your island!
In this article, we'll cover absolutely everything noteworthy to enjoy during September 2023 in Animal Crossing: New Horizons including events, limited time seasonal items, new creatures to catch, and more.
Article Contents
Autumn Acorns & Pine Cones / Young Spring Bamboo
The most significant new seasonal content to enjoy in Animal Crossing: New Horizons during September is a changeover of seasonal materials and DIY Recipes! After 3 long months of finding Summer Shells on the beach, players in the Northern Hemisphere can enjoy new Acorns and Pine Cones dropping from their island's trees.
Specifically, you can now shake your traditional hardwood trees for a chance of dropping Acorns and the tall cedar trees for a helping of Pine Cones. By shooting down flying balloon presents across your sky, a fresh batch of autumn seasonal DIY Crafting recipes can be collected for using those new materials.
These seasonal DIY Crafting recipes using Acorns & Pine Cones include the lovely Acorn Pochette accessory, the decorative Yellow-Leaf Pile, and the Tree's Bounty Little Tree furniture! Check out our Acorn & Pine Cone DIY Crafting Recipes Guide for everything you need to know.
Additionally, if you haven't played since the major Version 2.0 Update released in November 2021, a new Acorn Rug item has been introduced.
Acorn & Pine Cone DIY Crafting Recipes
As for our friends in the Southern Hemisphere, they can now experience the  Young Spring Bamboo crafting material and recipes exclusively available during the Spring season now that the Winter has passed! Chopping bamboo trees with an axe can randomly drop special Young Spring Bamboo instead of regular Bamboo.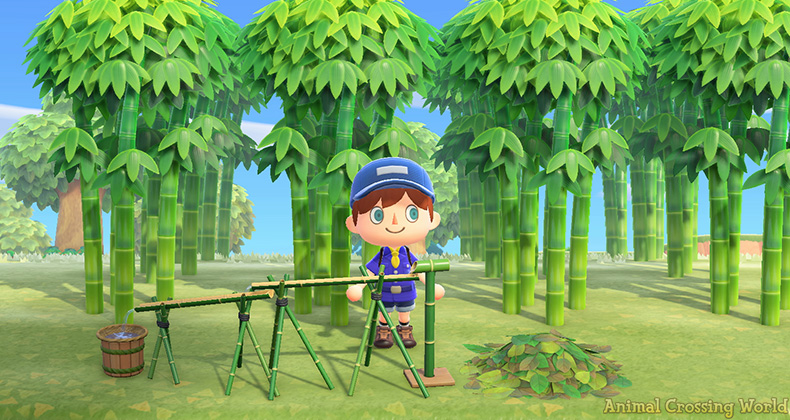 Exclusive DIY Crafting Recipes belonging to the Young Spring variety of Bamboo includes the musical Pan Flute, the comfy Light Bamboo Rug, the bright Bamboo-Shoot Lamp, and the decorative Bamboo Noodle Slide. Check out our Young Spring Bamboo DIY Crafting Recipes & How To Get Them Guide to learn everything there is to know!
Young Spring Bamboo DIY Crafting Recipes
So no matter which Hemisphere you play in, there's fresh seasonal content to enjoy this month in Animal Crossing: New Horizons as we enter either the Autumn or Spring season!
Grape Harvest Festival Seasonal Item
The Grape Harvest Festival seasonal event is celebrated in Animal Crossing: New Horizons for entirety of September from September 1st to 30th. These dates are the same for every other year as well.
During this month, a special Grape-Harvest Basket item is available to grab from Nook Shopping in the Special Goods section. This is a pretty noteworthy item as it serves as a rare backpack accessory that's far more useful for wear than yet another food furniture item to store away!
Here's the official event description from Nintendo:
Inspired by festivities in Spain, Italy, France, and Germany, this fun festival sees participants don traditional garb for dancing and a large parade to celebrate the grape harvest. Please enjoy your ceremonial basket!
Be sure to wear a Grape Hat with your Grape-Harvest Basket to complete the look!
Moon-Viewing Day Seasonal Items
Another seasonal event taking place during September in Animal Crossing: New Horizons is the Moon-Viewing Day event with a trio of items! During 2023, it'll be held from September 20th to 29th, but the exact dates can vary by year. (2022: Sep 1st to 10th; 2024: Sep 8th to 17th)
The Moon-Viewing Day seasonal event in Animal Crossing: New Horizon offers three limited-time items:
Moon Rug
Moon Cakes
Dango
That Moon Rug item has always been a favorite of ours as it can go a long way to making your flooring setup look quite impressive, but the Moon Cakes and Dango are great food items too.
Be sure to pick up all three items from the Special Goods section of Nook Shopping during the event period to celebrate this moon holiday.
Chuseok Seasonal Item
The final seasonal event of the month can be celebrated in Animal Crossing: New Horizons from September 20th to 29th in 2023 — the same dates as Moon-Viewing Day! (2022: Sep 1st to 10th; 2024: Sep 8th to 17th)
For this Korean event, the Songpyeon item can be purchased from Special Goods section of Nook Shopping for a limited time. Unsurprisingly, this is another food item to place on your kitchen table!
In Korea, Chuseok is celebrated as an autumn harvest festival holiday — not too dissimilar from Thanksgiving in other countries.
New Bugs, Fish, and Sea Creatures To Catch
Just like any other new month in Animal Crossing: New Horizons, the current selection of bugs, fish, and sea creatures available to catch on your island has been rotated starting today. But since September marks a major season change from Summer to Autumn or Winter to Spring, it's a more substantial switchover than usual.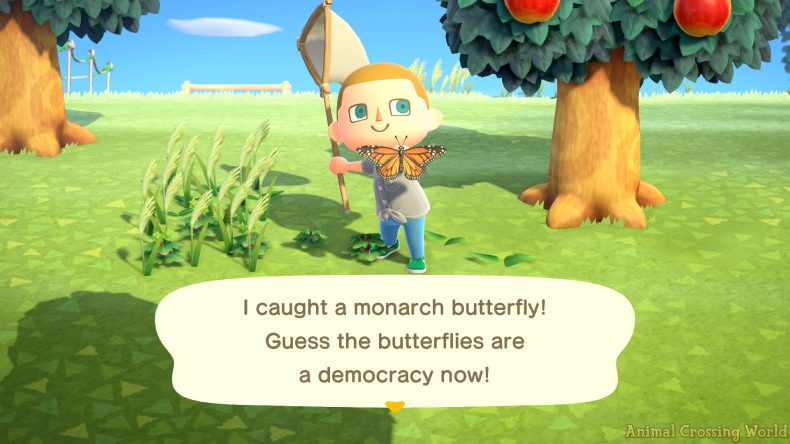 Some of these critter changes are simply returning creatures that disappeared for a few months, while others are brand new and haven't been seen for many months since the spring or earlier.
New Bugs, Fish, Sea Creatures In September
On the Northern Hemisphere side, keep an eye out for the Pike, Cherry Salmon, King Salmon, Monarch Butterfly, and Red Dragonfly especially. For the Southern Hemisphere, you'll want to look out for the Tadpole, Loach, Peacock Butterfly, and Honeybee in particular.
For a complete list of New Bugs, Fish, and Sea Creatures to catch in September for both hemispheres, check out our complete guide here!
Final Bug-Off Event For 2023
The final Bug-Off event of the Summer season in 2023 will take place on September 23rd, 2023. (2021: Sep 24th; 2024: Sep 28th) During this event, special character Flick visits your island hosting a competitive tournament where you can compete to catch the most bugs under a three minute timer!
Depending on how many bugs you can manage to catch, Flick will award you a number of event points. These points can be exchanged for a variety of bug-themed prizes like the Butterfly Backpack, Ladybug Umbrella, and Spider Web.
Sadly, there aren't any new Bug-Off prizes to collect if you have them already from previous iterations though, so this event has little to offer for veteran players who already experienced everything previously.
Tea Olive Bushes Bloom In Northern Hemisphere
One last minor change you can look forward to during late September is a change to the seasonal bush rotation. Starting on September 21st, the Tea Olive Bushes on your island will begin to bloom as the Hibiscus flowers disappear with the Summer season.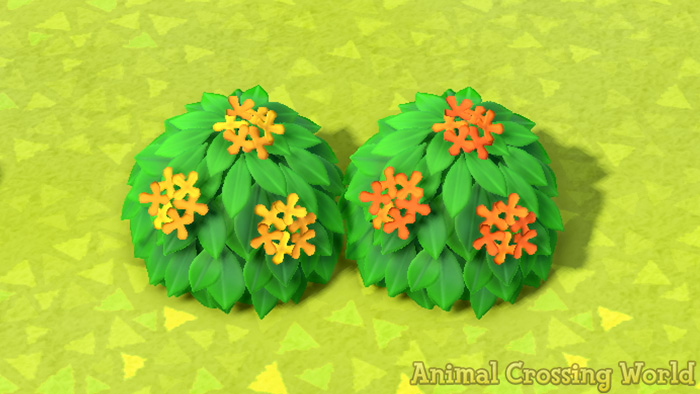 This is a relatively short-lived change though lasting for only just over a month until the Holly Bush arrives in November. Learn more in our Bush Types & Colors List + Blooming Season Dates guide.
Fall Island Decoration Changes
You'll begin to encounter quite a few visual changes throughout Animal Crossing: New Horizons as we transition between seasons this month. Some of these are more pronounced for Northern Hemisphere players coming into Autumn, but changes are abound for everyone in September!
Perhaps most interesting, the entire storefront of the Nook's Cranny building has received an Autumn makeover in the Northern Hemisphere with pumpkins and mushrooms on display by the windows. Plus, even more decorations can be seen on the inside on the walls and shelves! Timmy & Tommy are certainly getting into the season.
You'll find that the design of weeds have been changed with the season as well, not to mention the minor yet cute touch of the game's loading screen island icon changing to the new season.
And of course, we'll begin to see the island grass slowly transition into a browner, autumn aesthetic later in the month.
---
Stay tuned to Animal Crossing World for everything on Animal Crossing: New Horizons, including our extensive Guides section here. Our most popular pages include Redd Art, Acorns & Pine Cones DIY, Bug-Off Event, September Creatures, Bush Types & Colors, Villager Houses, Sea Creatures, K.K. Slider Songs, New Items In 2.0, Series 5 Amiibo Cards.