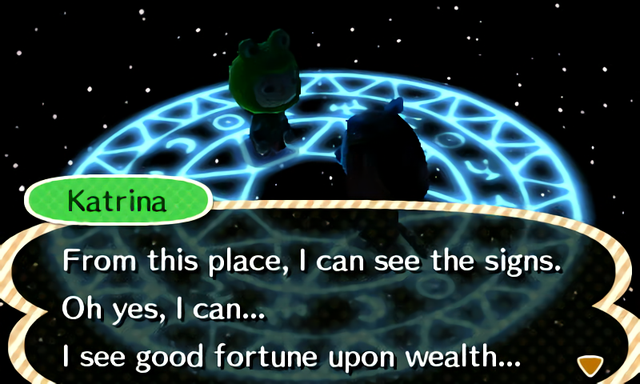 The weekly Lucky Item Initiative mission in Animal Crossing: New Leaf Welcome amiibo can be confusing to understand, so here's how to fulfill its requirements and complete this initiative.
The initiative's description:
You'll need a little luck to complete this initiative. A lucky item, that is. Wear today's lucky item for your sweet coupon reward.
If you're not well-versed in Animal Crossing: New Leaf, you might not know what today's lucky item means and the description doesn't offer any explanation. The lucky item of the day is a specific item or type of item determined daily at midnight each day. When the item is worn, you will experience great luck during that day.
To discover the current daily lucky item, speak to Katrina and ask for your fortune. If you have unlocked Katrina's Fortune Shop on Main Street, you can simply visit her there. Otherwise, you will need to be lucky enough to have her visiting your town currently. Travelling to a friend's town can work as well.
When visiting Katrina isn't possible, your final option is to locate the Lovely Phone furniture item, place it in your house, and interact with it. The Lovely Phone will tell you the current lucky item in detail, as well as other luck-related information.
Once you've learned the current daily lucky item, try to locate it and wear it on your character to finally complete the Lucky Item Initiative. Enjoy those MEOW Coupons!