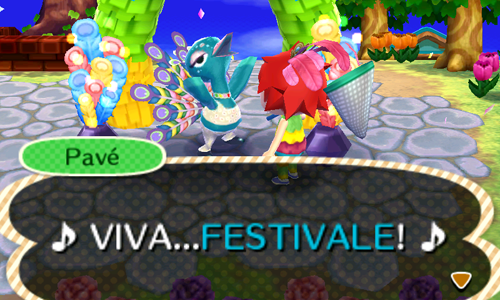 Festivale is a spring holiday event in Animal Crossing: New Leaf taking place on February 15th in 2021 throughout the entire in-game day. Gather colorful feathers for Pavé the Peacock to receive exclusive Pavé series event furniture!
UPDATE: Looking for the Animal Crossing: New Horizons version of Festivale? Check out our Festivale Event Guide: Feathers, Rewards, Activities for New Horizons here!
How to Play Festivale
To start participating in Festivale, head to the town tree plaza during the event day (February 15th in 2021, February 28th in 2022) to meet Pavé the Peacock. You'll notice the sky is raining feathers and confetti — no rain or snow today!
Speak with Pavé to receive his instructions for three feathers of a specific color he wishes for you to collect. Bring back all three of his requested feathers and he'll give you a special prize from his furniture set! The possible colors are Red, Yellow, Green, Blue, Pink, Purple, White, and Rainbow. (he won't ask for the last one)
How to Collect Festivale Feathers
The best way to collect feathers during Festivale is to just wander around town looking for the correct feathers falling in the air among-st the plentiful confetti. When you spot one in the air, just equip your bug catching net and swing it!
If you're having trouble finding the right feathers, you can try chatting with your villagers. If you're lucky, they'll offer you feather trades to help you get the color you need. Various games like Rock-Paper-Scissors can be played too, getting you a feather if you win, and taking a feather from you if you lose.
Sometimes you'll get super lucky and spot an ultra rare Rainbow Feather in the air. Catch it and you can give it to Pave for an easy guaranteed piece of his furniture without collecting three feathers — no matter which color is being asked for!
Change Pavé's Requested Feather Color
If you're having a really difficult time getting the specific color of feathers Pave is currently requesting, there is a cheat you can try. Simply save and quit the game back to the title screen, and load back into the game again to find Pave to reset the feather color he is requesting. However since this is random, you could get unlucky and have him asking for the same color twice in a row.
You can also drop extra feathers you don't currently need onto your town plaza's floor to make room for more important feathers, and pick them up later when they are needed. Trading with friends online is possible too.
Pavé Series Furniture Rewards
Every time you successfully collect and give Pave three of his requested color feathers (or one Rainbow Feather), he will reward you handsomely with a random item from his exclusive Pave Series furniture set! Since they are distributed randomly, Pave will unfortunately often give you duplicates, although you can always reset the game in hopes of getting a better piece of furniture.
On the bright side though, almost all of your duplicates can be sold for a solid 12,000 Bells at Re-Tail. Don't forget to try trading with friends online too if you can.
Here is a list of every item in the Pavé Series:
Pavé Bed (12,000 Bells)
Pavé Bookshelf  (12,000 Bells)
Pavé Bureau (12,000 Bells)
Pavé Chair (12,000 Bells)
Pavé Chest (12,000 Bells)
Pavé Clock (12,000 Bells)
Pavé Closet (12,000 Bells)
Pavé End Table (12,000 Bells)
Pavé Lamp (12,000 Bells)
Pavé Sofa (12,000 Bells)
Pavé Table (12,000 Bells)
Pavé Wall (1,800 Bells)
Pavé Floor (1,800 Bells)
The Pavé Series items are completely exclusive to the Festivale event and cannot be obtained any other way, including ordering through the catalog. Hang onto them if you can!
Festivale Clothing and Feather Accessories
During Festivale, and the in-game week preceding it, the special Festivale attire can be found in the Able Sister's Shop on Main Street! Prior to Festivale, one item will appear at a time and on the big event day the entire set will be available. Note that these are not required at all to participate in the event.
The Festivale Clothing set consists of the Festivale Tank, Festivale Tank Dress, Festivale Pants, and Festivale Accessory. They can be re-ordered in the catalog outside of the event period too.
It is worth noting that the feathers you collect during Festivale can be worn as cute accessories in your character's hair too, so you may wish to keep a few away from Pavé for your own safe keeping.