Leaf Tickets are the premium currency of Animal Crossing: Pocket Camp on iOS and Android and are the gateway to a bunch of exclusive items, and most importantly to buying your favorite new fortune cookies.
Despite being a premium currency that costs money, there's a surprising amount of different ways to get free Leaf Tickets! We're going to outline the five best methods of how to get Leaf Tickets for free in Pocket Camp, so read on.
1. Complete Every Stretch Goal
The first thing you should do when looking for free Leaf Tickets is to check your Stretch Goals screen, found by tapping the Isabelle icon in the top right of Pocket Camp. If you're new to the game, you almost certainly have a long list of uncompleted goals.
Even those more experienced with Pocket Camp likely have a few leftover Stretch Goalsyet to be completed, so it's worth a look. Some new goals have been added in various updates over the past year too, so it's especially worth looking if you haven't played in a while.
2. Answer Surveys with Google Opinion Rewards
It's a good idea to think outside of the box sometimes, so why restrict ourselves to methods inside Pocket Camp? There's numerous apps out there that can help you get free Apple iTunes gift cards or free Google Play Store credit which can then be used to purchase Leaf Tickets for free in Pocket Camp.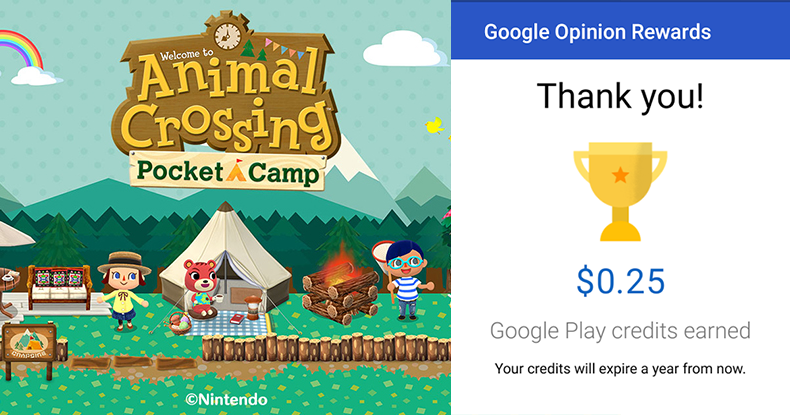 Our top favorite of these apps is Google Opinion Rewards, a rewards program operated by Google itself so you can trust that it's fully legitimate. By completing very short surveys sent to you on your smartphone, you'll receive either direct Google Play Store credit on Android or actual money deposited into your PayPal account on iOS.
And by short, we mean less than 15 seconds most of the time! Granted, they pay an appropriately low amount for each one, but because they are so short you can just answer them in your spare seconds while doing anything else without taking away your attention.
The small amounts definitely add up anyway — check out this screenshot from my app showing that I've earned a total of $68.52 CAD so far just from these tiny surveys on Google Opinion Rewards. That's enough to purchase 1,200 free Leaf Tickets in Pocket Camp!
Download the Google Opinion Rewards app from the Apple iOS App Store here, or the Android Google Play Store here.
3. Keep Up with the Event Goals
If you want as many free Leaf Ticket as possible, it's really important that you keep up with all of the ongoing events and complete the Event Goals associated with them. Every major event in Pocket Camp always has a series of goals that reward some amount of Leaf Tickets, among other prizes.
These major events include the Fishing Tourney, Gyroid Scavenger Hunt, Gardening Event, and the monthly Seasonal Event. And in-between the major events, there's typically a filler mini-event with goals like Summer Sea Star Goals or Bring on the Bells Goals.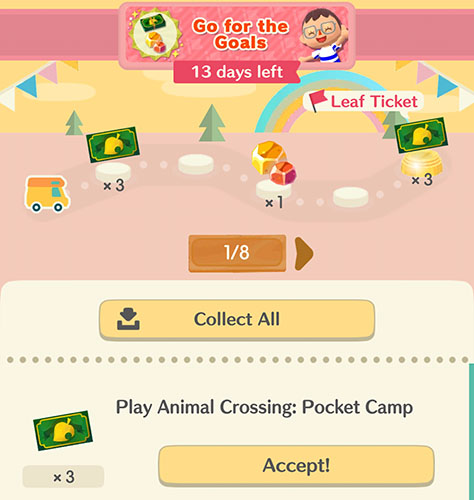 Of course, it can be a bit counterproductive as these events also encourage to spend your Leaf Tickets too. The trick here is to soak up as many as possible from every event, and then carefully select which events you actually want to spend your hard earned currency on.
4. Level Up with Your Campers, Don't Forget Snacks!
One of the most consistent ways to get free Leaf Tickets in Pocket Camp that can be repeated is dead simple — just keep leveling up! Every time you level your character, you'll receive a bonus of 10 Leaf Tickets for free until.. forever! There's no limit or cap to your character level or the free Leaf Tickets from leveling.
To keep leveling as often and as fast as possible, you'll want to make sure you complete every request from your campers in every cycle that you can. Every three hours in Pocket Camp, the villager campers at the in-game map locations will move around offering a new set of tasks to finish that you can use to level up.
For an even faster leveling speed boost, make sure to use your snack items! By feeding your snack items to a camper, you can level up their friendship points without having to complete tasks — it's sort of like a free hack. You might even have a bunch of un-used snack items that you didn't know you had.
To find your snacks and see what you have; open the Items menu, tap the three dots all the way to the right, and then tap the cupcake / muffin icon near the end of the list. And to actually use them, just talk to a camper and select the 'Have a snack' option!
With one of the latest updates to Pocket Camp, you can now 'bundle' your snacks together when giving them to a villager, so there's no need to give less worthy snacks one at a time painstakingly! If you didn't bother with snacks before due to this annoyance, definitely give it another try now. It's so much better!
5. Complete Happy Homeroom Classes
If you haven't been playing the Happy Homeroom feature of Pocket Camp, you're missing out on valuable free Leaf Tickets! This part of the game is somewhat hidden and can be accessed with the pink house button in the top left of the map.
Every time you complete a Happy Homeroom class, you can earn up to three medals for the class depending on your performance. When you earn enough medals, your Happy Homeroom Rank will then increase. While the later ranks can take a long time to reach, the earlier ranks are extremely easy to breeze through.
Most importantly, reaching a new higher Happy Homeroom Rank will unlock new prizes at each level, sometimes including free Leaf Tickets. Consult the chart below to see which ranks will reward free Leaf Tickets:
| Rank | Medals Needed | Reward |
| --- | --- | --- |
| HH Initiate | 1 HH Medal | 10 Leaf Tickets |
| HH Star | 2 HH Medals | 10 Leaf Tickets |
| Amateur Rank 1 | 6 HH Medals | 10 Leaf Tickets |
| Amateur Rank 3 | 9 HH Medals | 10 Leaf Tickets |
| Amateur Rank 5 | 17 HH Medals | 10 Leaf Tickets |
| Amateur Rank 7 | 33 HH Medals | 10 Leaf Tickets |
| Amateur Rank 9 | 55 HH Medals | 10 Leaf Tickets |
| Pro Rank 1 | 90 HH Medals | 10 Leaf Tickets |
| Pro Rank 3 | 100 HH Medals | 10 Leaf Tickets |
| Pro Rank 6 | 132 HH Medals | 10 Leaf Tickets |
| Pro Rank 9 | 174 HH Medals | 10 Leaf Tickets |
| Pro Rank 12 | 224 HH Medals | 10 Leaf Tickets |
| Pro Rank 15 | 266 HH Medals | 10 Leaf Tickets |
| Pro Rank 18 | 317 HH Medals | 10 Leaf Tickets |
| Expert Rank 1 | 392 HH Medals | 10 Leaf Tickets |
| Expert Rank 5 | 424 HH Medals | 10 Leaf Tickets |
Be sure to check out our Happy Homeroom Recommended Flawless Items for All Classes guide here for a list of what you need to craft for every single class! Using this guide can be really helpful as it allows you to begin crafting items required for a class before even unlocking it. Or if you need to unlock a new item to do so, you'll have a heads-up on how to unlock it before you reach the class.
6. Get the Bonus Free 50 Leaf Tickets from My Nintendo
Most seasoned players of Pocket Camp will probably already have these, but make sure to claim your free pack of 50 Leaf Tickets from My Nintendo if you haven't done so yet. My Nintendo is the official rewards program of Nintendo and by connecting your Nintendo Account to Pocket Camp, you can get these free 50 Leaf Tickets.
While you can only get these Leaf Tickets once, there are additional recurring rewards of free crafting materials and bells that can be repeated as many time as you wish. For more information on those, check out our guide to free crafting materials and bells every week from My Nintendo here!
7. Always Login Every Day for Login Bonuses
It's obvious, but make sure to always login to Pocket Camp every day to advance the Login Bonuses. These bonuses come in sets of usually around 7 days at a time with a free Leaf Ticket prize at the end of the 7 days. If you don't login for all six days prior, you won't be able to get that last prize before the bonuses reset again.
Remember that the 'day' in Pocket Camp isn't based on your local time, but rather a 24-hour period beginning and ending at a time set by Nintendo and enforced by the game servers, and that's when you need to time your daily logins for. The current time on your phone is irrelevant.
The day begins at 6:00am UTC, which is 11:00pm Pacific Time / 2:00am Eastern Time in North America and 7:00am BST in the United Kingdom. Note that these hours are effected by Daylight Savings Time and will shift by one hour back to 10:00pm Pacific Time during the winter.
Bonus: Take Advantage of Seasonal and Support Packs, If You Buy Leaf Tickets
We're not counting this as part of the 7 best ways to get free Leaf Tickets because it's not actually free, but if you're going to purchase any Leaf Tickets make sure to take advantage of the recurring deals that Nintendo offers.
At almost any time while an event is ongoing, Pocket Camp has package deals available that give you some bonuses alongside buying Leaf Tickets. Depending on the event, it may include free event items or simply an increased amount of Leaf Tickets.
Even better, try to combine purchases made with Google Opinion Rewards credit on these package deals to get the most value for your efforts.