The January Update for Animal Crossing: New Horizons (ACNH) has finally released today bringing the first major new content to the game this year, including plenty of Festivale and other holiday occasions!
As always with most Animal Crossing updates, the new content is spread all over the place in different areas and it can be a little confusing to take in everything new, plus what parts you can experience now and which will have to wait until later.
So in this compilation article, we'll break down absolutely everything new in the January Update for Animal Crossing: New Horizons in great detail telling you exactly what you need to know.
New Mermaid Fence DIY Recipe
Here's an unexpected surprise we definitely didn't see coming in the January Update — a brand new Mermaid Fence DIY crafting recipe! Just like with other Mermaid items, you can learn this recipe by finding Pascal in the ocean when diving for Scallops.
https://twitter.com/Accfsally/status/1354604646820585472
If you're wondering why this item is being introduced now and where the heck it came from, it might interest you to know that the Mermaid Fence has been lurking almost completely finished in the game ever since the Summer Update adding Pascal.
We're not entirely sure why Nintendo decided now was the time to fully introduce the Mermaid Fence into Animal Crossing: New Horizons, but we're glad it happened! For some fans, this might be the most exciting item in the January Update.
Mermaid Fence Recipe
1 Pearl
5 Coral
5 Sand Dollar
Buy Festivale Items At Nook's Cranny
Beginning on February 1st all the way until the Festivale Event on February 15th, carnival themed Festivale furniture items can be found for sale at the upgraded Nook's Cranny in the bottom left seasonal slot!
There are 9 different Festivale themed items that can obtained in this manner — check out our complete Festivale Set Furniture guide here to see everything. You can also customize them into different color variants using Feathers at a DIY Workbench.
In fact, almost every Festivale furniture item in the January Update can be purchased at Nook's Cranny during this time period. You'll need to play the Festivale Event to get your hands on the last one, as outlined later in this article.
Buy Festivale Clothes At Able Sisters
Buying furniture at Nook's Cranny isn't the only way you can get your Festivale spirit on before the event arrives. Special Festivale themed clothing can also be found for sale at the Able Sisters beginning on February 1st up until February 15th!
Look out for these new Festivale clothes available in four different color variants of Blue, Red, Purple, and Green:
Festivale Tank Dress
Festivale Costume
Festivale Accessory
Experience Festivale Event With Pavé
After two full weeks of preparation, the proper Festivale Event will begin on February 15th! On this special day, you'll find the world's most elegant peacock Pavé hanging out at Resident Services on your island.
While Pavé is visiting the island, feathers of all different colors will shower you from the sky floating in the air where they can be caught with a Net, similarly to Snowflakes or Cherry Blossom Petals!
And after speaking with Pavé for the first time, he'll provide you with a new DIY crafting recipe that can craft Rainbow Feathers using one of every color.
By trading feathers to Pavé, you can get all of the Festivale furniture items available from Nook's Cranny, plus an exclusive Festivale Float for giving up 3 of the gorgeous Rainbow Feathers!
Note that the Festivale Event has been strictly real-time locked by Nintendo until closer to the event date of February 15th and cannot be accessed through time traveling currently.
4 New Festivale Reactions
A set of four brand new Reactions for Festivale have been introduced to Animal Crossing: New Horizons in the January Update, and they're some pretty fantastic additions in our opinion.
From February 1st to 15th, you can unlock the four new reactions by purchasing a pack inside the cabinet at Nook's Cranny called Viva Festivale Reaction Set for 19,800 Bells. The unlocked reactions are called Feelin' It, Let's Go, Viva, and Confetti.
Note that you can freely time travel towards this item in advance if you wish as there are no locked restrictions against it.
Setsubun: Bean-Tossing Kit & Ogre Costumes
The infamous throwing beans from Animal Crossing: New Leaf have returned at last and we couldn't be more pleased! By using this fun little item, you can toss beans all over your island, including in the water.
A small set of Ogre Costumes & Masks are available for sale at Able Sisters as well to celebrate the Japanese Setsubun holiday:
Blue Horned-Ogre Mask
Red Horned-Ogre Mask
Green Horned-Ogre Mask
Blue Ogre Costume
Red Ogre Costume
Green Ogre Costume
Okame Mask
Pick up the Bean-Tossing Kit in the Seasonal tab of Nook Shopping, and the Ogre Costumes & Masks at Able Sisters, from today until February 3rd.
Super Bowl: Football Rug & Cheer Megaphones
We certainly didn't expect to be celebrating the Super Bowl on our islands, but that's what we'll find ourselves doing with two new themed items! Or in the words of Animal Crossing, the 'Big Game Celebration'.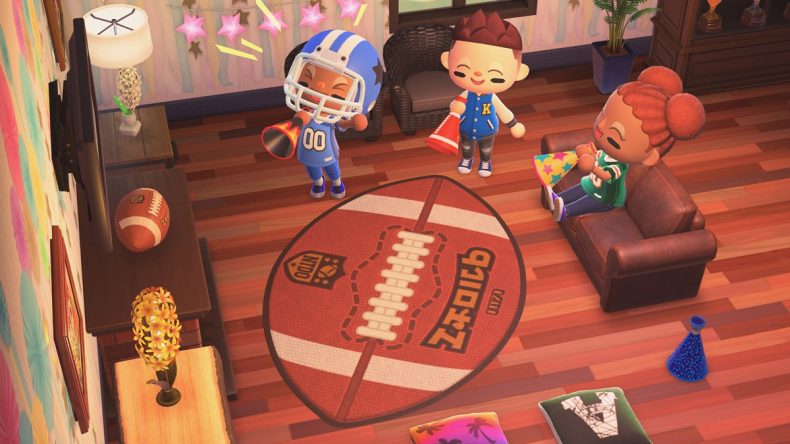 Both the Football Rug and Cheer Megaphone can be ordered from the Seasonal tab in Nook Shopping from January 25th until February 15th.
Notably, the Cheer Megaphone actually comes in four different color variations that rotate through Nook Shopping — so be sure to check in daily until you've gotten your hands on all of the versions:
Fiery Cheer Megaphone
Football Cheer Megaphone
Glittery Cheer Megaphone
Starry Cheer Megaphone
Groundhog Day: Resetti Model
Fans of Resetti are sure to be pleased by the celebration of Groundhog Day in Animal Crossing: New Horizons with a new model item featuring him!
Be sure to order your very own Resetti Model from the Seasonal tab of Nook Shopping from January 25th to February 2nd.
This little seasonal item could potentially be a callback to the Groundhog Day mini-event featuring Resetti back in Animal Crossing on the GameCube as seen in the video below:
Happy Groundhog Day everyone — Resetti is here! pic.twitter.com/iCQ2uFOXNU

— Animal Crossing World 🐦☕ (@ACWorldBlog) February 2, 2020
Valentine's Day & New Year Items Coming Soon
Even more new seasonal items are coming to the Nook Shopping order menu soon as we approach Valentine's Day, Lunar New Year, and Korean New Year!
For Valentine's Day, there will even be multiple different variations of both the Chocolate Heart and Heart-Shaped Bouquet items rotating daily to keep things fresh for the holiday.
These items aren't yet available today though and are blocked by Nintendo behind a real-world date lock, so stay tuned for future articles when the Valentine's Day and New Year seasonal items release for everyone!
Summon Pavé At Photopia On Harvey's Island
When returning characters are introduced into Animal Crossing: New Horizons, they have generally become available to summon at Photopia as well.
Pavé is now available on Photopia. #AnimalCrossing #ACNH #NintendoSwitch pic.twitter.com/ncADRI5m45

— Richter (@richardfornoles) January 28, 2021
Pavé is no exception to this rule, which means owners of the Pavé amiibo card can now scan the fabulous peacock into their Photopia studio on Harvey's Island!
Shake Your Maracas
Don't forget to check your mailbox after downloading the January Update as Nintendo has left you a free thank-you gift!
Inside the letter from Nintendo, you'll find the special new Maracas item that can be playfully shaken in your hands all day long.
See Every Single New Item
We've tried to nicely summarize each noteworthy addition to the January Update into sections with this article, but if you'd prefer to see a cut and cry compilation of every single new item that was added in the January Update, be sure to check out our companion article here doing just that.
---
Whew! Although this month's update may not be as strong as we would have liked to see originally, there's still quite a bit to enjoy in this latest addition to Animal Crossing: New Horizons. Let us know in the comments below what you think!
Stay tuned to Animal Crossing World for everything on Animal Crossing: New Horizons, including our extensive Guides section here. Our most popular pages include Festivale Furniture Set, Every New January Update Item, Sanrio Card Reprint, ColourPop Collection, Winter Snowflake Recipes, How To Build Perfect Snowboy, Redd Art, and Sea Creatures.