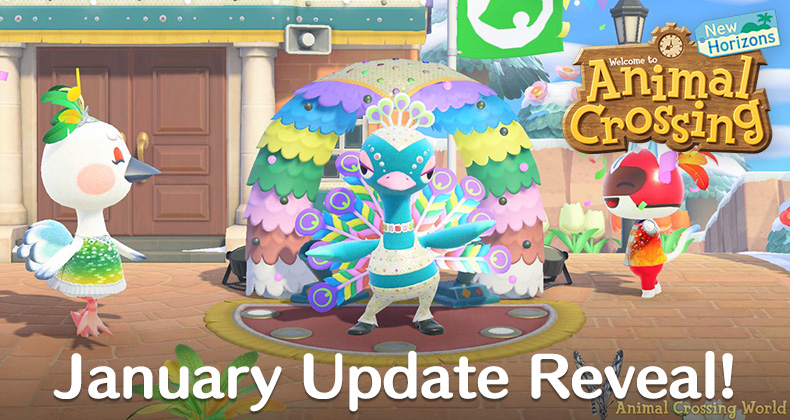 After much anticipation, the official trailer revealing everything in the January Update for Animal Crossing: New Horizons has been released this morning!
We won't have to wait long to experience the January Update either as it's scheduled for release in just a couple days on January 28th! Let's dive into everything new in this update…
Celebrate Festivale Event With Pave
The most major addition to the January Update for Animal Crossing: New Horizons is of course a brand new holiday event called Festivale! You'll be able to celebrate Festivale this year on February 15th when returning special character Pave visits your island with confetti in tow.
RELATED: The January Update has now been fully released and is available for download! Check out the full patch notes in our article here.
Throughout the day of the event, your island will be covered with colorful feathers floating all around in the sky. You can catch them with your net out of the air and trade them to Pave for a thrilling dance, and hopefully some new furniture rewards!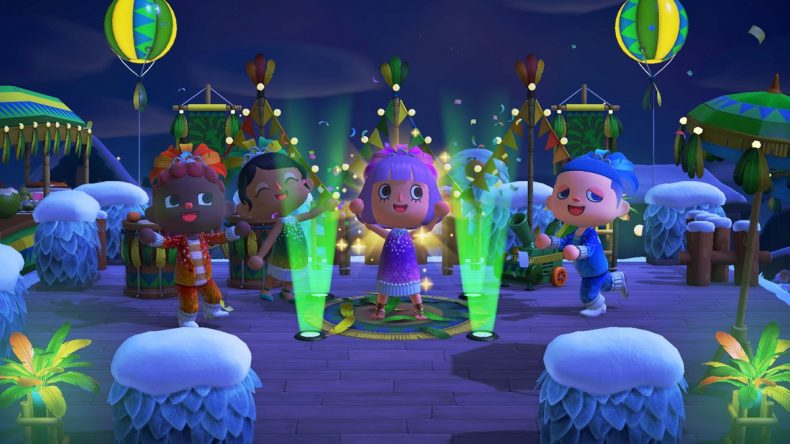 And in the lead-up to the Festivale event, themed furniture will begin to appear for sale at the Nook's Cranny store on February 1st letting players prepare for the big event ahead of time.
Festivale Clothes At Able Sisters
Another way to get your Festivale spirit running will be new Festivale themed clothing available for sale at the Able Sisters store starting on February 1st. Pave loves to see your Festivale fashion!
Buy New Festivale Reactions
Four brand new Reactions will be released in the January Update for Festivale to help you celebrate in style with Pave!
You'll be able to get your hands on these new reactions by purchasing the Viva Festival Reaction Set from the cabinet at Nook's Cranny for a limited time near the Festivale event.
The Viva Festival Reaction Set includes the four Feelin' It, Let's Go, Viva, and Confetti reactions!
Valentine's Day Seasonal Items
Another holiday is right around the corner too and Animal Crossing: New Horizons will be celebrating it — Valentine's Day!
Like many other past holidays, two new Valentine's Day themed items will become available in the Seasonal tab of Nook Shopping from February 1st to 14th including Chocolate Hearts and Heart-Shaped Bouquets.
Other Nook Shopping Holiday Items
In addition to the Valentine's Day items, a selection of other minor real-world holidays will be celebrated over the next couple months with seasonal Nook Shopping items.
These events include Groundhog Day with a Resetti figurine, the Super Bowl with a Football Rug and Megaphone, the Korean New Year, and more!
But most importantly… the infamous throwable Beans from Animal Crossing: New Leaf are making a return for the Japanese Setsubun holiday. We're so happy about this!
Maracas Thank-You Gift
We've become accustomed to every major Animal Crossing: New Horizons update releasing with a thank-you gift in the mailbox after updating and the January Update will be no exception!
Look out for the exciting Maracas item to find its way into your mailbox after installing Version 1.7.0 of Animal Crossing: New Horizons.
Sanrio Amiibo Card Reprint
Although technically not part of the actual January Update, an exciting reprint of the Animal Crossing Sanrio Collaboration amiibo cards was announced today by Nintendo alongside the update reveal trailer!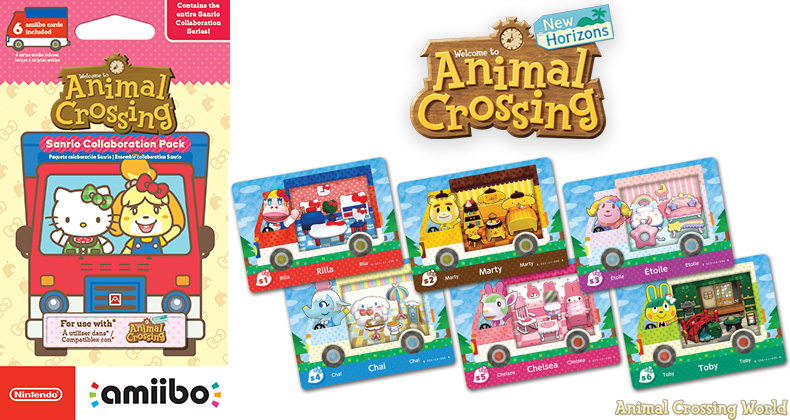 Originally released back in 2016 for Animal Crossing: New Leaf, the Sanrio Collaboration Pack consists of six amiibo cards inspired by Sanrio properties like Hello Kitty and Little Twin Stars. Starting in March, these special amiibo cards will be available again in a re-released worldwide, and for the first time in North America.
For more details on the Sanrio amiibo card reprint and everything about Sanrio in Animal Crossing, check out our full article here.
Next Update In March
Finally, the next major Animal Crossing: New Horizons update has been announced for release soon in March!
As previously reported, a new series of Super Mario furniture items are expected to be released in a March update and the trailer today appears to hint at exactly that. Hopefully, there will be more new content to enjoy besides Mario items though!
In fact, we're definitely wondering whether this March update might contain the missing Sanrio villagers and furniture items, timed for a release alongside the upcoming Sanrio card reprinting. That's just our speculation though!
---
That just about covers all of the major highlights of the January Update for Animal Crossing: New Horizons! Let us know what you think of this new update from Nintendo in the comments below.
Stay tuned to Animal Crossing World for everything on Animal Crossing: New Horizons, including our extensive Guides section here. Our most popular guides include Winter Snowflake Recipes, How To Build Perfect Snowboy, New Bugs, Fish, Sea Creatures In January, Redd Art, and Sea Creatures.