The upcoming April Update for Animal Crossing: New Horizons introducing updated seasonal events and items is almost here! Learn exactly when this free update will arrive for download on your Nintendo Switch.
The April Update for Animal Crossing: New Horizons including updated seasonal events and brand new seasonal shopping items is scheduled for release on Wednesday, April 28th according to Nintendo!
However, the company didn't specify an exact release time in the official English tweet, which always leads fans to wonder exactly when they'll be able to download and enjoy these new features in New Horizons. Thanks to some additional information in Japanese as usual, we have concrete details on the exact release time!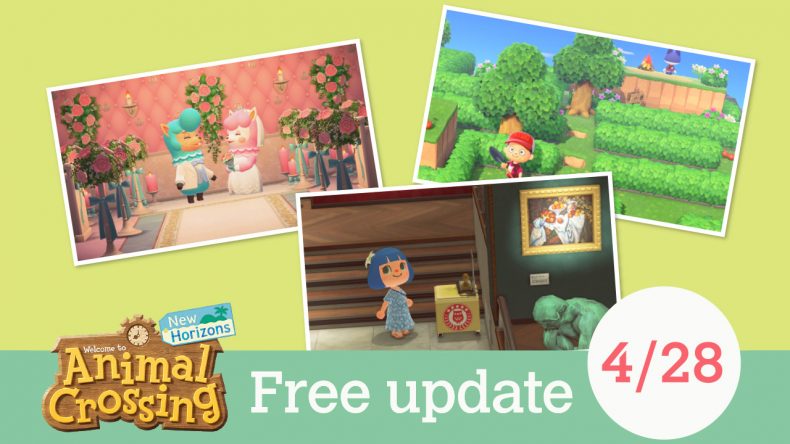 Animal Crossing: New Horizons April Update Release Time
According to the Japanese page from Nintendo, the Version 1.10 April Update for Animal Crossing: New Horizons containing updated seasonal events will be released at exactly 10AM Japan Standard Time on Wednesday, April 28th.
For everyone living in other time zones, which almost certainly includes you, that release time converts to 6PM Pacific Time or 9PM Eastern Time on Tuesday, April 27th! That's notable because it means the update will actually be arriving around half a day earlier in some parts of the world than Nintendo advertised in English.
UPDATE: The April Update is now released and fully available to download. Read the full patch notes here and see every new item datamined here.
It's worth noting that in some western time zones, the April Update will release an hour later than some other past updates in the winter, due to seasonal time changes coming into effect. So make sure you don't get caught off-guard by that!
Here's a comprehensive list of various Animal Crossing: New Horizons April Update release times around the world, based on the Japanese release date:
Tue, April 27th at 6PM Pacific Time (PDT)
Tue, April 27th at 7PM Mountain Time (MDT)
Tue, April 27th at 8PM Central Time (CDT)
Tue, April 27th at 9PM Eastern Time (EDT)
Wed, April 28th at 2AM British Summer Time (BST)
Wed, April 28th at 11AM Australian Eastern Time (AEST)
RELATED: What Is This Mysterious New Villager House In The Animal Crossing April Update Screenshots?
Technically speaking, Nintendo hasn't officially announced these release times for outside of Japan, but every previous major update for Animal Crossing: New Horizons has followed the exact same pattern with updates delivered worldwide simultaneously.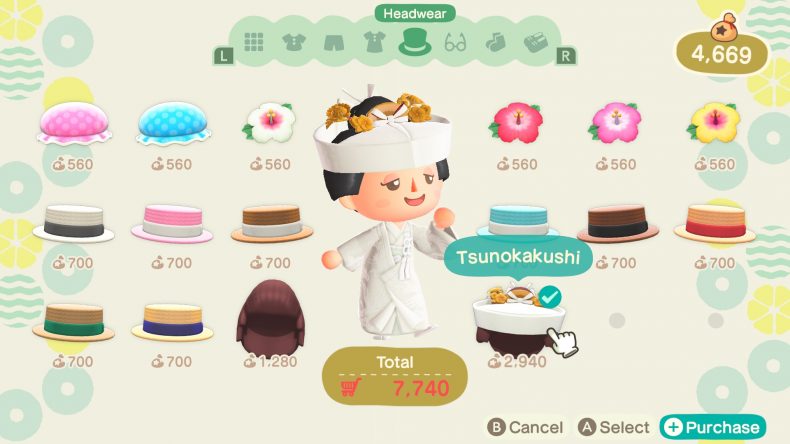 So if you're excited to get your hands on the April Update for Animal Crossing: New Horizons as soon as possible, be ready and waiting at your Nintendo Switch for a release at the times listed above. Keep in mind you will likely have to manually trigger the update, which we'll detail in the section below.
How To Download April Update For Animal Crossing: New Horizons
Your copy of the game should update automatically for you, but if for some reason it doesn't, you'll be able to manually trigger any available updates by pressing the + button on the Animal Crossing: New Horizons home screen icon, selecting Software Update, and hitting Via the Internet.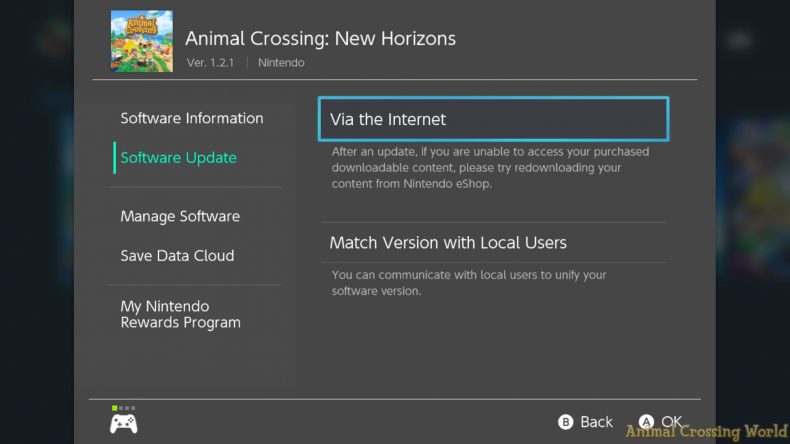 The Nintendo Switch will then check for all available Animal Crossing: New Horizons updates when you do so and download the April Update (Version 1.10) if it's been released.
Sometimes it can take an extra few minutes for Nintendo to get the update fully pushed out though, so don't panic if it doesn't work immediately on the dot!
How To Access New April Update Content
When the April Update for Animal Crossing: New Horizons releases, there will be two pieces of content available almost immediately — the May Day holiday event and Children's Day seasonal shopping event!
The May Day event begins on April 29th, 2021 running through until May 7th and can be enjoyed by heading to the Airport counter allowing travel to a special May Day Tour island.
Even sooner, the two new Japanese Children's Day seasonal items will become available inside of Nook Shopping starting on April 28th, 2021. This includes the exciting Carp Banner item seen in the screenshot below.
Later in May, the International Museum Day event will begin on May 18th, 2021 running until May 30th. Participate in this event to collect stamps for Blathers around the museum!
It's worth noting that Nintendo's released information so far indicates that there will be no real-world time locking enacted for both the May Day and International Museum Day.
However, the Wedding Season event in June appears to require Version 1.10.0a, meaning you will be unable to time travel to that content in advance.
What's Next After The April Update?
So what's coming next to Animal Crossing: New Horizons after the April Update is released? At this time, there hasn't been anything else announced by by Nintendo for the game's future.
Based on the new content included in this update and when it's set to be released though, we're speculating that the next game update may not arrive until late July — stay tuned for more details in a future article.
It's going to be great to get the video game industry back together with our fans this June. We'll make the virtual format fun and engaging. Looking forward to seeing you all in June! https://t.co/ZQidcWqAF4

— Doug Bowser (@thetruebowser) April 7, 2021
Some Animal Crossing fans have begun to speculate about the possibility of a major content update announcement at the upcoming E3 gaming event in June this year. It's of course very possible, but we'd caution that the goal posts continue to be moved since the March Anniversary Update fever earlier in the year. We really don't know what Nintendo has planned anymore!
Stay tuned to Animal Crossing World for everything on Animal Crossing: New Horizons, including our extensive Guides section here. Our most popular pages include April Update, Sanrio Villagers & Items, Sanrio Amiibo Cards, Nook Points, Build-A-Bear, Super Mario Items, Redd Art, and Sea Creatures.