A fresh new Animal Crossing: New Horizons (ACNH) update has just been released with the April Update tonight and we have the complete patch notes!
With today's latest update, the game's version number has been increased to Version 1.10.0 with the return of 3 refreshed seasonal events from last year, newly improved for 2021 with adjustments and new rewards. These include May Day, International Museum Day, and Wedding Season!
New seasonal Nook Shopping items have been introduced as well to cover holidays like Japanese Children's Day and English Cheese Rolling. (yes, that's a real thing)
Additionally, a very minor feature has been introduced to enable easier accessibility of leaving Dream Islands when visiting a Dream Address. You can now simply press the – Button to easily wake up from the Dream Island.
One specific bug fix has been mentioned as well regarding fixing a bug that allowed players to build fence items on the island pier when standing on top of a custom design on the floor. This will no longer be possible with the latest update.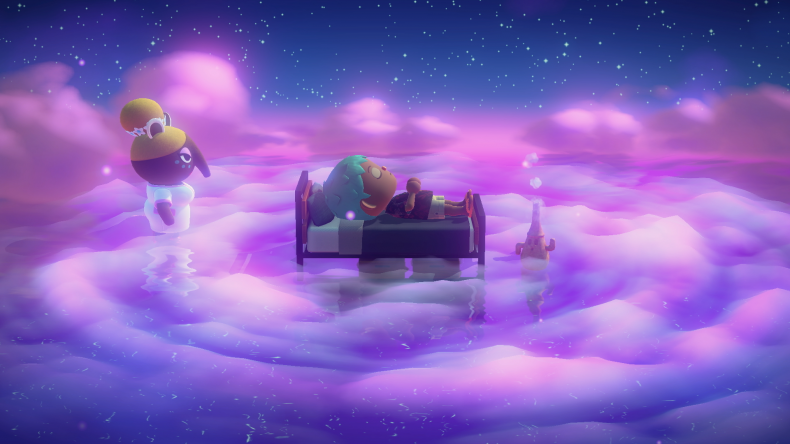 Nintendo's typical mention of bug fixes and adjustments to improve the gameplay experience are mentioned in the patch notes as well, though it remains unclear exactly what else was fixed this time around.
Note that this is not the fabled 'Version 2.0' update that many Animal Crossing fans have been hoping to see release after Version 1.9 — it remains unclear what Nintendo's future plans are for further updates to the game.
Animal Crossing: New Horizons April Update Version 1.10 Patch Notes (English)
The official English patch notes for the Version 1.10 April Update of Animal Crossing: New Horizons from Nintendo of America can be found below:
Ver. 1.10.0 (Released April 27, 2021)

The software has been updated if you see "Ver. 1.10.0" in the upper-right corner of the title screen.

General

The May Day, International Museum Day, and "wedding season" seasonal events have been updated.
It's now possible to wake up from a dream by using the – Button.
The following content has also been added:

Additional limited-time seasonal items from Nook Shopping.

Fixed Issues

Fixed an issue where the player could build a fence on the pier when standing on top of a custom design placed on the ground.
Other adjustments and corrections were made to improve the game play experience.
You will need to be updated to Version 1.10.0 to play online multiplayer with other players and access other network features. Local multiplayer can only be played with others on the same version of the game as you.
RELATED: All New Items In April Update For Animal Crossing: New Horizons (Datamine)
Observed Changes In Version 1.10 Missing From Patch Notes
In our experience, most major new updates for Animal Crossing: New Horizons tend to contain some smaller changes that weren't included in the official patch notes.
These undocumented changes in the past have included new items in the Nook Stop Terminal, quality of life improvements, and other small adjustments. We anticipate that the same will be the case in the March Update and will be documenting any secret or unmentioned changes and additions here.
Here's what's been uncovered so far:
Unlike all other previous major content updates for Animal Crossing: New Horizons, it appears that there is no free update gift item to be found in player mailboxes with the April Update. That's pretty unfortunate.
It's currently possible to time travel in advance for the May Day and International Museum Day events. However, the Wedding Season event remains time-locked until June.
Please share in the comments below if you spot any interesting small changes or additions that haven't been mentioned already, so we can update this article as the best resource!
How To Download April Update For Animal Crossing: New Horizons (Version 1.10)
Your copy of the game should update automatically now that the download has been released, but if for some reason it doesn't, you can manually trigger the update by pressing the + button on the Animal Crossing: New Horizons home screen icon, selecting Software Update, and hitting Via the Internet.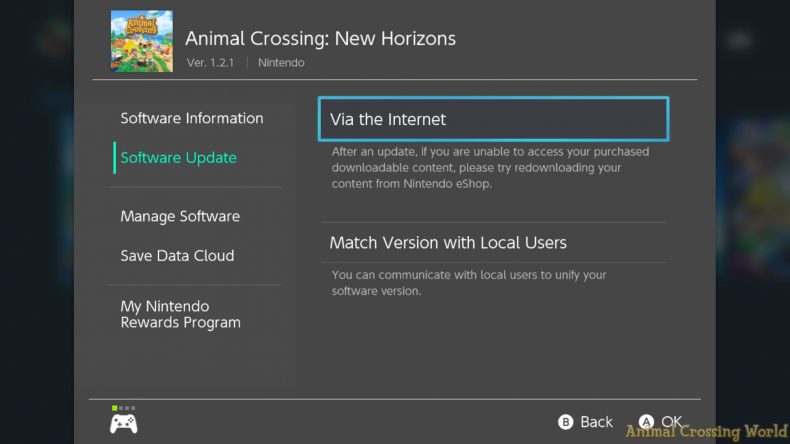 After you've had a chance to play around with the April Update, be sure to let us know in the comments below what you think and if you've noticed any other changes not covered by Nintendo in the official patch notes!
Where Are The New April Update Features?
If you've updated your copy of Animal Crossing: New Horizons to Version 1.10 with the April Update and find yourself wondering the new content is, it's worth mentioning that this update is entirely event based.
Look forward to the updated May Day Tour event beginning on April 29th with a new maze available for veteran players, and the Children's Day event items in Nook Shopping right now.
Later in May, the International Museum Day event will start on May 18th, and the Wedding Season event on June 1st. Other seasonal items will be come available in Nook Shopping as well as the months go on through May, June, and July.
Stay tuned to Animal Crossing World for everything on Animal Crossing: New Horizons, including our extensive Guides section here. Our most popular pages include April Update, Sanrio Villagers & Items, Sanrio Amiibo Cards, Nook Points, Build-A-Bear, Super Mario Items, Redd Art, and Sea Creatures.