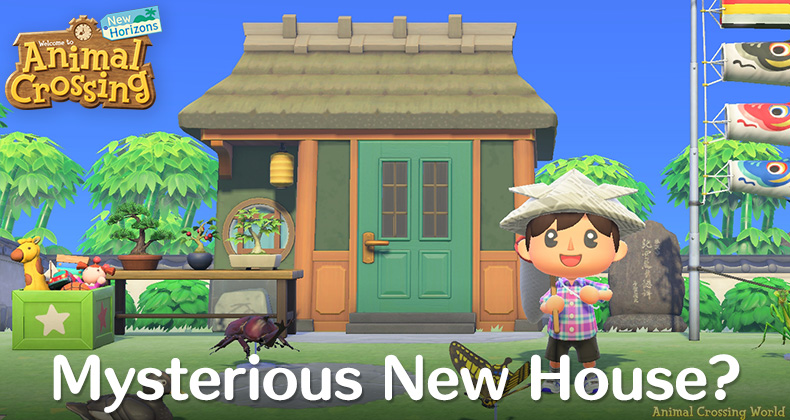 The latest update for Animal Crossing: New Horizons was just announced today offering a relatively lackluster set of additions, but a strange sighting in one of the update's press screenshots has some Animal Crossing fans very curious!
Right in the background of a screenshot showing off the upcoming Children's Day seasonal item Carp Streamer, we can spot a villager's house… but this isn't just any ordinary house.
APRIL 27TH UPDATE: Nintendo has released an official statement disproving this theory, noting that the original screenshot featuring the mystery house was an error on their part. Read the response here.
Not long after the screenshot's release, some players just couldn't shake the feeling that this house didn't look familiar and something could be going on here, and it turns out that's exactly right.
We've confirmed ourselves that this house design definitely isn't used by any villagers in the current version of Animal Crossing: New Horizons by cross-checking our handy Villager House Exterior Designs Complete List guide. So that leads to the question… whose house is this?!
The most exciting possibility is pretty obvious — could Nintendo have just accidentally revealed a new villager coming to Animal Crossing: New Horizons with their house seen in this screenshot?
New Villager With Amiibo Cards?
There's no way of knowing for sure, but it's certainly a curious sight given another rumor that we just covered last week about a possible new series of Animal Crossing Amiibo Cards.
We'll spare you the full details (you can read the original rumor article here for that), but essentially there's data pointing to a large set of upcoming amiibo cards that could very well end up being for Animal Crossing.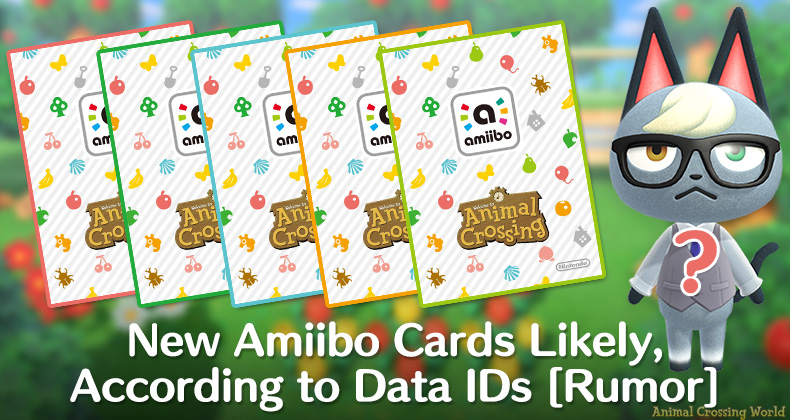 If Nintendo were to introduce any new villagers into Animal Crossing: New Horizons, we're pretty sure they would arrive through amiibo cards, just like the Sanrio Amiibo Cards released in March. So the appearance of this mysterious house certainly tracks with the amiibo cards rumor.
Of course, the most exciting and obvious possibility isn't always the most likely one, even if it's what we want to see! So we'll go over a few other plausible theories about what's going on with this sneaky house.
Rover Moves In From May Day?
While a brand new villager is the most obvious and interesting outcome here, we have another quite interesting theory that feels more plausible to us, suggested by friend of the site jefflomacy.
As you likely already know, the May Day Tour event from last year will be returning to Animal Crossing: New Horizons in 2021 from April 29th to May 7th as part of the April Update.
During last year's event, and confirmed for this year's version as well, players found returning special character Rover at the very end of the maze. That was a fun cameo, but many Animal Crossing fans wished at the time that it was possible to invite Rover to their own island as a resident.
You can probably see where we're going here — what if this mysterious villager house is actually Rover's house on an island fulfilling the original dream? It's more plausible than an entirely new villager appearing out of nowhere without an announcement in our opinion.
The April Update announcement regarding May Day didn't actually mention or hint about what new prizes might await for the 2021 version of this event either.
Previous Amiibo Collaboration Returns?
One more interesting theory we want to bring attention towards is the possibility of a past amiibo collaboration villager returning to Animal Crossing: New Horizons in either the April Update or another future update.
Monstet Hunter Rise just launched worldwide last month on Nintendo Switch and diehard Animal Crossing fans will know that Animal Crossing: New Leaf actually featured a Monster Hunter themed villager named Felyne.
In that game, you could invite the Felyne villager by scanning any of the Monster Hunter amiibo figures. Given the timing of a new Monster Hunter game release, it's an interesting possibility.
While it's certainly strange that Nintendo would leave this out of the official announcement, it's more likely to leave out something like a Monster Hunter collaboration than an entirely new villager.
Wolf link? 🤔 pic.twitter.com/EnzWQqxS5i

— Jaz Elizabeth ✨ (@JazElizabxth) April 26, 2021
Another past amiibo collaboration that comes to mind is The Legend of Zelda with the series celebrating its 35th anniversary this year and big plans rumored to be in the works by Nintendo. As seen above, some fans have noticed a vague resemblance to Wolf Link's house in Animal Crossing: New Leaf!
Existing Villager House Changes?
Another possibility is that the developers have simply made some visual changes to the exterior house designs of existing Animal Crossing: New Horizons villagers. It's rather boring, but very plausible.
This would certainly be a controversial move as some Animal Crossing players have taken the time to carefully pick and choose their villagers based on house designs for the purposes of blending in with an island design theme.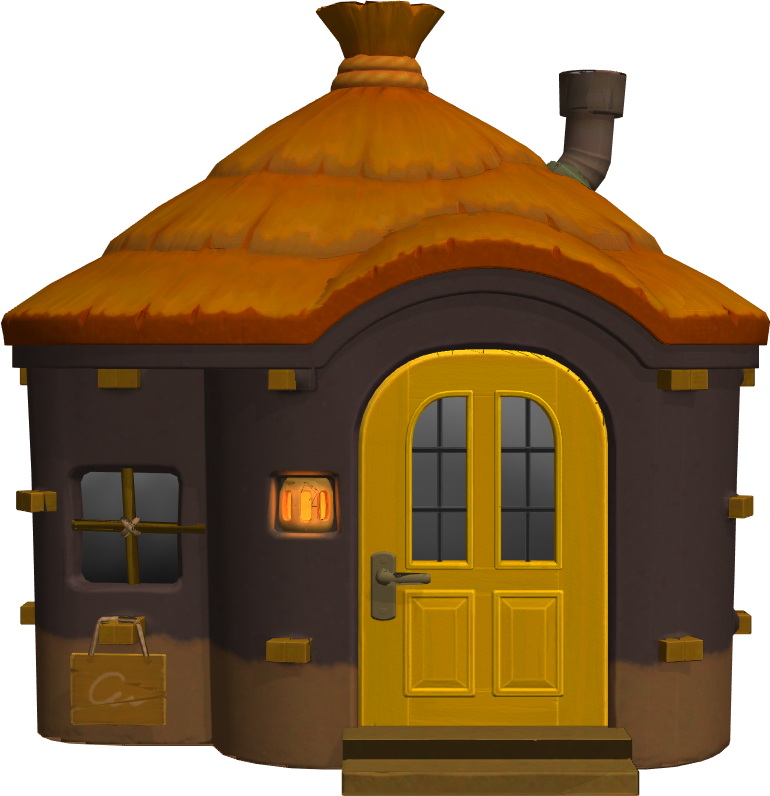 It wouldn't be entirely unprecedented though as Nintendo has made changes to the interior furniture layouts of some villager houses in recent updates, proving that they could definitely be tinkering around with existing villagers.
A Weird And Honest Mistake
Finally, we shouldn't rule out the odd but possible scenario where there's absolutely no actual changes in the game. It seems unlikely, but you never know what happens behind the scenes — maybe it was changed for debugging or testing and accidentally left in this screenshot.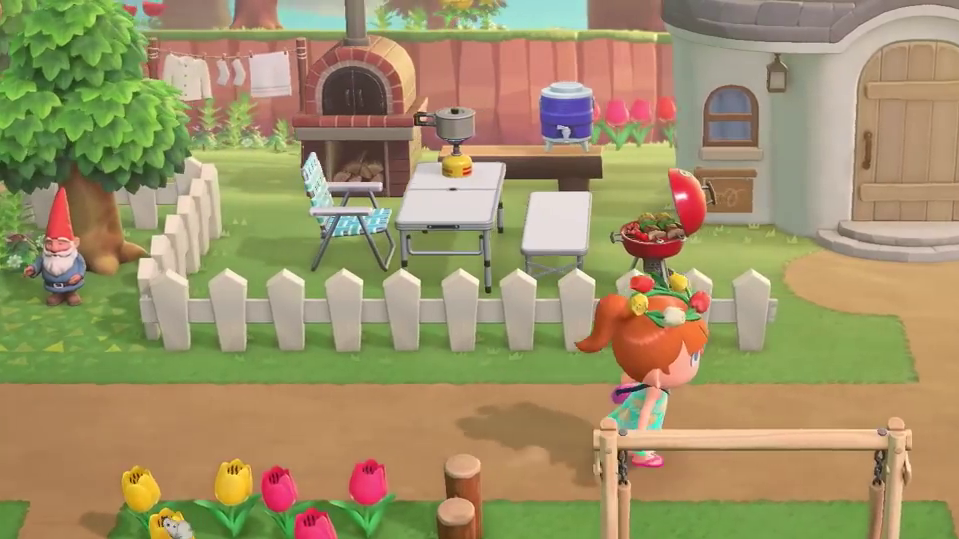 What you see isn't always what you get — anyone remember the infamous White Fence from the E3 2019 trailer? 😉 Until we find out for sure when the update releases later this week, anything is possible!
Let us know in the comments below what you think is happening with this mysterious new villager house design seen in the April Update announcement.
Stay tuned to Animal Crossing World for everything on Animal Crossing: New Horizons, including our extensive Guides section here. Our most popular pages include April Update, Sanrio Villagers & Items, Sanrio Amiibo Cards, Nook Points, Build-A-Bear, Cherry Blossom Recipes, Super Mario Items, Redd Art, and Sea Creatures.