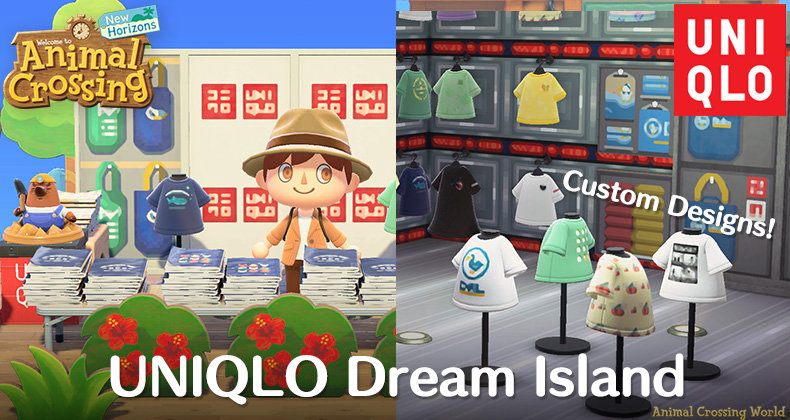 In anticipation of the upcoming UNIQLO x Animal Crossing: New Horizons collaboration clothing line-up, the company has just opened an official Dream Island you can visit, including many in-game design replicas of their real world products.
Taking a brief tour of the UNIQLO Dream Island ourselves, it's definitely one of the most well made brand islands we've seen released so far featuring a very large and elaborate recreation of an UNIQLO store with extensive creative use of Simple Panels!
This island's designer is clearly in tune with the Animal Crossing community's preferred aesthetics too as there's extensive use of the infamous dirt 'The Path' pattern with UNIQLO branding etched in. It's a pretty nice touch!
Most importantly though, the UNIQLO Dream Island serves as easy access to an extensive collection of custom designs modelled after the real world clothing that the company plans to release as part of their Animal Crossing: New Horizons collection in June.
By accessing the Custom Design Portal found at the island's Resident Services, you can view and save any of 22 different UNIQLO x Animal Crossing: New Horizons clothes replicated in-game to your own character's design slots! Make sure to navigate over to the second Pro Designs tab to see them though.
You can visit the official UNQLO Dream Island in Animal Crossing: New Horizons yourself today by using the Dream Address Code of DA-5439-8379-5190.
If you haven't seen the real world collaboration clothing designs yet, check out our Animal Crossing: New Horizons UNIQLO Clothing Collection article here  with complete details on this line-up that's expected to arrive in the United States during June.
Release dates may vary by region though, with the collection already available in Japan as of today — hence the release of this dream island in Animal Crossing: New Horizons!
Stay tuned to Animal Crossing World for everything on Animal Crossing: New Horizons, including our extensive Guides section here. Our most popular pages include April Update, May Day Event, Sanrio Villagers & Items, Sanrio Amiibo Cards, Nook Points, Build-A-Bear, Cherry Blossom Recipes, Super Mario Items, Redd Art, and Sea Creatures.