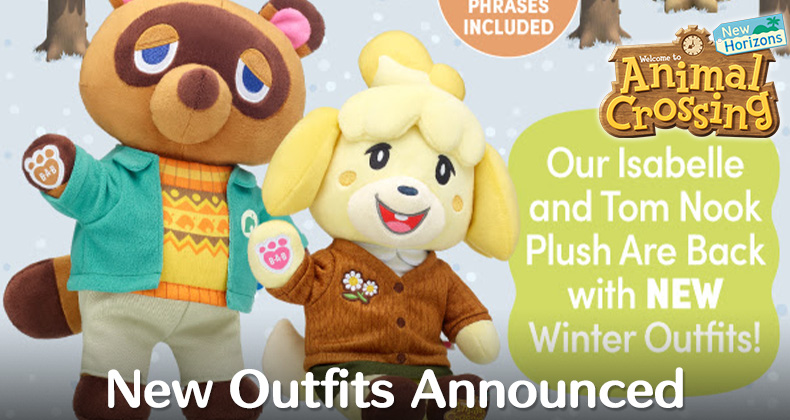 New additions to the Animal Crossing: New Horizons X Build-A-Bear collection have been officially announced featuring fresh seasonal outfits for the collection's two characters, after a recent leak from Australia.
Announced in a Build-A-Bear Workshop email newsletter this morning, a brand new Winter Outfit bundle for both Isabelle and Tom Nook will be available shortly.
Winter Outfit sales will begin on the US Build-A-Bear website starting at 10AM Central Time on May 11th, 2021 — that's 8AM Pacific Time or 11AM Eastern Time for those in other time zones. Typically, the company announces a virtual waiting room beginning about half an hour prior, but there's no mention for this release.
These new Winter Outfit bundles match Isabelle and Tom Nook's in-game winter clothing seen in Animal Crossing: New Horizons during the colder months of the year when you visit them at Resident Services.
Even though Isabelle and Tom Nook have already been released worldwide by Build-A-Bear, the currently available versions are only bundled with Summer Outfits for both characters. This release is the first time fans will be able to get their hands on alternative outfits.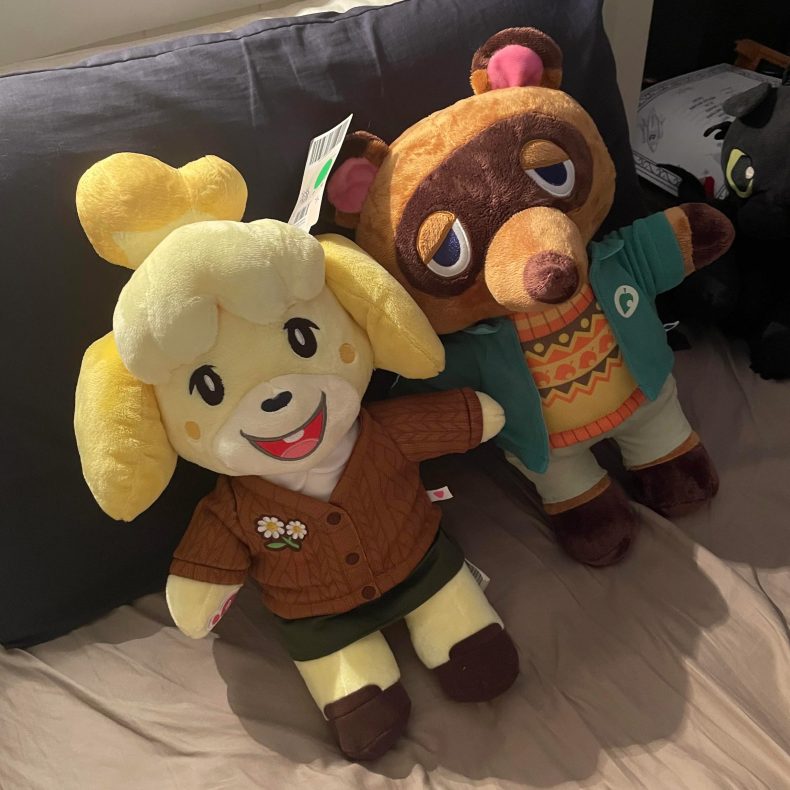 However, it appears that Build-A-Bear will only be selling Animal Crossing characters in forced outfit bundles like this, at least for the time being. There doesn't seem to be any option to purchase the Winter Outfit clothes separately, with the email footer stating the following:
The Animal Crossing™: New Horizons collection can only be purchased as bundles. Items cannot be purchased unstuffed, cannot be modified and cannot be combined with any other promotional offers or discounts.
Previously, we first saw the Winter Outfit characters leaked online by Reddit user PhoenixMartinez-Ride who spotted them at a retail store in Australia. That leak can offer a more 'real world' look into the design of these new Winter Outfit character variants though, so we've kept the photos in this article.
It's also worth noting that so far, the Animal Crossing Build-A-Bear characters haven't yet been officially released in North America or Europe retail stores and were previously announced to arrive at store in the Summer. As far as we know, this Australian spotting is the first time they've shown up at any Build-A-Bear stores.
Remember that Build-A-Bear has also previously confirmed that a brand new character is coming to their Animal Crossing: New Horizons collection sometime during this Summer! Presumably, that'll be arriving shortly after the Winter Outfit bundles.
For everything you need to know about Build-A-Bear X Animal Crossing: New Horizons collection and how to get them, check out our full guide here. New availability was recently made at Nintendo's online and offline stores if you're still looking to grab Isabelle or Tom Nook!
Stay tuned to Animal Crossing World for everything on Animal Crossing: New Horizons, including our extensive Guides section here. Our most popular pages include May Day Event, New May Creatures, April Update, Sanrio Villagers & Items, Sanrio Amiibo Cards, Nook Points, Build-A-Bear, Redd Art, and Sea Creatures.