The biggest event of the year from Nintendo is almost here today with Nintendo Direct E3 2021 just mere hours away — watch it live here!
Broadcasting live on June 15th, 2021 at 9AM Pacific Time, Nintendo is promising a packed full presentation running about 40 minutes long with plenty of news on Nintendo Switch games. In particular, the company says to expect a focus on software releasing in 2021.
How To Watch Nintendo Direct E3 2021
We've embedded the official YouTube livestream from Nintendo below allowing you to watch the Nintendo Direct E3 2021 presentation live right here! The archived version will be available afterwards as well.
UPDATE: The show has concluded, and unfortunately no Animal Crossing news or information was shared. Read our full thoughts on the disappearance of Animal Crossing at E3 2021 here!
What To Expect At E3 2021
Animal Crossing fans will obviously be keeping a close eye on this year's E3 2021 Nintendo Direct for news on the future of Animal Crossing: New Horizons, or any other potential Animal Crossing projects. Nintendo can be quite unpredictable sometimes, so it's anyone's guess as to what happens.
It's worth noting that any update announced at E3 2021 is unlikely to release until the end of July though, based on an analysis of upcoming seasonal content arriving in the next couple months. For a more in-depth look at our thoughts on what might transpire for Animal Crossing: New Horizons at E3 2021, read our full article here.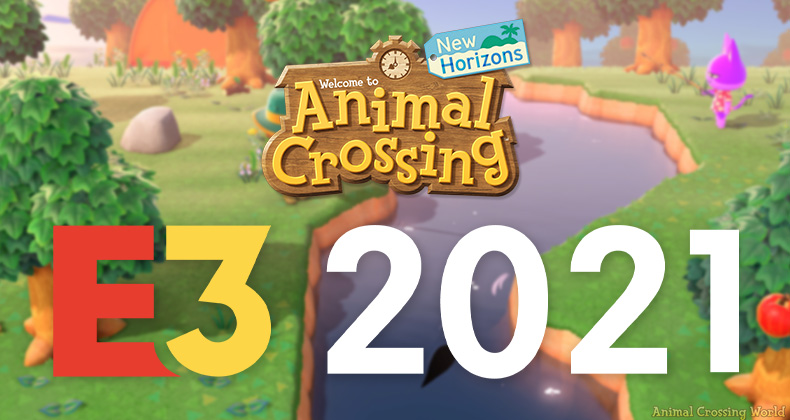 Outside of the Animal Crossing series, the biggest hope among Nintendo fans is likely a preview of The Legend of Zelda: Breath of the Wild 2 with two full years having passed since the initial announcement! And on a personal note, I'm always hoping that Pikmin 4 might transpire one day.
Rumors have been swirling lately for an announcement of the updated Nintendo Switch 'Pro' too, and today's E3 2021 date reveal is only fueling that due to Nintendo's specification of 'software'. That comes as rumors suggested the announcement would happen before the E3 Direct.
Nintendo Treehouse Live E3 2021
Later in the day after the main Nintendo Direct presentation at 9AM, Nintendo Treehouse Live at E3 2021 will immediately follow with three hours of live streamed gameplay.
There's no details on exactly what games will be shown off during Nintendo Treehouse Live, but past years typically featured gameplay of the most interesting new game and DLC announcements in the E3 Nintendo Direct.
In fact, the last E3 version of Nintendo Treehouse Live held back at E3 2019 featured none other than a 30 minute gameplay demo of Animal Crossing: New Horizons! That's where we saw our first in-depth look at the game hosted by Director Aya Kyogoku and Producer Hisashi Nogami.
If a major update or expansion for Animal Crossing: New Horizons is announced at E3 2021, we definitely wouldn't be surprised to see that pair show up with another gameplay demo at Nintendo Treehouse Live given their experience last time.
To hear the latest news from Nintendo, and possibly on Animal Crossing, be sure to catch the presentation live from Nintendo's website on Tuesday, June 15th at 9AM PT / 12PM ET. And of course, don't forget to check in to Animal Crossing World later in the day for the finer details on any announcements.
Stay tuned to Animal Crossing World for everything on Animal Crossing: New Horizons, including our extensive Guides section here. Our most popular pages include Wedding Season Event, Upcoming Seasonal Items, Swim In River Glitch, New June Creatures, Animal Crossing @ E3 2021, Sanrio Villagers & Items, Sanrio Amiibo Cards, Redd Art, and Sea Creatures.