There's an endless amount of new features and content to enjoy in the Version 2.0 Update for Animal Crossing: New Horizons, but there's one feature you might want to pay more attention to than you have so far.
That feature is none other than Group Stretching, a fun new activity added in Version 2.0 inspired by Morning Aerobics in Animal Crossing for GameCube, where you can join special characters and your villagers in a cute exercise routine!
If you haven't already, you can easily experience the Group Stretching feature yourself in Animal Crossing: New Horizons by interacting with the Tape Deck added outside of Resident Services at any time.
But while most players have likely already checked out Group Stretching a couple times since Version 2.0 launched earlier this month, many fans might have quickly fallen out of their exercise routine already seeing little point in continuing on.
In this article though, we want to remind you why it's worth your time to regularly engage in the Group Stretching exercises with your villagers in Animal Crossing: New Horizons throughout the next couple months.
That's because Group Stretching actually offers a variety of exclusive rewards that you can only get by repeatedly participating in the activity on a daily basis — prizes that you otherwise won't be able to enjoy in Animal Crossing: New Horizons.
These special rewards for Group Stretching include a clothing item, two furniture items, a tool you can hold in your hand, and unlockable Reactions!
Not only do we think that these prizes are worthwhile spending your time to get, it's important to note that the final reward requires you to participate in Group Stretching as many as fifty different times. So this is certainly something worth getting started on as part of your daily Animal Crossing routine if you haven't yet!
It's also worth mentioning that these requirements must be met by exercising in Group Stretching on different in-game days — you can't just suddenly repeat the exercises over and over suddenly on a single day to get the rewards.
If you'd prefer to keep the specific details of these exclusive Group Stretching rewards a surprise for yourself though, consider this a spoiler warning and your opportunity to close this article before continuing on.
Group Stretching Item Rewards
The first Group Stretching reward you can get your hands on is the Nook Inc. Leotard one-piece clothing item. This prize only requires participating in Group Stretching on 3 days though, so many players will already have it.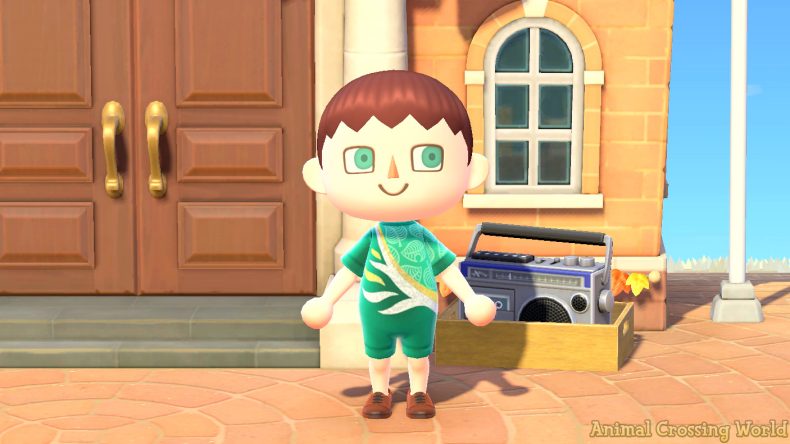 Rewards start heating up though with the Nook Inc. Yoga Mat furniture item available for players who have joined in on Group Stretching exercises on 10 different days.
Stepping it up further after that, another furniture item called the Dumbbell can be obtained after exercising with your villagers during 20 unique days.
Then as the penultimate prize, you can get the appropriate Protein Shake item that can be held as a tool in your hand for participating in Group Stretching on 30 different days.
Group Stretching Reaction Rewards
Finally, perhaps the greatest reward of all, there are seven different new Reactions you can unlock exclusively through the Group Stretching event after joining in during 50 unique days on your Animal Crossing: New Horizons island.
These Reactions allow you to replicate many of the exercise moves that your character and other villagers make during the Group Stretching activity, but at any time with your reactions menu!
---
For more on the Group Stretching feature in Animal Crossing: New Horizons and detailed information on every prize you can earn, check out our complete How To Join Group Stretching + Complete Rewards List guide here.
Let us know in the comments below how many times you've participated in Group Stretching with your villagers so far after Version 2.0 launched, and if you've earned yourself any of these fun prizes yet!
Stay tuned to Animal Crossing World for everything on Animal Crossing: New Horizons, including our extensive Guides section here. Our most popular pages include Version 2.0 Summary, 9000+ Items Datamine, 16 New Villagers, Gyroids, Kapp'n Islands, Cooking Recipes, Happy Home Paradise DLC, Series 5 Amiibo Cards, Mushroom DIY Recipes, New November Critters, Redd Art, and Sea Creatures.
Special thanks to the ACNH Data Spreadsheet Project for information and images used in this article.