Say farewell to the cold winter snow! The beginnings of the Spring Season have finally arrived in Animal Crossing: New Horizons bringing plenty of changes to your island over the next few months.
Whether you first started your island in the past few months over the holidays, or have been playing since the very beginning, we're certain you'll be delighted to experience springtime in Animal Crossing: New Horizons starting today!
Of course, this article currently applies to the Northern Hemisphere as it is still summer on Southern Hemisphere islands right now.
Goodbye Snow, Hello Green Grass
Yes, the time has come! Beginning today on February 25th, the snow will have melted away from your Animal Crossing: New Horizons island after just under three months of a deep long winter with grass beginning to show.
If you happened to have recently started your Animal Crossing adventure during winter over the holidays, it's sure to be a welcome sight seeing the snow disappear for the first time. Even those of us who have been playing for over a year though will be pleased to see the spring return — or potentially for the first time on a fresh new island!
Unfortunately, you won't find bright and lush green grass on your island quite yet though as the seasonal change does take some time to come into full effect. When the snow first disappears, we can see more of an ugly grey color of grass similar to the beginning of winter.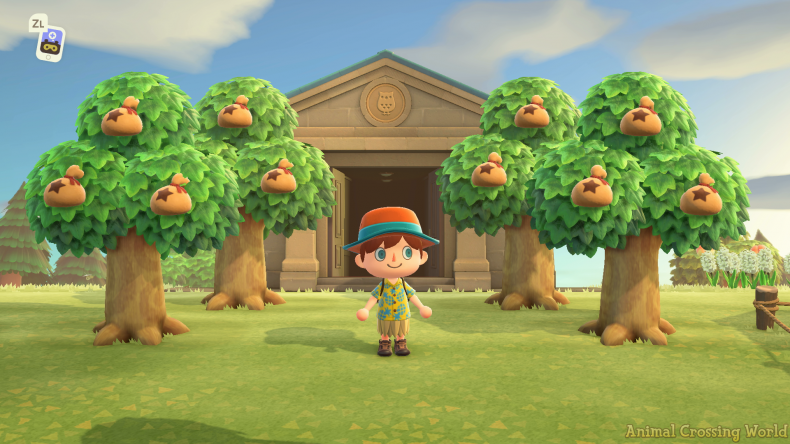 Starting in March though, the grass will rapidly become greener as the days go by. Technically, the greening continues gradually all the way into summer, but the scenery in Animal Crossing: New Horizons really starts to feel like Spring by the middle of March in our opinion! You can see an example of this gradual process in the screenshots above.
Young Spring Bamboo Material & Recipes
The Spring season in Animal Crossing: New Horizons brings a new type of seasonal crafting material — Young Spring Bamboo! Beginning on February 25th, you can find this material and associated DIY recipes on your island.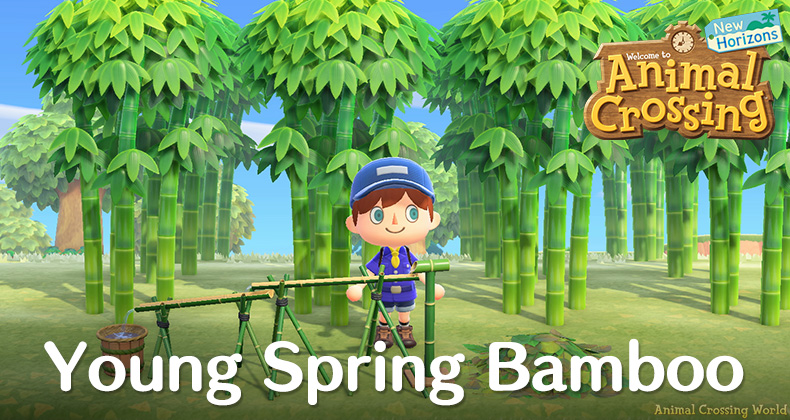 How do you get your hands on Young Spring Bamboo? Unlike most seasonal recipes that tend to come from catching items in the air or shaking trees, the Young Spring Bamboo is dropped from Bamboo Tress when you hit them with an axe.
It's the same as how you get regular Bamboo Pieces in Animal Crossing: New Horizons, except that the Young Spring Bamboo can only be obtained during the Spring Season from February 25th to May 31st in the Northern Hemisphere, or August 25th to November 30th in the Southern Hemisphere.
Collecting Young Spring Bamboo will allow you to craft a selection of ten different spring items using special DIY crafting recipes only found during the season! These recipes can be primarily obtained in Balloon Presents, but Isabelle will share the Bamboo Noodle Slide recipe too if you don't already have it.
Our personal favorite item from this set is the Pan Flute tool that can be used to play fun and somewhat annoying sound effects with your friends! Other items include the Basket Pack and Bamboo-Shoot Lamp.
Check out our complete guide to Young Spring Bamboo here, including a full list of crafting recipes you can unlock.
Cherry Blossom Petal Material & Recipes
There's more than just bamboo to find during Spring as the Cherry Blossom Petal season occurs during the beginning of April too! It's arguably the most beautiful time of the year in Animal Crossing: New Horizons when cute pink petals fall from the sky.
Best of all, those beautiful petals aren't just for looks — you can catch some of them with your net as they float in the air from April 1st to April 10th in the Northern Hemisphere, or October 1st to October 10th in the Southern Hemisphere.
The atmosphere of your island during the Cherry Blossom season is truly spectacular with fruitless trees displaying the beautiful blossoms as well.
As you'd expect, catching these Cherry Blossom Petals will allow you to craft some equally beautiful items such as the Blossom-Viewing Lantern, Cherry-Blossom-Petal Pile, Cherry-Blossom Pochette, and Outdoor Picnic Set.
You can learn these recipes from Balloon Presents only during the limited Cherry Blossom season, and Isabelle will share the Outdoor Picnic Set recipe too if you don't already have it.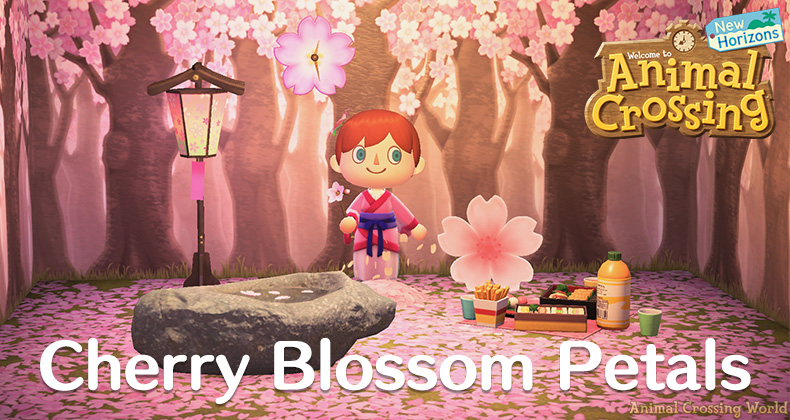 When these Cherry Blossom items were first in season near the height of Animal Crossing's popularity last spring, players went absolutely nuts for them! Given the limited time period of just ten days though, many weren't able to find every recipe, so keep at it if you want the entire collection.
Check out our complete guide to Cherry Blossom Petals here, including a full list of crafting recipes you can unlock.
St. Patrick's Day Shamrock Items
Newly introduced for 2021, the Irish St. Patrick's Day holiday will be celebrated in Animal Crossing: New Horizons during spring from March 10th to 17th!
Despite being a relatively minor holiday in the grand scheme, a surprisingly vast amount of Shamrock themed items have been added in the February Update to celebrate St. Patricks's Day, or Shamrock Day as Nintendo calls it.
The Shamrock Rug, Shamrock Doorplate, and Shamrock Soda items will all be available in the seasonal tab of Nook Shopping's Special Goods section from March 10th to 17th.
Additionally, an entire set of Shamrock themed clothing including the Shamrock Hat, Shamrock Shoes, Shamrock Suit, and Shamrock Sunglasses will be sold at Able Sisters during the same time period.
Finally, a new Shamrock Wand DIY crafting recipe will be made available for St. Patrick's Day. You can obtain this recipe from one of the first Balloon Presents you shoot down with a Slingshot during the event period of March 10th to 17th!
Shamrock Wand DIY Recipe

3 Clump of Weeds
3 Star Fragments
Rainy Days & Rainbows
When the snow goes away, the rain comes roaring back in Animal Crossing: New Horizons! While snowfall days were nice to experience during Winter, we're pretty excited to enjoy some classic Animal Crossing rainy days with standard rainfall returning in the Spring.
It's hard to explain, but there's just something very enjoyable about taking in the rainy day atmosphere when playing New Horizons. If you haven't seen it before in Animal Crossing, you're certainly in for a treat!
Just like during the snow, a unique soundtrack of hourly background music plays on your island while it's raining. And be on the look out for a heavy windstorm on occasion too.
The Aurora Borealis weather event departs with the Winter season as well to be replaced by occasional Rainbows  after the rain stops — and on very rare occasions, a stunning Double Rainbow! Across the sky!
Learn how to easily discover when special weather events like Rainbows and Meteor Showers will appear on your island here.
New Bugs, Fish, Sea Creatures
As we begin to enter the Spring season in Animal Crossing: New Horizons, your island's available wildlife will begin to shift dramatically as more new bugs, fish, and sea creatures become available.
For obvious reasons, the springtime in Animal Crossing is always the best time of year if you enjoy catching bugs with your Net! You'll discover more insects hopping around your island as we enter deeper into Spring.
Our complete article here covers all of the newly arriving creatures you can find during March, but here's a preview of some Bugs and Fish making their first appearance in many months starting on March 1st:
Peacock Butterfly
Honeybee
Tiger Butterfly
Tadpole
Loach
That's just the start for March — expect even more creatures to appear throughout the Spring in April and May as well! If you've only played Animal Crossing during the Winter, you're in for a treat.
---
Are you excited to experience the Spring Season in Animal Crossing: New Horizons, either for the first time, the second year, or third year? Let us know in the comments below what your island plans are! It's a great time to feel inspired about working on island projects again.
Stay tuned to Animal Crossing World for everything on Animal Crossing: New Horizons, including our extensive Guides section here. Our most popular pages include Super Mario Items, Mario Warp Pipes, March Seasonal Items, February Update Datamine, Young Spring Bamboo Recipes, Sanrio Card Reprint, Redd Art, and Sea Creatures.