Snow has finally stuck to the ground in Animal Crossing: New Horizons (ACNH) today for the Northern Hemisphere bringing a completely snow covered landscape to our islands, alongside some exciting new features to enjoy!
Before even exploring the new features, it's worth taking a moment to just enjoy how absolutely beautiful Animal Crossing: New Horizons looks during the snow-covered period. It's not just the grass but the buildings, trees, buildings, bushes, and even fences!
Isabelle's Announcements
If you're lucky, you might learn a new Snowflake Wreath DIY recipe from Isabelle during her morning announcements today as she discusses the new Snowflakes seen on your island.
There's two different seasonal conversations that Isabelle has to offer during this season though, so if you get the one about Snowballs first today, you won't receive the Snowflake Wreath yet.
No need to worry though — you can hear about the Snowflakes and get the free DIY recipe from Isabelle at a later date, or even just unlock the recipe yourself through shooting down Balloon Presents instead.
RELATED: Farm DIY Recipe Balloons Easy Using Jail Bars Wall Trick
Catch Snowflakes
As you explore your island covered in gorgeous snow for the very first time, be on the look out for any Snowflakes flying in the air around you! Similarly to both Cherry Blossom Petals and Maple Leaves, these Snowflakes can be found all winter long until late February when the snow disappears.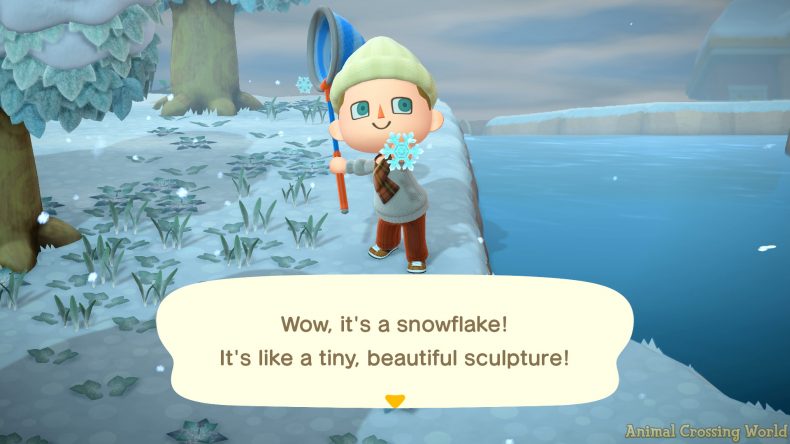 Give your Net a swing to catch a Snowflake and keep it for crafting brand new Winter Snowflake DIY crafting recipes, like the Falling-Snow Wall and Snowflake Pochette. See them all in our Snowflake DIY Recipe list here.
If you're having trouble finding Snowflakes, be on the listen for a little twinkling sound when nearby one. For more on catching Snowflakes, check out our complete guide here.
Build Snowmen
What's all of that fresh snow good for if you can't do anything with it?! Make sure to search your Animal Crossing: New Horizons island every day during the Winter Snow Season looking for any mysterious new Snowballs!
If you spot a Snowball, look nearby to find its twin and start kicking them around in the snow until they can be rolled into even larger sizes. And if you push them together, you can build a full-fledged Snowman!
Spend some time trying to judge the perfect proportions of head and body sizes for your Snowballs and you'll be rewarded handsomely. Need some help with that? Be sure to check out our How To Build A Perfect Snowman (Snowboy) Every Time guide.
It's worth your time as building a Perfect Snowman will reward you with a special Large Snowflake crafting material and an exclusive Snowboy DIY Recipe! There's 15 DIY recipes to collect from Snowmen in total and you can see all of them in our Winter Snowflake guide here.
Find The Dung Beetle
There's one last little detail to enjoy with the new snow in Animal Crossing: New Horizons, or should we say little bug — the Dung Beetle!
Although the Dung Beetle technically is introduced on December 1st, you can only find him rolling on Snowballs, so the 11th of December is the real first sighting of this sneaky bug.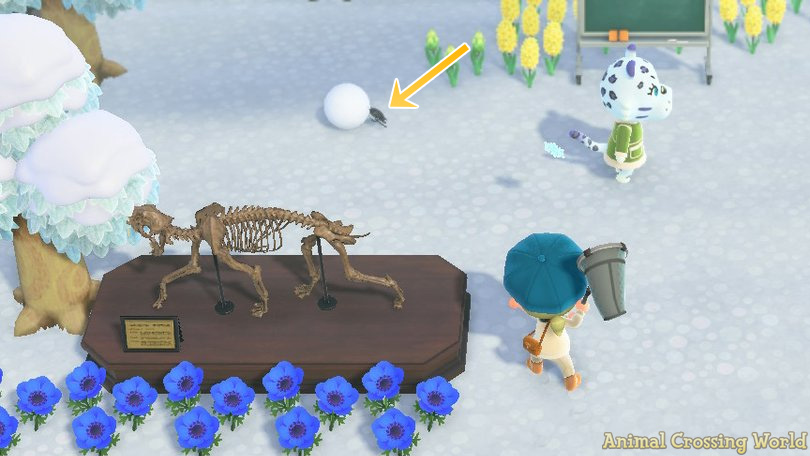 Notably, players in the Northern Hemisphere who have been catching every single bug since March in real-time can now complete their Bug Critterpedia for the very first time! Congratulations if you're one of them!
Christmas DIY Recipes Right Around The Corner
If the excitement of all this new content to enjoy in Animal Crossing: New Horizons for winter has you feeling joyful, there's even more right around the corner!
Beginning in just a few days on December 15th, the pine trees on your island will become decorated with festive lights to celebrate the holiday season.
Expect some lovely new crafting materials and DIY recipes to collect when that happens! Our full Festive Christmas Ornament DIY Recipe List guide is ready if you'd like a preview of what's coming.
Let us know in the comments below if you're feeling excited about Winter in Animal Crossing: New Horizons and what you're enjoying most!
Stay tuned to Animal Crossing World for everything on Animal Crossing: New Horizons, including our extensive Guides section here. In particular, don't miss out on our popular Winter Snowflake Recipes, How To Build Perfect Snowboy, Christmas Toy Set, Christmas Ornament Recipes, Thanksgiving Event, Redd Art, and Sea Creatures guides.