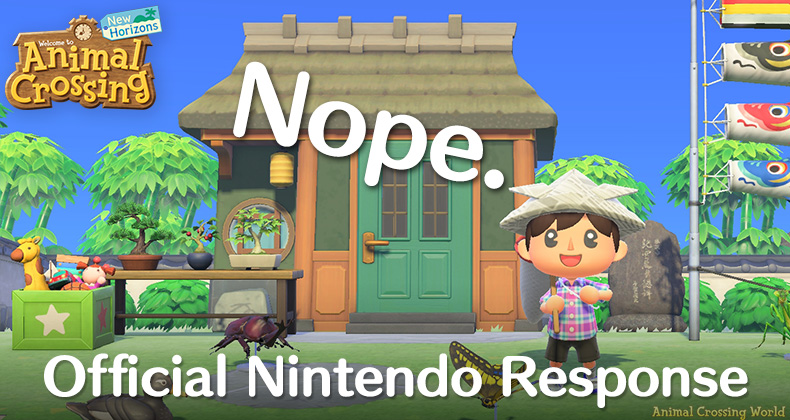 After an eruption of fan community theories, speculation, and discussion about the strange 'mysterious house' seen in yesterday's Animal Crossing: New Horizons update screenshots, Nintendo has released an official response today.
Posted as an update to the top of the official Japanese April Update announcement, the company confirms that the mystery villager house did indeed reflect a design that can't be found in Animal Crossing: New Horizons and apologizes for the error made.
While this isn't a huge surprise — we noted this possibility of a 'Weird and Honest Mistake' in our article — it'll definitely come as a disappointment to some who were excited about possible surprise new content given how relatively uninteresting the announced April Update information was.
Here's the full statement from Nintendo, as seen on the Japanese page:
Updated on April 27: Since it was found that the screen shot that introduced the items of "Children's Day" reflected a house with an appearance that could not appear in the actual game, the corresponding screen was replaced. It was. I must sincerely apologize.
Furthermore, the company has taken the time to replace the original screenshot featuring the house with a different screenshot showing off the new Children's Day items in a fresh way as seen above.
RELATED: Official April Update Patch Notes For Animal Crossing: New Horizons (Version 1.10)
RELATED: All New Items In April Update For Animal Crossing: New Horizons (Datamine)
Another note regarding the previous 'mysterious house' screenshot is featured right below the new screenshot later down on the page:
* 4/27 Update: The screen has been found in the screen posted at the time of publication, so it was found that the appearance of the appearance that can not appear in the actual game was reflected, so the screen has been replaced. I must sincerely apologize.
Both of these statements have been roughly translated into English using machine translation, but the meaning here is quite clear regardless. Whatever happened with the house featured in the original screenshot released on Monday appears to have been a genuine mistake.
I'm personally quite surprised, and impressed, that Nintendo chose to address the issue head-on and put an end to the speculation. It's nice to see such speedy and effective communication, rather than leaving us to hope.
The April Update for Animal Crossing: New Horizons releases in just a matter of hours later tonight on Tuesday, April 27th in many time zones — follow the release time here and learn everything that's officially new in the update here!
Stay tuned to Animal Crossing World for everything on Animal Crossing: New Horizons, including our extensive Guides section here. Our most popular pages include April Update, Sanrio Villagers & Items, Sanrio Amiibo Cards, Nook Points, Build-A-Bear, Super Mario Items, Redd Art, and Sea Creatures.