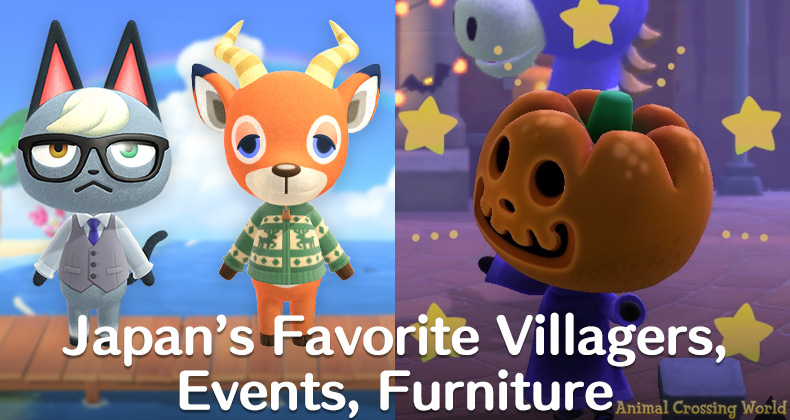 Wondering what the most popular Animal Crossing: New Horizons villagers, furniture, and events are in Japan? Japanese players recently took part in a fun magazine poll to find out!
As part of the latest edition of the popular Famitsu magazine in Japan, four thousand Animal Crossing players were asked their most loved villagers, furniture series, events, plus a couple questions about their daily playtime and when they began playing New Horizons.
Unsurprisingly, brand new villagers Raymond, Judy, and Dom all made it into the top 10 most voted characters — but the exact order might surprise you. Famitsu's results found that Dom came out as the leader with 652 votes, with Raymond falling behind in 3rd place at 440 votes.
That might show a difference between the Japanese and overseas audiences of Animal Crossing, or it could just be this particular sample of players. Dom does appear to be particularly popular on Japanese Twitter though, whereas Raymond has always been the top favorite in English circles, so we can definitely see a contrast here.
RELATED: Animal Crossing: New Horizons Beta Screenshots & Concept Art Show Off Early Development Designs
As for other villagers, there are some other notable stars and omissions, compared to the usual popularity we observe in English communities. Fang and Lobo in particular seem oddly high on the list, whereas favorites like Ankha and Marina are entirely missing.
These are the top ten Animal Crossing: New Horizons villager rankings that Famitsu readers voted for in Japan:
Dom: 652 votes
Marshal: 480 votes
Raymond: 440 votes
Fang: 236 votes
Judy: 228 votes
Stitches: 220 votes
Flurry: 196 votes
Lolly: 188 votes
Beau: 176 votes
Lobo: 164 votes
Moving on to furniture, the Ironwood Series unsurprisingly came in first place with 879 votes, given that it's one of the game's most recognizable sets. 'Space' was second place at 708 votes, presumably referring to the vast collection of crafting recipes available from Celeste.
The Antique Series was the third most popular option in Famitsu's poll coming in at 636 votes. Sadly, the results appear to have been cut off after that, so we don't have any information on further series.
Besides villagers and furniture, this reader poll touched on the topic of Animal Crossing players' most well-liked holiday events. Halloween came in first place by a large margin with 1,304 votes, followed by Christmas at 808 votes, and finally Thanksgiving in third place with 652 votes.
Personally, the Turkey Day event for Thanksgiving was easily my favourite of last year's holiday events, so I'm a bit surprised to see it come only in third place. It's worth noting that Japan doesn't celebrate Thanksgiving in the same way we do though, so that could be one reason.
It's not clear whether other major events like Bunny Day and Festivale were excluded from the poll, or if so few participants voted for them that Famitsu chose not to make mention. It'd certainly be amusing if Bunny Day did come that far down the list, but we don't know.
Famitsu readers were also asked exactly when they first started playing Animal Crossing: New Horizons on Nintendo Switch, and how long their daily play sessions are. Nearly a majority say they've been playing since launch day last March, and another 19% report playing within the first month.
When it comes to playtimes, the majority of players said they've been playing around 1-3 hours per day, with around 24% confessing to less than a hour. Here's the complete breakdown of daily playtime from Famitsu respondents:
55.1%: 1-3 Hours
23.9%: Less Than 1 Hour
13.0%: 3-5 Hours
7.8%: More Than 5 Hours
As fun as these results are though, it's worth noting that the polled demographics definitely don't reflect the overall player base of Animal Crossing with over 85% of participants identifying as men, but rather the audience of gaming magazines.
How would you answer these Animal Crossing: New Horizons questions if you were participating? Let us know in the comments below! Special thanks to Nintendo Everything for reporting and translating this poll.
Stay tuned to Animal Crossing World for everything on Animal Crossing: New Horizons, including our extensive Guides section here. Our most popular pages include Museum Day Event, Upcoming Seasonal Items, Swim In River Glitch, New May Creatures, April Update, Sanrio Villagers & Items, Sanrio Amiibo Cards, Redd Art, and Sea Creatures.