Small references in the latest Version 1.11 Update for Animal Crossing: New Horizons released in July indicate that Nintendo might be continuing to work on the long-awaited Museum Cafe!
If there's one constant that's remained throughout the last 18 months since Animal Crossing: New Horizons released in March 2020, it's the ongoing desire and speculation about a single feature — returning character Brewster and his Cafe from past Animal Crossing games.
UPDATE: It turns out these datamine hints were well worth paying attention to — a new update for Animal Crossing: New Horizons featuring Brewster & The Roost has been announced!
Hype has been high ever since Brewster's initial absence at the game's launch, the very first datamining by Ninji pointing to the possibility in April 2020, and some conspicuous in-game villager dialogue mentioned The Roost.
⚠️ Datamine Information Warning ⚠️
It's important to note that the presence of references in the datamined game code do not guarantee future features as they could be left unfinished forever, plans could change, or could be misunderstandings.
However, we also recognize there is much community interest in hearing about any kind of new details found in Animal Crossing: New Horizons updates — no matter how speculative it may be. Other websites and videos report on them as well, leaving us little choice. Therefore, we are reporting on this datamine speculation, but we include this warning to ask that you take it with a grain of salt and keep expectations low.
What Has Changed In Version 1.11 & 1.10
So, exactly what changes have been spotted in Version 1.11 leading us to believe that Brewster and his Cafe might still be in the works for Animal Crossing: New Horizons?
First of all, a camera parameter change was made to the code reference 'IdrMuseumCafe' in Version 1.11. This follows additions in the previous Version 1.10 update where new camera settings for 'IdrMuseumCafe' were spotted, as well as a new reference to a third type of Museum entrance known as 'IdrMuseumEnt03'.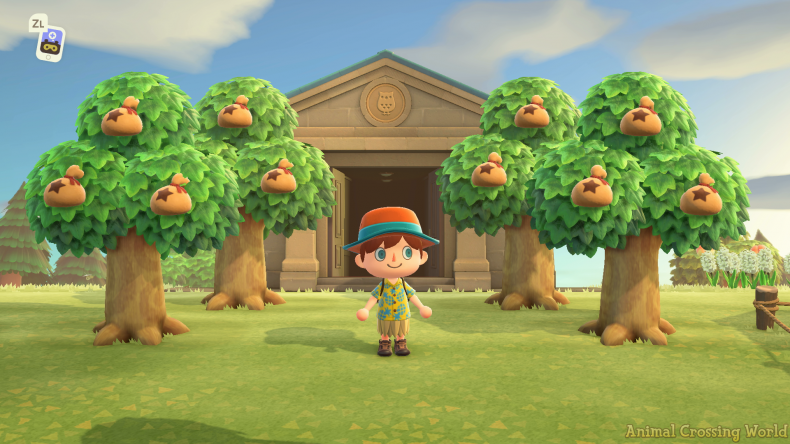 Another change spotted in Version 1.10 was adjustments to the 'MuseumLevel' EventFlow query that essentially made 'space' for a new value to be handled — one that would likely represent a new version of the Museum building, possibly with a Cafe.
Back to Version 1.11 though, more progress has been found on that 'MuseumLevel' finding — a very curious 'cNpcMemory:TalkProgressMuseumBuiltCafe' flag is now associated and seen in the EventFlow for building the Museum. Of course, this isn't actually used in any way.
Presumably, this could be used to effect some dialogue with villagers or special characters on your island after the Museum has been expanded to build the Cafe. That's just our interpretation though and shouldn't be treated as fact.
Putting all of this together across the two most recent Animal Crossing: New Horizons updates, it does appear that developers at Nintendo have been at least tinkering with a Cafe in the Museum throughout this year. Whether this will ever lead to a released feature is impossible to say though.
The Big Picture
Much of this continues to track with the original datamining by Ninji all the way back in April 2020 that originally spawned speculation. At the time, before there was even an Art section in New Horizons, he reported that there were entries in the Museum for two extra upgrade levels.
Shortly after, the Spring Update for Animal Crossing: New Horizons released adding the Art exhibit into the museum as part of a Museum upgrade — presumably the second 'level'. But more than a year later, that third level has never materialized.
By the way, for newer Animal Crossing fans who might be wondering how the Museum is connected to the Cafe, two past Animal Crossing games on the DS and Wii both featured Brewster's Cafe (The Roost) inside of the Museum. It's only in Animal Crossing: New Leaf that there was a separate building.
Datamining Has A Mixed Track Record
In the interest of caution, we do want to point out that datamined references in Animal Crossing: New Horizons have had a relatively mixed record since launch with both successes and misses.
On the positive side, here's a number of major features that were spotted through datamining prior to their release giving us a successful hint:
But there's also been plenty of other major features hinted in datamining that haven't ever came to fruition so far, like the following for example:
A third Nook's Cranny shop
Growing and picking vegetables (Pumpkins were released, but initial datamining suggested many more would be added)
To be clear, this isn't because the datamined information is 'incorrect', but rather a reflection that Nintendo's development plans are unpredictable. Priorities at Nintendo can change and we're only spotting small scraps of code without the full picture. It doesn't necessarily mean something will actually be completed into the game ever, let alone when it will happen!
So remember that none of this guarantees that Brewster or The Roost will be added in an update, or any time soon. Rather, it indicates that someone at Nintendo is at least still tinkering with the feature, leaving the continued possibility at least open for a release someday.
It's certainly interesting to see though given Nintendo's recent statement that further free content is in development for Animal Crossing: New Horizons and thanking us for our patience so far!
Dataminer Credits: We would like to thank the work of several dataminers who volunteer on the ACNH Data Spreadsheet Project for their uncovering of these new datamined references including SuperSpazzy, asteriation, and Stoney! We ask that you do not bug them for more details or information.
Stay tuned to Animal Crossing World for everything on Animal Crossing: New Horizons, including our extensive Guides section here. Our most popular pages include Summer 2021 Update, New Halloween Items, New In July 2021, Animal Crossing Monopoly, Bug-Off Event, Sanrio Villagers & Items, Sanrio Amiibo Cards, Redd Art, and Sea Creatures.