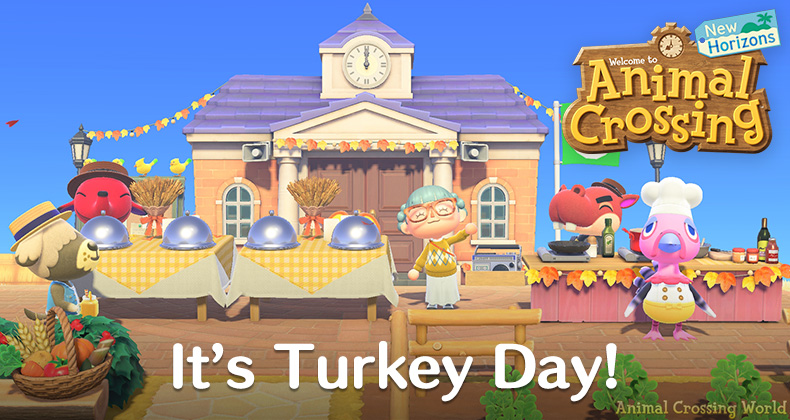 Happy Thanksgiving to everyone in the United States as another exciting holiday event has returned in Animal Crossing: New Horizons to enjoy throughout today! Of course, players around the world can join in the fun too.
This year's version of the Turkey Day Thanksgiving event is largely similar to the 2020 version introduced for the first time last year, but some minor changes have been made as well for veteran players in 2021 and beyond.
More importantly, fans who missed out last year because they might have been taking a hiatus or only got the game after Christmas should absolutely take the time to participate as it's one of best holiday events that New Horizons has to offer in our opinion!
The Turkey Day festivities for Thanksgiving begin in Animal Crossing: New Horizons at 9AM local time on your island today running all day long until Midnight. During this event, dining tables will be setup outside of Resident Services, villagers put on cute hats carrying around plates, and Franklin the World-Class Chef shows up for a visit.
Throughout the day, you can collect ingredients for Franklin to cook dishes for the entire island. These ingredients can include pumpkins, mushrooms, fish, sea creatures, and more — some new ingredients added in Version 2.0 like Carrots and Flour appear to be used sometimes now too.
When you collect all of the ingredients to complete a recipe, give them to Franklin and he'll cook the dish with you! Additionally, each recipe also has a secret unconventional ingredient that you can use to enhance a dish and receive additional rewards.
Learn what these off-recipe ingredients are, and trade for ingredients you're missing, by giving fish to villagers cooking in their houses on Turkey Day.
In return for all of your hard work, you'll be able to get four different non-craftable Turkey Day items exclusive to this event. Plus, eight Turkey Day DIY Crafting Recipes can be unlocked when perfecting every recipe.
And newly added in the Version 2.0 edition of the Turkey Day event, you can now earn four new Cooking DIY Recipes from Franklin matching the event's dishes once you've cooked them all for him. Note that the DIY Cooking feature must already be unlocked prior to playing the event in order to unlock these recipes, so be sure to do so at the Nook Stop Terminal if you haven't already!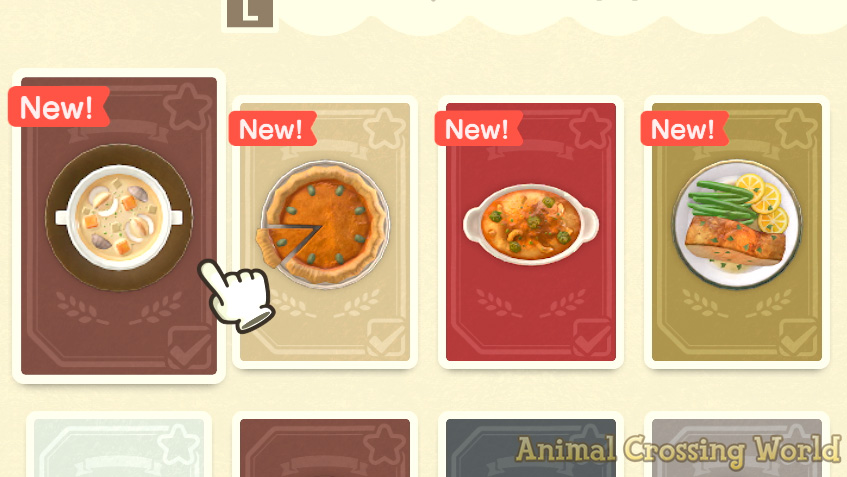 For a full rundown of absolutely everything going on in today's Turkey Day event including every ingredient and recipe, check out our complete Turkey Day Thankgiving Event Guide here!
Of course if you're unable to play today for any reason, it's worth mentioning that Animal Crossing: New Horizons events are no longer 'time locked' after Version 2.0, so you can enjoy it anytime later by time traveling. In our view though, it's always more fun to experience these holidays in real time — so try and make it if you can!
Look forward to a special surprise new event taking place shortly after Turkey Day as well, which you can learn more about here if you're interested in spoiling yourself.
Let us know in the comments below how the Turkey Day Event goes for you, what event items are your favorite, and how you think this Animal Crossing: New Horizons event stacks up to the rest!
Stay tuned to Animal Crossing World for everything on Animal Crossing: New Horizons, including our extensive Guides section here. Our most popular pages include Version 2.0 Summary, 9000+ Items Datamine, 16 New Villagers, Gyroids, Kapp'n Islands, Cooking Recipes, Happy Home Paradise DLC, Series 5 Amiibo Cards, Mushroom DIY Recipes, New November Critters, Redd Art, and Sea Creatures.