Nook Friday is a new event in Animal Crossing: New Horizons (ACNH) coinciding with the real-world Black Friday holiday with sales at Nook's Cranny! Learn when Nook Friday occurs and what happens in this guide.
Newly introduced in the massive Version 2.0 Update released on November 3rd, you'll need to have your copy of Animal Crossing: New Horizons fully updated to experience the Nook Friday event.
Nook Friday Event Dates
The Nook Friday event at Nook's Cranny is held in Animal Crossing: New Horizons beginning on the day after American Thanksgiving (fourth Thursday in November) every year! This year, Nook Friday will begin on November 26th, 2021. The sale period ends on November 30th every year.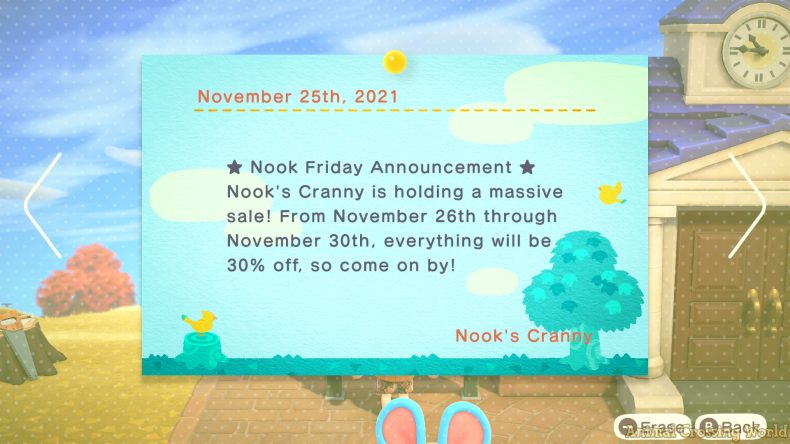 Note that both an upgraded Nook's Cranny shop and Resident Services building is required to enjoy the Nook Friday event on your island.
What Happens On Nook Friday?
Nook Friday is celebrated in Animal Crossing: New Horizons inside the Nook's Cranny shop on your island with Timmy & Tommy offering a 30% off discount sale throughout the event! For example, an Ice-Cream Display item typically costs 11,000 Bells, but can be purchased for only 7,700 Bells during Nook Friday.
You'll notice they've appropriately decorated the building's exterior windows with plenty of SALE stickers to celebrate the occasion, and they'll talk to you about the festivities on your first visit.
The 30% off Nook Friday discount applies to all items available to purchase in Nook's Cranny every single day during the event. This is a great opportunity to help complete your item catalog by purchasing out the entire store each day if you can afford it!
Note that the items sold inside of the cabinet at Nook's Cranny are included in the sale as well, so you can take this chance to stock up on consumables like Tools and Wrapping Paper if you'd like.
Remember that Nook Friday isn't just a single day event like most Animal Crossing: New Horizons events — you can enjoy these limited-time discounts all the way through November 30th, so check back in daily!
Buy Turkey Day Items & Recipes
Although technically unrelated to Nook Friday, you can find some Turkey Day items for sale at the same time during the Nook Friday sales period in Nook's Cranny!
First, the 'seasonal' slot in the bottom left of the shop rotates through crafted versions of some Turkey Day Set items. DIY Crafting Recipes for these same Turkey Day Set items can be purchased inside the cabinet as well with the Cozy Turkey Day DIY book.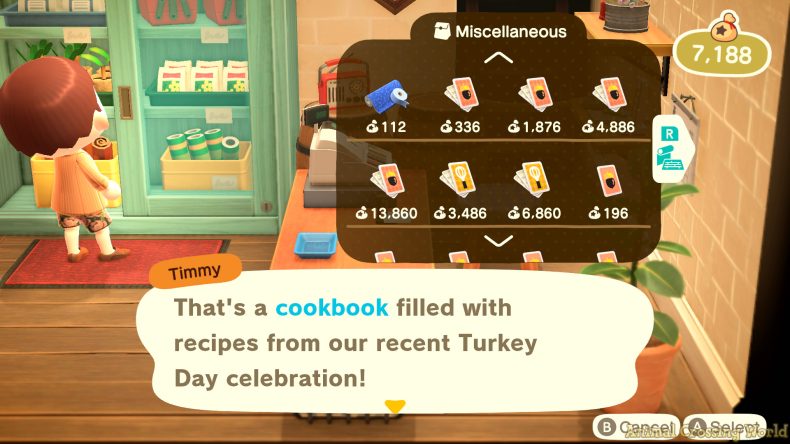 Additionally, Cooking DIY Recipes for the four dishes cooked during the Turkey Day event can be purchased in the cabinet as part of the Turkey Day Recipes DIY book.
All of these can be earned organically during the Turkey Day event itself, but Nintendo offers the option of picking them up at Nook's Cranny starting the day after if you happened to miss the event. Plus, they're on sale thanks to Nook Friday!
Throwback to Sale Day on GameCube
Fun fact — Nook Friday isn't the first time that the Animal Crossing series has taken inspiration from the real-world Black Friday!
All the way back in the original Animal Crossing game for GameCube, players could find a special Sale Day taking place on Black Friday at the town's Nook shop.
During Sale Day, Tom Nook sells special mystery Grab Bags for Bells that contain a random set of three items including furniture, carpets, wallpapers, clothes, and more. You can also find Tortimer at the Wishing Well where he offers the Market Model item.
It's too bad that Animal Crossing: New Horizons didn't take on the Grab Bags aspect of Sale Day for Nook Friday — it would have been a fantastic addition to Nook's Cranny!
Special thanks to JVGS for the Sale Day image.