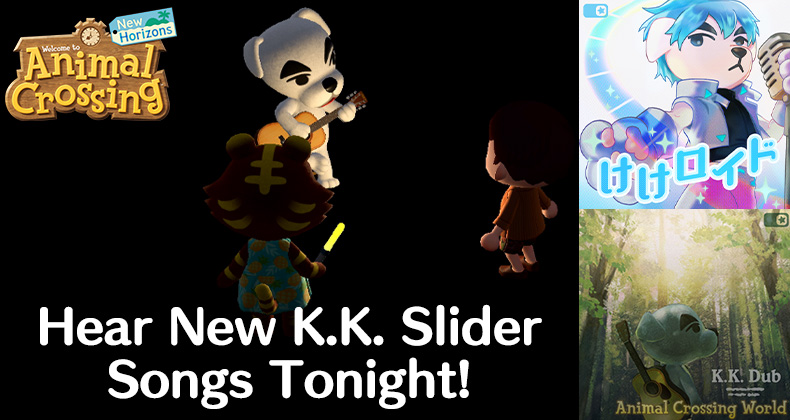 Tonight's the very first Saturday night since the massive Version 2.0 Update for Animal Crossing: New Horizons released earlier this week!
With the new Version 2.0 Update, a brand new selection of 12 different K.K. Slider songs have been added to the fan favorite musician's discography making today's concert performance your first chance to hear them live.
As a reminder, K.K. Slider performs on islands in front of Resident Services every Saturday night starting at 6PM local time on your island in Animal Crossing: New Horizons.
While you can choose to leave it up to chance which song he'll play, we highly recommend requesting a specific song using the 'Gimme that one song' option to ensure you get to enjoy one of his fresh tunes introduced in Version 2.0!
To help you out, here's a handy summary of all 12 new K.K. Sliders Songs added to Animal Crossing: New Horizons with the latest Version 2.0 Update:
Choose carefully for your first track tonight, because you'll get to take home an aircheck for the first song he plays! Remember that song titles need to inputted into the text box exactly without any punctuation mistakes to be recognized by K.K. Slider correctly.
And as an added bonus, a very small new feature appears to have been added in the Version 2.0 Update allowing you to press A during K.K. Slider's concert to clap your hands — just like you can on Kapp'n Boat Tours!
For more information on K.K. Slider in Animal Crossing: New Horizons, including a complete song list for his entire collection with a handy checklist saving feature, follow our complete guide here.
Be sure to let us know in the comments below which new K.K. Slider songs you take for a test drive, and what you think of them!
Stay tuned to Animal Crossing World for everything on Animal Crossing: New Horizons, including our extensive Guides section here. Our most popular pages include Version 2.0 Summary, 9000+ Items Datamine, 16 New Villagers, Gyroids, Kapp'n Islands, Cooking Recipes, Happy Home Paradise DLC, Series 5 Amiibo Cards, Mushroom DIY Recipes, New November Critters, Redd Art, and Sea Creatures.