A brand new seasonal event and item with vegetable origins has arrived this week in Animal Crossing: New Horizons to enjoy, but it's a bit of a bittersweet one!
Celebrating the Tomato Festival seasonal event, players in Animal Crossing: New Horizons can now find a special Tomato Festival Tee clothing item available from the Special Goods section of Nook Shopping for a limited time.
The Tomato Festival Tee costs 1,000 Bells each and is available for purchase from August 20th to 31st. These dates remain unchanged for every year.
This rather strange holiday celebrates the real-world La Tomatina Festival seasonal event that occurs each year in Spain where participants jump into a gigantic food fight. So if you're wondering why the in-game tee's spelling isn't in English, that's why!
Here's the official in-game description from Nintendo for the Tomato Festival shopping event:
This festival, inspired by the one that originated in Spain, has participants tossing squished tomatoes at one another for a splat-filled hour between 11 AM and noon. Better put on a Tomato Festival tee quick!
And as a side note, it's worth calling out that it seems whoever at Nintendo is in charge of creating the official promotional images for seasonal events had a really fun time going out with a bang on this final one for Tomato Festival.
There's a whole gang of players wearing tomato shirts, there's tomatoes growing everywhere, there's tomatoes on the counter to cook, there's pizza cooked with tomatoes, there's boxes of tomatoes at the top, and finally there's even the villager Ketchup in the top right corner — presumably another reference to tomatoes! Well done Nintendo!
The Final New Item In New Horizons?
As mentioned in this article's title, the Tomato Festival seasonal event actually marks the last remaining 'new' seasonal item to be released in Animal Crossing: New Horizons for real-time players. Despite the event first taking place in August this year, this item was implemented through the major Version 2.0 Update released 10 months ago in November 2020.
In that update, a few new seasonal items were added that have been made available in the months since, but the Tomato Festival marks the final piece of that new content for Animal Crossing players playing in real-time to collect and enjoy.
Going forward, we don't expect any more new items to appear in Animal Crossing: New Horizons given Nintendo's previous announcements that both major updates have been discontinued and that no further paid DLC like Happy Home Paradise is planned either. So unfortunately, the Tomato Festival sort of makes an end of a era for New Horizons!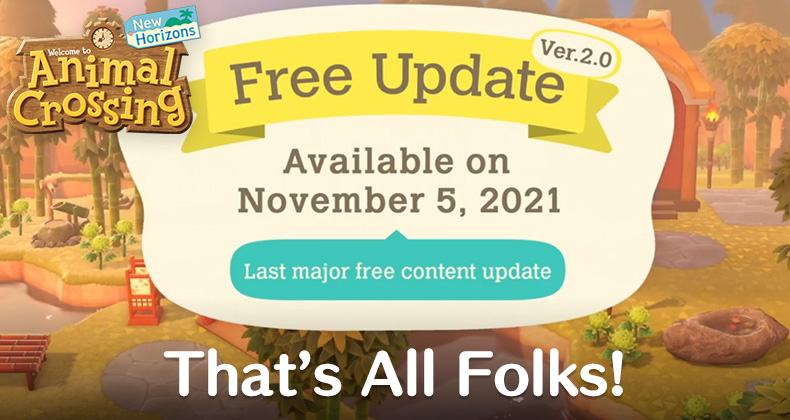 Of course, all of the previous seasonal events will continue to repeat each year for new players or returning players on fresh islands to enjoy. But going forward, we don't expect any further new previously unseen items or events to show up.
Zodiac New Year Items Remain… Sort Of
It's worth noting that there is technically one exception in regard to new items — the yearly Zodiac items for New Year's! This collection of items was fully implemented in the Version 2.0.4 update late last year and includes 13 figurines in total.
In theory, this means that real-time players would have to wait all the way until the year 2031 to obtain the entire Zodiac figurine collection when the Zodiac Pig Figurine and Zodiac Boar Figurine are made available. You can view all of the Zodiac figurines and their respective years here.
Katrina Disrespects Zodiac Years
However, there's an interesting twist with Katrina where it is possible to receive Zodiac figurines from her that don't correspond at all to the current or surrounding in-game years.
So if you're a frequent customer of Katrina at Harvey's Island, you may very well already have received all of the Zodiac figurines well before their unlock years, thereby defeating any time gating! That would truly make the Tomato Festival Tee your final new item.
Stay tuned to Animal Crossing World for everything on Animal Crossing: New Horizons, including our extensive Guides section here. Our most popular pages include Redd Art, Bug-Off Event, Fireworks Show Event. Bush Types & Colors, Villager Houses, Summer Shells DIY, Sea Creatures, K.K. Slider Songs, New Items In 2.0, Series 5 Amiibo Cards.