The Winter and Holiday season is just around the corner in Animal Crossing: New Horizons as we enter December bringing endless new items, materials, features, and events to enjoy throughout the month!
Some of these features are just introduced in the Winter Update, while others have been in the game for months and will now become available to real-time players for the first time in the Northern Hemisphere. There's new content for Southern Hemisphere players too.
In this article we'll tell you in detail about every single new thing you can experience in December including new Christmas toys, winter and holiday clothing, winter crafting materials and recipes, festive crafting materials and recipes, two new holiday events, beautiful weather effects, and more!
Article Contents
Christmas Toy Set
Starting on December 1st and running all the way until Christmas Day, you can purchase eight different brand new Toy items at the upgraded Nook's Cranny. They'll be sold in the special seasonal furniture slot found in the bottom left of the shop.
Each item comes in a bunch of different variation colors and styles, but unfortunately can't be customized by yourself, so you'll need to visit other islands or trade with other players in Animal Crossing: New Horizons.
What's extra fun about these new items is that most of them have interactive toy-like elements to enjoy! For example, the RC Helicopter item can actually fly high up into the air.
You can view the entire Christmas Toy Set in our complete guide to the items here.
Winter Clothing & Accessories
Did you know the Able Sisters changes their clothing inventory during the Summer and Winter seasons? If you think you've seen it all after checking every day, expect to see a few new surprises starting on December 1st!
In the Northern Hemisphere, items like the Snowflake Sweater, Dreamy Sweater, Fleece PJ's, Snow Knit Cap, and Patchwork Coat are just some of what you'll find.
Plus, a couple new Christmas clothes will come into play for both Hemispheres like the Holiday Sweater and Festive-Tree Dress!
For our friends in the Southern Hemisphere, they can expect a similar introduction of new Summer clothes and accessories at Able Sisters! For example, the Bold Aloha Shirt and Sailor's Tee will become available.
Winter Snowflakes
While it's possible to experience snowfall on your island at any time starting in Late November, the snow will begin to stick to the ground on December 11th in the Northern Hemisphere!
At the same time, new Snowflake seasonal crafting materials can start to be found floating in the air around your island in Animal Crossing: New Horizons. You can catch them with your Net with some careful aim, similarly to Maple Leaves and Cherry Blossoms.
By using these Snowflakes, you can craft a whole bunch of different Winter Snowflake DIY Crafting Recipes like the Falling-Snow Wall, Iceberg Wall, and Snowflake Pochette. The recipes can be unlocked from flying Balloon Presents, as usual.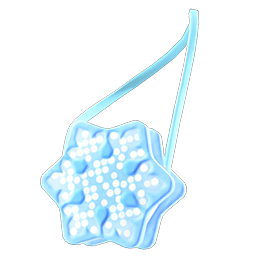 Thankfully, there's not too much of a rush on collecting everything in the world of Snowflakes as we'll have until late February before the snow goes away for Spring.
Learn everything you need to know about catching Snowflakes and see the entire set of Winter Snowflakes Recipes in our complete guide here.
Build A Snowboy
When the Snowflakes make their arrival as snow sticks to the ground, there's one more special feature for us to enjoy for the first time in Animal Crossing: New Horizons! Each day during the snow cover period, you'll find two tiny Snowballs near each other in a random open space on your island.
You can kick these Snowballs around a bit until they start to grow enough to be properly pushed by your hands to roll into whatever size you wish. By pushing the two Snowballs together, a full-fledged Snowboy can be formed!
If you can manage to make two perfectly proportioned Snowballs for a head and body, you'll build a Perfect Snowboy giving you a Large Snowflake and a special Winter Large Snowflake DIY Crafting Recipe. For three days after, your melting snowman can give another Large Snowflake.
These recipes from building a Perfect Snowboy are exclusive to building a snowman and all require a Large Snowflake — they can't cannot be obtained from flying Balloon presents like the other Snowflake recipes.
Learn everything you need to know about how to build a Perfect Snowboy every time in our complete guide here.
Christmas Ornaments
Beginning on December 15th when the festive season comes into full swing, a new series of seasonal materials for Christmas will become available in the form of Ornaments! This applies to both the Northern and Southern Hemisphere, of course.
Look out for select cedar trees on your island to be decorated in beautiful festive lights for the season, and give them a shake for a chance at getting a Blue, Red, or Gold Ornament item to craft with. It's very similar to the Acorns & Pine Cones for Autumn.
After you've gathered some Ornaments in Animal Crossing: New Horizons, be sure to shoot down flying Balloon Presents to get the various Festive Christmas Ornament DIY Crafting Recipes available including the Big Festive Tree, Illuminated Present, and Jingle Wall.
You'll have about three weeks to collect all of the Ornaments and crafting recipes you desire before they disappear after January 6th in the new year.
Learn everything you need to know about getting Ornaments and see the entire set of Christmas Ornament Recipes in our complete guide here.
Toy Day Christmas Eve Event
All of the new holiday items and materials in Animal Crossing: New Horizons we've already covered are leading up to this month's big holiday event — Toy Day!
Held on December 24th for Christmas Eve, this festive event will have you meeting returning character Jingle the Reindeer from past Animal Crossing games as he comes to your island spreading holiday cheer to all the residents.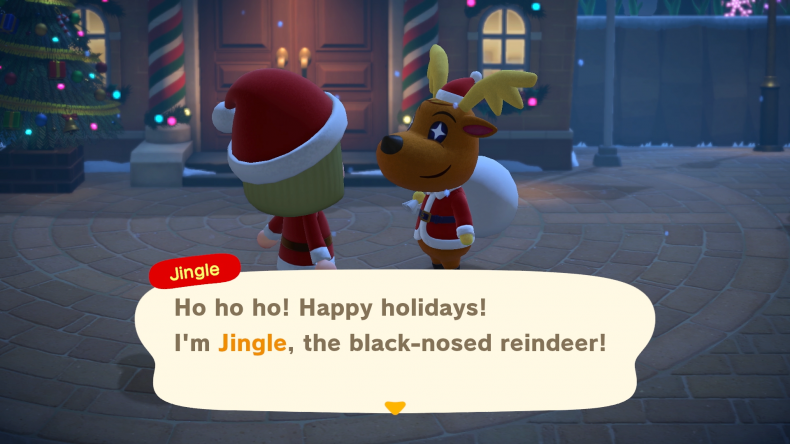 Jingle will start off by tasking you to get to work on crafting some Festive Paper with Christmas Ornaments to wrap up all of his presents.
Once you've crafted enough Festive Paper for Jingle, you'll be given a Magic Bag stocked full of presents to distribute all around your island to every one of your villagers as you pretend to be Santa Claus.
After completing all of Jingle's holiday work, you'll receive a few festive themed rewards including the Toy Day Sleigh, Toy Day Stocking, Gift Pile, and Jingle's Photo. You can also do gift exchanges with villagers.
For full details about the Toy Day event on Christmas Eve in Animal Crossing: New Horizons, check out our complete guide here.
New Year's Eve Countdown Event
There's still one more last event to experience in December, and that's at the very end of the month for the New Year's Eve Countdown! Nintendo didn't cover this one in their Winter Update trailer, likely because it's actually one of the few events already included in Animal Crossing: New Horizons from the start in March.
But for anyone playing in real-time, the New Year's Eve event is definitely new content to experience anyway! This event is one of the very rare times that you can meet Isabelle outside of Resident Services removed from the confines of her desk inside. Tom Nook will be there as well selling New Year's hats and party poppers.
A huge countdown clock is present outside as well counting down the hours, minutes, and seconds until the New Year — with a fabulous fireworks show celebration once the clock hits Midnight!
See The Aurora Borealis
When the winter snow fully sticks to the ground on December 11th, alongside Snowflakes and Snowballs, you'll be able to start spotting beautiful Aurora Borealis weather events on your island for the very first time in the Northern Hemisphere!
That's not to say you will get to see one anywhere near that specific date as every island has a unique weather pattern, but there's a good chance one will occur sometime during December for you, or in January if not.
If you'd like to know exactly when to look out for the Northern Lights on your island, we recommend trying out Ninji's MeteoNook weather pattern tool. By inputting enough data, you can find a near perfect schedule of your island's upcoming weather including Aurora Borealis and Meteor Showers.
Buy Aurora Wall & Sunflower Rug
It's been a while since we've seen new seasonal items added for sale in Nook Shopping, but the drought is coming to an end with more added in the Winter Update for Animal Crossing: New Horizons.
The first of these items is unlocked on December 1st called the Aurora Wall costing 7,000 Bells! This gorgeous wallpaper will let you experience the Aurora Borealis inside your own home at any time. The Midwinter Sweater can be purchased as well, previously named the Winter-Solstice Sweater.
It'll be sold in the Seasonal tab of Nook Shopping's Special Goods until the end of December, and exclusively in the Northern Hemisphere.
Not to be left out, Southern Hemisphere players can get their hands on the new Sunflower Rug item instead. Plus, the returning Sunflower Crown, previously named Summer-Solstice Crown.
And by the way, unlike the last release in June, these items are now properly locked to each Hemisphere so you'll need to get trading if you want everything without waiting six months!
---
RELATED: New Bugs, Fish, Sea Creatures In December For Animal Crossing: New Horizons (Northern & Southern Hemisphere)
Well, that just about covers absolutely everything happening for the Winter & Christmas season in Animal Crossing: New Horizons! We hope you're just as excited as we are to experience all of these fun new additions in December. Personally, this season has always been my favorite time in Animal Crossing.
Stay tuned to Animal Crossing World for everything on Animal Crossing: New Horizons, including our extensive Guides section here. In particular, don't miss out on our popular Mushrooms, Acorns & Pine Cones, Thanksgiving Turkey Set, Christmas Toy Set, Redd Art, and Sea Creatures guides.