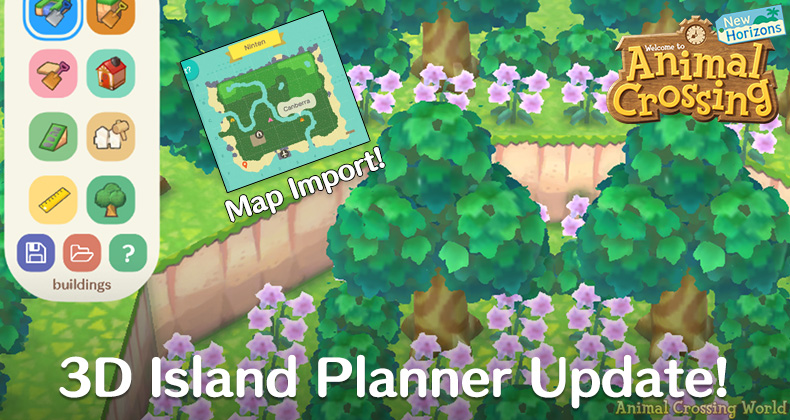 An incredible third-party 3D Island Planner application for Animal Crossing: New Horizons that released last year to much fanfare has received a long awaited update adding new features!
Created by developer Rob Fichman, the 3D Island Planner is a fan-made tool designed for computers that can be used to help plan out your Animal Crossing: New Horizons island before trying to build them out using the cumbersome in-game tools.
With the 3D Island Planner, you can easily sketch out many design elements on your island including creating cliffs, adding or removing water tiles, painting pathways, placing major facilities like Nook's Cranny or your house, and building inclines or bridges.
In other words, it's essentially a 3D version of another popular island planning tool in 2D called the Happy Island Designer. It won't design your island for you, but rather gives you an excellent planning ground to prototype basic design ideas you have, before committing to actually implement them in the game!
Island Map Import Feature
With this latest update to the application released on November 10th, a brand new island map import feature has been added to the 3D Island Planner enabling the ability to load your existing Animal Crossing: New Horizons island layout into the program. All you have to do is provide a screenshot of your island map!
Here's an example of how it works in the short video below:
To be clear, it's a pretty rough import as the feature is limited to the color colored information provided on the in-game map, so many details are missed. In particular, the developer notes that both paths and water cover up the height information on the map causing problems in those areas when cliffs are used in conjunction. Additionally, icons on the map for buildings and players will muck up those areas too.
Regardless of such limitations though, the new import feature will still be a great head start when deciding to plan out major changes to your existing island. Doing some touch-up work is far better than starting out from scratch in the planner!
Trees, Flowers, Bushes Added
In addition to the standout Island Map import feature, some new vegetation and landscaping options have been added to the 3D Island Planner that were missing in the previous versions.
These new decoration choices include placing trees, flowers, and bushes around the island planner! Only one version of each is available, but this will still help you plan out where these vegetation options can fit into your island's layout.
Odds & Ends
Some other odds and ends found in the latest 3D Island Planner update include the ability to zoom out much further than ever before, an increase to the bridge and incline limits to match Animal Crossing: New Horizons Version 2.0's changes, and general performance optimization.
All together, we're super grateful that Rob has taken the time to give his handy application a fresh update for Version 2.0 given how much fans have enjoyed using this tool over the past year and a half.
You can check out the latest version of 3D Island Planner for Animal Crossing: New Horizons yourself right here! Consider donating with your download if you enjoy his work.
3D Island Planner Update Changelog
You can load your island from a screenshot of your in game map
You can save files/load from files
You can zoom so far out (performance might drop)
Trees + hedge + flowers
Some rough beach editing
You can start over
10 bridges/slopes
Some optimization
Stay tuned to Animal Crossing World for everything on Animal Crossing: New Horizons, including our extensive Guides section here. Our most popular pages include Version 2.0 Summary, 9000+ Items Datamine, 16 New Villagers, Gyroids, Kapp'n Islands, Cooking Recipes, Happy Home Paradise DLC, Series 5 Amiibo Cards, Mushroom DIY Recipes, New November Critters, Redd Art, and Sea Creatures.