With the 2022 holiday season in full swing, you can now collect Christmas Ornaments, enjoy holiday island decorations, and more in Animal Crossing: New Horizons beginning today!
While much of the game's Winter content and features became available earlier this month on December 11th with Winter Snowflakes & Building Snowboys, the full set of holiday Christmas themed content starts today on December 15th. In this article, we'll cover everything new you can enjoy during the holidays in Animal Crossing: New Horizons.
Article Contents
Collect & Craft Christmas Ornaments
Beginning on December 15th, look out for Pine or Cedar Trees on your island to be decorated with beautiful Christmas lights for the first time. Not every single one will be fitted with lights though, but any decorated trees can be shaken to drop new Ornament seasonal materials!
Unlike most of the other seasonal content introduced in December for Winter, the Southern Hemisphere can enjoy this content even on their sun covered islands.
Christmas Ornaments come in three different colors of Red Ornaments, Blue Ornaments, and Gold Ornaments. You can use them to craft a festive new set of 19 different festive holiday themed items, including the Big Festive Tree, Festive Rug, Illuminated Present, and Illuminated Tree.
As per usual, one of these new recipes can be obtained from Isabelle during the morning announcements too. This time around, you can look forward to learning the Ornament Wreath from her! The rest of these items can be unlocked through Balloon Presents (use our guide!) — and one from Jingle on Toy Day.
Check out a preview of a few of our favorite Festive Ornament recipes below, and read our complete recipe list guide here to see them all:
Big Festive Tree
6 Red Ornament
6 Blue Ornament
4 Gold Ornament
5 Wood
5 Clay
Illuminated Present
3 Red Ornament
4 Gold Ornament
3 Iron Nugget
Illuminated Tree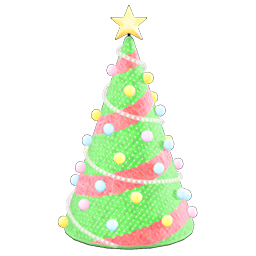 6 Gold Ornament
6 Iron Nugget
8 Red Ornament
8 Blue Ornament
New Version 2.0 Festive Recipes
In addition to recipes available since launch in March 2020, five more brand new Festive Ornament DIY recipes were introduced in the major Version 2.0 Update of the game released during last November. If you haven't actively played Animal Crossing: New Horizons during the holidays since then, these will be new to you this year.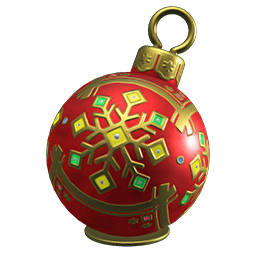 These new recipes include the Giant Ornament, Ornament Crown, Ornament Garland, Ornament Table Lamp, and Ornament Tree — collect them all! Additionally, three new Snowflake DIY recipes were introduced in the same Version 2.0 Update.

Be sure to spend some time in Animal Crossing: New Horizons during the Festive Season this year to get your hands on these new items if you didn't pick this up last year.
Get The Festive Wreath
In addition to the new recipes crafted using Ornaments, be ready for a villager to approach you beginning on December 15th delivering another special item — the Festive Wreath!
The Festive Wreath can be obtained in conversation with a villager and works as an elusive door decoration item for hanging on your house door! You can also use it a wall inside your home too.
Toy Day Christmas Eve Event
All of the exciting new festive holiday additions in Animal Crossing: New Horizons today is part of the leadup to this year's Toy Day event for Christmas Eve held on December 24th!
As you'd expect for such a holiday, both the Northern and Southern Hemispheres can enjoy Toy Day — and Southern islands will even get a unique sunny version of the event music.
During this fun event, you'll find returning special character Jingle the Reindeer roaming your island looking for some help with delivering gifts to your villagers.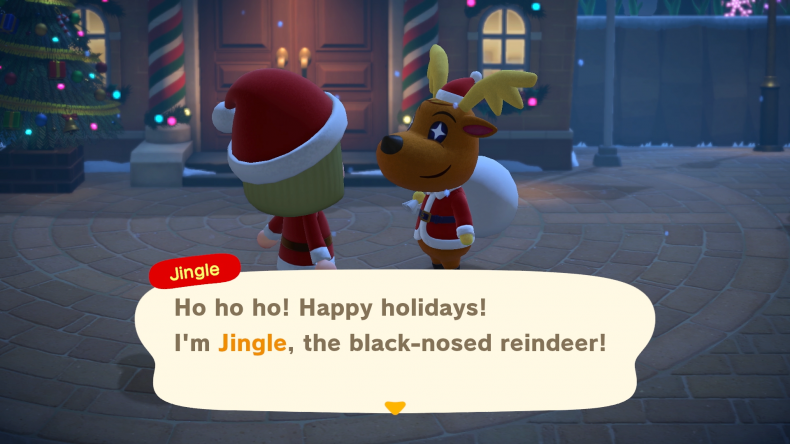 However, the Animal Crossing: New Horizons version of Toy Day doesn't feature any kind of hinting feature for delivering villager gifts. You'll still need to hand them out, but there aren't any specific hints or unique rewards for doing so 'correctly'.
For those unfamiliar, the previous major title Animal Crossing: New Leaf had an interesting feature for Toy Day where villagers would drop specific hints about the type of Christmas present they wanted before the big day. That feature is oddly absent from New Horizons, and it's a shame.
For full details about the Toy Day event on Christmas Eve in Animal Crossing: New Horizons, check out our complete guide here.
More Festive Island Decorations
The first set of holiday decorations on your island went up on December 1st, but Isabelle and Tom Nook have stepped up their game today with a large Christmas Tree installed outside of Resident Services now too!
As for the rest of your island… that's your job to complete using the Festive Christmas Ornaments items and recipes.
New Year's Nook Shopping Items
Although not directly part of the Christmas festivites, it's worth mentioning a variety of New Year's themed items that will become available starting in late December as part of the broader holiday season.
There are five food themed items, presumably for enjoying at a New Year's Eve party, available from December 22nd to 31st every year:
Sparkling Cider
Twelve-Grape Dish
Berliner
Olivier Salad
New Year's Noodles
Another six more items can be purchased during a longer period from December 22nd to January 5th every year:
Yut Nori
Kadomatsu
Otoshidama Envelope
Kagamimochi
New Year's Shimekazari
Osechi
Finally, a special Zodiac Figurine item is available with the exact item sold depending on the year. For this year, you'll find the Zodiac Rabbit Figurine from December 22, 2022 to January 5, 2023.
Stay tuned to Animal Crossing World for everything on Animal Crossing: New Horizons, including our extensive Guides section here. Our most popular pages include What's New In December, Redd Art, Snowflake DIY Recipes, Build Perfect Snowboy, Christmas Ornament DIY, Toy Day Event, December Critters, Bush Types & Colors, Villager Houses, Sea Creatures, K.K. Slider Songs.