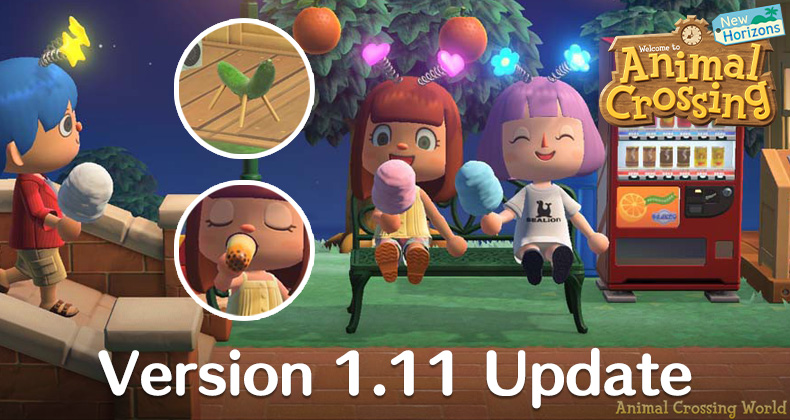 The next free summer update for Animal Crossing: New Horizons has just been announced today by Nintendo!
Set for release later this week on Thursday, July 29th, the Version 1.11 Update is largely a maintenance update refreshing seasonal events and items. Note that the update will be available in the evening for North America on Wednesday.
UPDATE: The Summer 2021 Update has now been released and is available to play! Explore our full coverage so far in the following articles…
Fireworks Show Event (New Items)
As expected, the Version 1.11 Update will mark the return of last year's Fireworks Show event held during Sundays in August! With this event, you can enjoy festivities at the Resident Services plaza while beautiful fireworks light up the night sky on your island.
For the 2021 version of this event, some brand new Redd's Raffle items have been introduced as well to collect including Cotton Candy, a Popsicle, and Bubble Tea! There may be even more, but Nintendo has released screenshots for those items.
Just like last year, you'll also be able to launch your own Custom Design fireworks by providing a pattern to Isabelle outside Resident Services during the event. Check out our handy article covering some fantastic firework designs here!
Nook Shopping Events
In addition to the Fireworks Show event, the typical assortment of Nook Shopping seasonal shopping event items that we've come to expect will be added in the Version 1.11 Update.
This time around, brand new Nook Shopping items available with the update include the Cucumber Horse and Eggplant Cow for the Japanese Bon Festival in Mid-August.
New items will also be available for the Japanese Moon-Viewing Festival this year in September, in addition to the Moon Rug seen last year. A South Korea moon-themed item will be added as well. Check out a preview of these items above.
More Updates Coming
In light of the particularly slim pickings of the Version 1.11 Update, Nintendo made a point during today's announcement to mention that more free content for Animal Crossing: New Horizons is still in development and planned for release later this year.
In addition to these updates, more free content for #AnimalCrossing: New Horizons is currently in development for later this year. More information will be shared in the future, so please stay tuned. Thank you for your support and patience.

— Nintendo of America (@NintendoAmerica) July 27, 2021
Naturally, fan theories will run wild as to exactly what that means! We think it certainly means something of substance is coming eventually, given that they haven't released such statements with updates in the past, but it's probably best not to read into it too much.
Read more of our full analysis of Nintendo's statement regarding future updates here, including an additional translated Japanese message.
Let us know in the comments below your thoughts on today's update announcement for Animal Crossing: New Horizons!
Stay tuned to Animal Crossing World for everything on Animal Crossing: New Horizons, including our extensive Guides section here. Our most popular pages include New In July 2021, New July Creatures, Upcoming Seasonal Items, Animal Crossing Monopoly, Bug-Off Event, Sanrio Villagers & Items, Sanrio Amiibo Cards, Redd Art, and Sea Creatures.