Nintendo has released another new update for Animal Crossing: New Horizons (ACNH) tonight introducing Version 2.0.2 with many more fixes to the game!
Following up on the minor Version 2.0.1 Update we saw released last week, today's Version 2.0.2 patch focuses on fixing even more bugs and issues that have cropped up with both Version 2.0 and the Happy Home Paradise DLC.
This isn't to be mistaken for a major update that contains new content — those come with more fanfare than this, plus Nintendo has confirmed that major new content will no longer be released for Animal Crossing: New Horizons.
Quite a wide range of bugs have been fixed in the main game related to the update including an issue with Kapp'n playing his shanties causing a stall and a bug where Group Stretching's tutorial could prevent a multiplayer session of exercises.
One bug fix that's likely to impact the most Animal Crossing: New Horizons players though is an issue where some furniture items placed on the island Pier could actually prevent speaking to Kapp'n, and therefore starting an island tour with him. Thankfully, that's been fixed now for those dedicated island decorators out there!
And rather humorously, Nintendo actually messed up the two Dodo birds Orville and Wilbur — each bird would reward the opposite bird's poster when inviting them to Photopia using their new Series 5 Amiibo Cards. But that's all fixed now too!
Then on the Happy Home Paradise DLC side of matters, some game crashing problems have been resolved that could occur in situations like inviting Leif to the School and using amiibo in facilities or vacation homes too many times.
These are just a few of the issues resolved in Version 2.0.2 and you can read the complete list of all 17 resolved problems in the full patch notes later in this article.
Once again, as with the Version 2.0.1 Update last week, this update represents quite a large number of fixes to Animal Crossing: New Horizons and we're impressed with Nintendo's commitment to getting these patches released in a timely manner!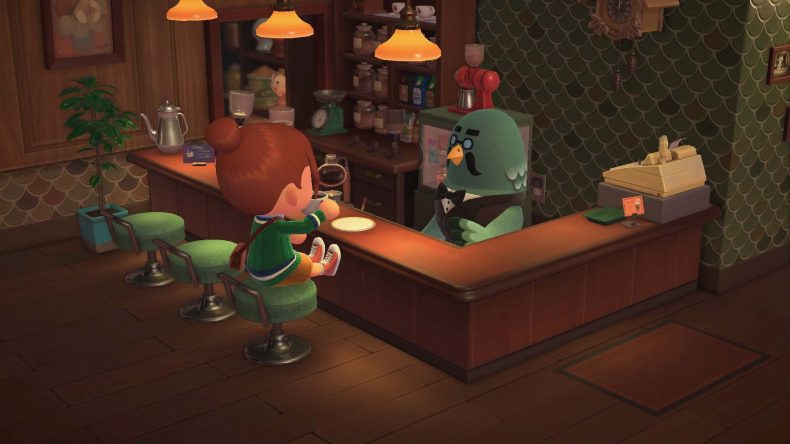 Obviously, it would best if the bugs didn't exist to begin with, but Version 2.0 was quite a large undertaking and some problems were inevitable. What matters is that they're effectively taken care of and Nintendo is delivering on that front.
RELATED: Why You Need To Join Group Stretching In Animal Crossing: New Horizons Every Single Day
Here's the full official patch notes for Version 2.0.2 of Animal Crossing: New Horizons released on November 18th, 2021 in English from Nintendo below:
Official Patch Notes For Animal Crossing: New Horizons Version 2.0.2 (English)
Ver. 2.0.2 (Released November 18, 2021)
If the version notation on the upper right of the software title screen is "Ver. 2.0.2", it has been updated.
Fixed Issues
The following issues have been fixed.
During one of Kapp'n's boat tours, Brewster could overlap with the player and prevent the player from moving.
Kapp'n's song could stop playing and prevent the game from proceeding.
Selecting the "How does this work?" option when starting a group-stretching session during a multiplayer session could prevent the game from proceeding.
The poster for Orville would be available via Nook Shopping after inviting Wilbur to Photopia.
The poster for Wilbur would be available via Nook Shopping after inviting Orville to Photopia.
Placing certain furniture items on the pier could prevent the player from being able to speak with Kapp'n.
The warp function of the pipe item would stop working after the player discussed buying furniture from a resident inside the resident's home.
The music for group stretching sometimes wouldn't play if an audio device close to the plaza was playing music.
The Nook Miles+ activity "Visit the Roost for a Coffee Break" could appear multiple times in the same day.
Fixed Issues Related to DLC
The following issues related to the paid DLC Animal Crossing: New Horizons – Happy Home Paradise have been fixed.
The software would close when the player tried to lead Leif to the school and the placement of the furniture items in the school met certain requirements.
Using amiibo multiple times to change the members used in a facility could cause the software to close.
The software could close when the player repeatedly used amiibo at a finished vacation home to add or remove guests.
The Y Button could stop removing guests when the player repeatedly used amiibo to add a guest and then remove the guest using the Y Button.
While working, a design portfolio photo could continue to display in the upper-left of the screen after speaking to a client on the north beach.
Bells would be spent in addition to Poki when the player ordered a present for another resident through Wardell.
The message card regarding refunding miles for the Pro Decorating License could be sent multiple times.
The roommates would not appear in a follow-up scene if their shared vacation home situation was ended while in the yard of their vacation home.
RELATED: 13 Incredible Polishing Custom Design Effects You Can Use In Animal Crossing: New Horizons
Please note that you will need to be updated to Version 2.0.2 to play online multiplayer with other players and access other network features going forward after this update. Local multiplayer can only be played with others on the same version of the game as you.
Your copy of the game should update automatically for you, but if for some reason it doesn't, you can manually trigger the update by pressing the + button on the Animal Crossing: New Horizons home screen icon, selecting Software Update, and hitting Via the Internet.
Stay tuned to Animal Crossing World for everything on Animal Crossing: New Horizons, including our extensive Guides section here. Our most popular pages include Version 2.0 Summary, 9000+ Items Datamine, 16 New Villagers, Gyroids, Kapp'n Islands, Cooking Recipes, Happy Home Paradise DLC, Series 5 Amiibo Cards, Mushroom DIY Recipes, New November Critters, Redd Art, and Sea Creatures.