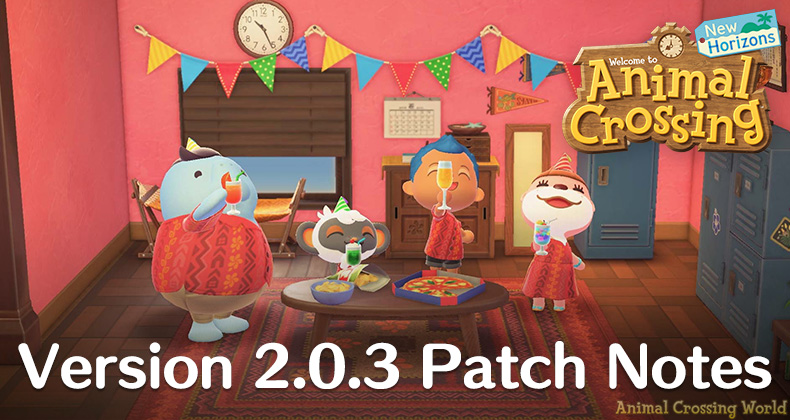 Once again, Nintendo has released yet another new update for Animal Crossing: New Horizons (ACNH) tonight with Version 2.0.3 fixing several more issues with the Happy Home Paradise DLC.
Following up on the minor Version 2.0.2 Update we saw released last week, today's Version 2.0.3 patch primarily focuses on a new duplication glitch allowing items to be easily replicated that was recently discovered by fans this week.
This isn't to be mistaken for a major update that contains new content — those come with more fanfare than this, plus Nintendo has confirmed that major new content will no longer be released for Animal Crossing: New Horizons.
Essentially, this duplication glitch involved use of the new Room Sketch app that can be installed on your NookPhone after progressing far enough into the Happy Home Paradise DLC.
Inside the Room Sketch app, you could place furniture items on the wall, specifically on the middle section of the wall where windows are usually found. Then inside of the app's settings, a player could enable windows for the room, thereby displacing the items that were sitting where a window has taken their space.
New Item Duplication Glitch in Animal Crossing New Horizons! Can be used to dupe Royal Crowns and Gyroids! pic.twitter.com/Lgh1RSnivP

— Harper🦋🏳️‍⚧️ (@Harper6202) November 22, 2021
After doing this, all copies of the item that was on the wall where a window was previously found would actually go into the player's storage allowing them to keep the items — even though these were just duplicated items inside of the Room Sketch app and not copies they actually owned.
For a more complete look at the duplication glitch, check out the excellent video demonstration embedded above from @Harper6202 on Twitter.
If you'd like to take advantage of this glitch, you'll want to pop on your Nintendo Switch and stop your system from auto updating software as soon as possible — and it may very well already be too late by the time you read this article.
Aside from the duplication glitch fix, which was clearly the urgent issue that caused Nintendo to promptly release another update so soon after Version 2.0.2 last week, one more issue with Happy Home Paradise has been resolved.
Before this update, sometimes players could discover the same villager appearing twice on the Paradise Planning island in error, but this should no longer occur after updating to Version 2.0.3.
Here's the full official patch notes for Version 2.0.3 of Animal Crossing: New Horizons released on November 23rd, 2021 in English from Nintendo below:
Official Patch Notes For Animal Crossing: New Horizons Version 2.0.3 (English)
Ver. 2.0.3 (Released November 23, 2021)
If the version notation on the upper right of the software title screen is "Ver. 2.0.3", it has been updated.
Fixed Issues Related to DLC
The following issues related to the paid DLC Animal Crossing: New Horizons – Happy Home Paradise have been fixed.
Fixed an issue where items could be duplicated through a specific method.
Fixed an issue where the same character could appear twice on the island where Paradise Planning is located.
RELATED: 13 Incredible Polishing Custom Design Effects You Can Use In Animal Crossing: New Horizons
Please note that you will need to be updated to Version 2.0.3 to play online multiplayer with other players and access other network features going forward after this update. Local multiplayer can only be played with others on the same version of the game as you.
Your copy of the game should update automatically for you, but if for some reason it doesn't, you can manually trigger the update by pressing the + button on the Animal Crossing: New Horizons home screen icon, selecting Software Update, and hitting Via the Internet.
Stay tuned to Animal Crossing World for everything on Animal Crossing: New Horizons, including our extensive Guides section here. Our most popular pages include Version 2.0 Summary, 9000+ Items Datamine, 16 New Villagers, Gyroids, Kapp'n Islands, Cooking Recipes, Happy Home Paradise DLC, Series 5 Amiibo Cards, Mushroom DIY Recipes, New November Critters, Redd Art, and Sea Creatures.
Animal Crossing: Happy Home Paradise Animal Crossing: New Horizons News Update