A brand new Animal Crossing: New Horizons update is coming soon later this month, so we'll go over everything we know so far about the January Update, plus a few predictions!
With all of the holiday events and new items from the previous Winter Update fully released, fans are ready and waiting to see what new content might arrive next in Animal Crossing: New Horizons.
RELATED: Absolutely Everything New In Animal Crossing's January Update (Mermaid Fence, Festivale, Reactions, Beans)
RELATED: Browse Every New Item Added In The January Update For Animal Crossing: New Horizons (Datamine)
Animal Crossing January Update: What We Know So Far
The next Animal Crossing: New Horizons update releasing in January is set to include a major new holiday event called Festivale! That's been confirmed by the presence of event host Pave shown on screen during the previous update trailer, as he hosted the Festivale event in two previous Animal Crossing games.
We're hoping that since this update only features a single event, rather than the double events featured in the Winter Update, it will include a few notable new general features that aren't related to holidays too. But that remains only a theory right now.
Besides that, nothing else is certainly announced for the January Update, besides a future update in March 2021 that will include new Super Mario furniture items. We'll cover exactly what you could expect from Festivale in-depth below though.
What Is The Festivale Event?
The Festivale is an Animal Crossing event celebrating Mardi Gras held every year two days prior to Ash Wednesday. That means we can expect Festivale to occur on February 15th, 2021 in Animal Crossing: New Horizons.
So far, the gameplay for Festivale has varied significantly between the two games it has appeared in so far — Animal Crossing: City Folk and Animal Crossing: New Leaf. In this article, we'll choose to focus on the more recent New Leaf version.
During Festivale, a strange new peacock special character named Pave shows up on your island hunting for feathers as confetti rains down from the sky.
Naturally as a Peacock, he's a big fan of feathers and requests certain colors of them from you in exchange for special prizes. Amongst all of the confetti, you can find 8 different colors of feathers floating in the air — including the elusive Rainbow Feather.
When you find the correct colors requested by Pave, bring them back to him for one of his Pave Series furniture prizes, after a quick dance! Or if you get one of the rare Rainbow Feathers, those can be exchanged for a prize regardless of what color is currently requested.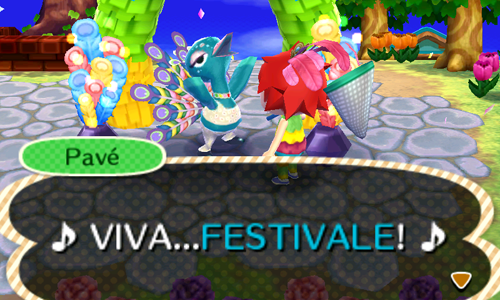 Quick and fun mini-games can be played with villagers as well as a way of trading or winning feather colors that you're having trouble finding organically in the sky.
Here's a look at all of the Pave Series furniture rewards from Festivale in Animal Crossing: New Leaf:
Pavé Bed (12,000 Bells)
Pavé Bookshelf  (12,000 Bells)
Pavé Bureau (12,000 Bells)
Pavé Chair (12,000 Bells)
Pavé Chest (12,000 Bells)
Pavé Clock (12,000 Bells)
Pavé Closet (12,000 Bells)
Pavé End Table (12,000 Bells)
Pavé Lamp (12,000 Bells)
Pavé Sofa (12,000 Bells)
Pavé Table (12,000 Bells)
Pavé Wall (1,800 Bells)
Pavé Floor (1,800 Bells)
In addition to the Pave Series of furniture, there are four Festivale themed clothes and accessories available near the event. You can see my character wearing some of them above.
Whether the Festivale items in Animal Crossing: New Horizons will be similar or not is an open question. We've seen many events receive entirely fresh items, like the Turkey Day Set for Thanksgiving and the Spooky Set for Halloween.
But on the other hand, the Mermaid Set furniture from Animal Crossing: New Leaf was largely replicated into New Horizons when Pascal was introduced. If we had to guess though, Festivale's items will likely significantly change though.
Animal Crossing January Update: Release Date
A specific release date for the January Update hasn't been officially announced yet, but we do know for a fact that the next major Animal Crossing: New Horizons update will be releasing towards the latter end of the month as Nintendo advertised in the Winter Update trailer that the next update would arrive in Late January.
That's still not particularly clear, but we can get put together a more precise release date prediction by looking towards the recent history of Animal Crossing updates.
Most recently, the Winter Update with Turkey Day and Toy Day was announced on November 17th with a release the next evening on November 18th. And before that, the Fall Update with Halloween received an announcement on September 25th with release on the evening of September 29th. We also saw the second Summer Update arrive on July 30th.
The purpose of looking back at these past update releases is to give you a sense of what Nintendo might mean by 'Late January' as all of these updates have release towards the end of each month. For two major reasons, we're inclined to guess that the January Update will be another one near the last week of the month.
First of all, the introduction of the Turkey Day event in the Winter Update set a hard deadline for Nintendo aligned with the real-world holiday date of Thanksgiving making a true end of month release difficult to pull off while ensuring everyone had plenty of time to update their game.
When the Fall Update released on September 29th, there wasn't any event deadline pressure since Halloween didn't take place for another month away, allowing them to do a release so close to the end of the month. We don't expect the Festivale event to occur until Mid February, so there's plenty of time here as well.
Secondly, the timing of the holidays gives us reason to expect a later release date as it means a couple fewer weeks of development time between the last update and the next one. Whether that be on the side of game development and QA testing in Japan, or localization and translation work elsewhere in the world.
In conclusion, we think it's most likely that the January 2021 Update for Animal Crossing: New Horizons will release during the last week of the month from January 25th to January 29th, based on past updates.
By the way, the official trailer for new game updates are always released at 6AM Pacific Time / 9AM Eastern Time on weekdays — so keep an eye out for news to break around that time each day!
Animal Crossing January Update: Predictions
Beyond what's been officially confirmed with Pave's Festivale Event coming in the update, there are a number of other potential features that were discovered through datamining this past year that could be on the agenda for release in the January Update for Animal Crossing: New Horizons.
Generally speaking, we've seen in the past that these partially developed features sometimes make it into a future update soon, while other times they haven't panned out — these are simply educated predictions and have yet to be confirmed.
Ceiling Furniture Items
A new type of furniture to decorate inside your house with items on the ceiling could be on the way in the January Update for Animal Crossing: New Horizons! As seen below, this feature would be returning from the previous game Animal Crossing: Happy Home Designer.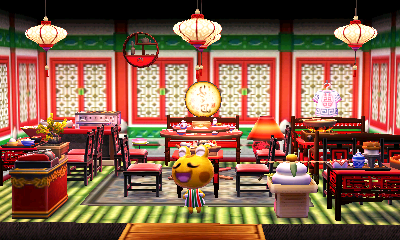 Not too long ago back in October, dataminer Ninji spotted a couple suspicious new entries in the games's code referencing editing the ceiling in a room: cRoomEditCeilingNear, cRoomEditCeilingNormal, and cRoomEditCeilingFar were all added.
These match existing entries for the floor titled cRoomEditFloorNear, cRoomEditFloorNormal, and cRoomEditFloorFar leading us to believe that this is potential evidence of ceiling items coming soon.
To be clear, a single lone cRoomEditCeiling entry did exist prior to this, but the addition of more detailed entries implies some additional development work may have been done on the potential new feature. We hope it comes in the January Update!
Villager House Visits
Another new feature that we have reason to believe might be arriving in a future Animal Crossing: New Horizons update this year is the ability for villagers to visit your own home.
While it's always been possible to visit the houses of your villagers whenever they're inside, this courtesy hasn't cut both ways so far.
But in Animal Crossing: New Leaf, villagers could find their way into your home for a visit in a few different ways:
Walking into your house for a surprise visit unannounced while you're inside!
Asking to schedule a time in advance to visit your home!
Following you after a conversation to lead them to your house to come in!
Various datamined evidence indicates significant work in Animal Crossing: New Horizons has been completed on this feature already, so we do expect to see it released for this version of Animal Crossing sooner or later.
The original launch version of the game contained multiple scripts for the feature that were later removed, and the Halloween Update added further dialogue that would seem intended for villagers visiting you by the way of commenting on your furniture.
More New Reactions
It's not a major feature, but Nintendo has definitely been on a roll lately with adding new Reactions & Emotes to Animal Crossing: New Horizons with the last two updates both introducing some.
Given that the January Update's confirmed new character Pave is known for his extraordinary dancing skills and general passion for the art, it seems likely that we might see further new dancing Reactions added — possibly learnt from Pave himself.
Valentine's Day Event
Another possible addition in the January Update might be some sort of event activities or seasonal items to celebrate the Valentine's Day holiday on February 14th in Animal Crossing: New Horizons.
Given the close appearance to Festivale, we're not expecting anything huge, but past Animal Crossing games did feature some low-key Valentine's Day happenings. At the very least, we expect some appropriately themed items to arrive in the seasonal section of Nook Shopping — and hopefully even more than that!
For a complete look at what Valentine's Day was like in other Animal Crossing games, check out our full Will There Be A Valentine's Day Event In The Next Animal Crossing: New Horizons Update? article here.
What About Brewster?
One final question that many Animal Crossing fans might have is whether the beloved Brewster will finally make a glorious return in the January Update given that he has been requested for nearly a year now!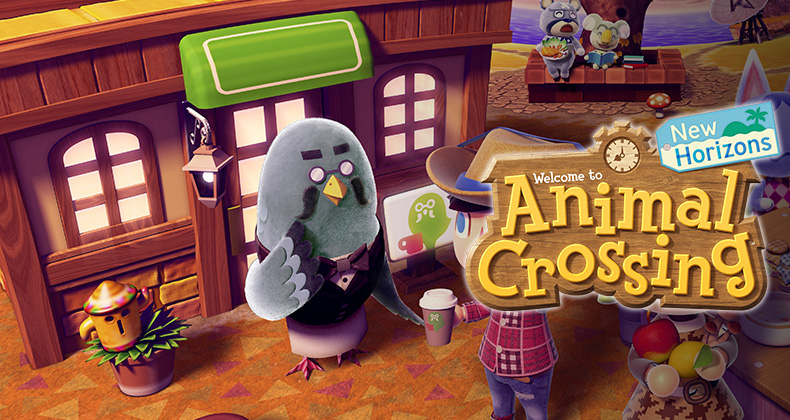 If we had to make a guess, Brewster is unlikely to be a part of this month's update because he would mark a major addition to the game in an update that will already have a focus on the Festivale event. It's more likely that he would be a headlining feature in the next update during March or April instead, after the full calendar year of major holidays have already been released.
Given how Nintendo must clearly be aware of the intense fan desire for Brewster by now, we just think the developers might want to dedicate an entire update featuring him when his time finally comes.
Share Your Hopes & Predictions
Let us know in the comments below both your hopeful dreams and calculated predictions of what new features, characters, or events could await us in the January Update for Animal Crossing: New Horizons later this month.
Stay tuned to Animal Crossing World for everything on Animal Crossing: New Horizons, including our extensive Guides section here. Our most popular guides include Winter Snowflake Recipes, How To Build Perfect Snowboy, New Bugs, Fish, Sea Creatures In January, Christmas Toy Set, Redd Art, and Sea Creatures.