It's officially been one full year since Animal Crossing: New Horizons first released on March 20th, 2020 last year! To celebrate the occasion, we're looking back at the entire past year of updates and events.
With how this past year has gone by, it's easy to have forgotten about many of the older updates and events, so we thought it'd be interesting to review history and help bring back some memories for those of us who experienced them. And if you're a newer player, you might enjoy learning about some parts of New Horizons you've never seen before!
Bunny Day (April 1st to 12th)
The Bunny Day event introduced an entire set of new Egg materials to collect, over 20 new Bunny Day items to craft, and a new special character named Zipper T. Bunny.
As the very first event for Animal Crossing: New Horizons, Bunny Day was highly anticipated arriving less than 2 weeks after launch on April 1st, but players quickly discovered it wasn't quite what they wanted and the event was more of a nuisance than anything else.
Nintendo even went as far as to release a small update mid-event that reduced the spawn rate of eggs in response to feedback, effectively acknowledging that they had made a mistake.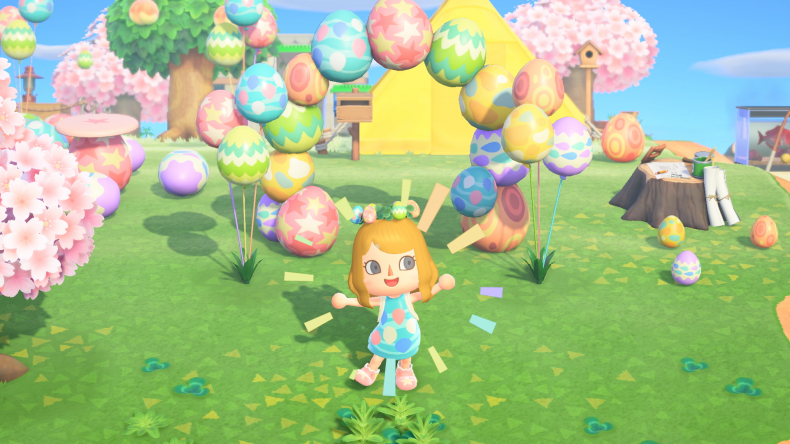 Arguably, the problem wasn't so much Bunny Day itself, but rather the issue of coming so soon after the game's release when fans just wanted to enjoy the original game — not to mention coinciding with the more interesting Cherry Blossom seasonal items.
For better or worse, Bunny Day is coming back for a second round very soon on March 28th, 2020 with five new items.
Redd's Art, Leif's Bushes (Version 1.2)
The first major update with new features arrived in Animal Crossing: New Horizons with the Version 1.2 Spring Update introducing Jolly Redd and Leif as new characters.
With the addition of Redd, his Treasure Trawler could begin to arrive on your island and the Museum received an expansion to display all his new art pieces.
And with Leif, his travelling flower shop could now appear on your island with bushes to decorate implemented for the first time.
The Version 1.2 Spring Update brought four new holiday events for the next few months as well, but we'll cover those separately in their own sections below.
All together, this update inspired quite a lot of hope for Animal Crossing: New Horizons receiving many notable features like these in frequent updates.
Hybrid Islands Removed, Interest Rates Lowered, Rare Bugs Decreased (Version 1.2)
Besides adding new features like Redd and Leif, the Version 1.2 update also made a few controversial changes that have remained intact almost an entire year later.
One change was a dramatic slashing to Bank of Nook interest rates for Bells stored in the ABD. Presumably, the change was made to discourage time traveling for interest, but it felt a bit strange and unnecessary to us.
Another important change made in the Spring Update was a removal of certain Nook Mile Mystery Islands — in particular islands that contained hybrid flowers, including Blue Roses.
Finally, Nintendo even made some pretty significant changes to the spawn rate of in-game bugs, which happened to include reducing the appearance of many of the more valuable insects to catch.
Both of those last two changes were made in a more secretive manner without any announcements, only confirmed by the popular datamining scene. Even to this day, the Hybrid Flower island remains missing from the game having never returned.
Nature Day (April 23rd to May 4th)
The second Animal Crossing: New Horizons event came on April 23rd with Nature Day, though this was barely significant enough to be considered a true event.
A selection of limited-time Nook Miles+ objectives were available themed around gardening, and the new Hedge fencing recipe was awarded by Tom Nook as a prize for completing enough activities.
Notably, this event was actually been removed in the Version 1.9 March Update released in 2021 and can no longer be experienced. It's not much of a loss though!
May Day Event (May 1st to 7th)
A more significant event arrived on May 1st called May Day introducing a special island accessible using a May Day Ticket from Tom Nook.
On this special May Day island, players found a large intricate maze puzzle with trees and rocks in the way as obstacles. When completed, Rover was found waiting at the end with a special Rover's Briefcase prize.
While May Day certainly wasn't groundbreaking, we thought it was a pretty cute addition and hoped to see similar island events happen… they never did!
It remains unclear whether this event will return in 2021 or not.
International Museum Day Event (May 15th to 25th)
Later in the month, the International Museum Day brought a small event to the island's Museum building from May 15th to 25th.
During the event, special Stamp Stations were setup inside the Museum allowing a Stamp Card from Blathers to be completed after visiting three different stations.
After turning in the completed Stamp Card to Blathers, players received a prize of three plaque furniture items — one each for the three major exhibits.
While those prizes were certainly nice to have, many fans found it disappointing how the Stamp Stations stuck around for over a week without any reason to participate past the first day, besides duplicates.
Wedding Season Event (June)
Throughout the entire month of June, the Wedding Season event took place at Photopia on Harvey's Island with two very special visitors — Reese and Cyrus!
While at Photopia, players were tasked with decorating a series of Wedding rooms for Reese and Cyrus, with new items available as the days of June went on.
Interestingly, a new Heart Crystal currency was awarded for this event allowing them to be exchanged for the new Wedding items from Cyrus.
We think the concept of this event was interesting, but the items personally didn't impress us much, and it dragged on a little too long. Plus, it was kind of a bummer to see Reese & Cyrus relegated to a temporary event.
Swimming & Sea Creatures, Pirate Gulliver, Pascal's Mermaid Set (Version 1.3)
The next major Animal Crossing: New Horizons arrived on July 1st with the Version 1.3 Summer Update introducing swimming as a major new feature.
New Sea Creatures roamed the ocean alongside swimming bringing new life to the game with so many new creatures to catch and donate to the museum.
Pirate Gulliver made an appearance with new Pirate items on beaches too, and Pascal brought the Mermaid Set as some much needed indoor furniture.
Looking back on the year, we think the Summer Update was one of the most exciting updates for Animal Crossing: New Horizons so far!
Dreams Islands & Save Backups (Version 1.4)
A second part of the Summer Update with Version 1.4 was released shortly after adding the ability to visit dreams of other player islands online with Luna.
The promised Save Backup & Restore feature was included too to protect all those hours of precious gameplay. And a new fireworks event was introduced, which we'll cover later.
While these features were important for Animal Crossing: New Horizons and needed to arrive, we felt this update wasn't much of a hit overall and could have been better.
Fireworks Show Event (August)
The Fireworks Show event took place every Sunday night throughout August in Animal Crossing: New Horizons with your villagers roaming the plaza.
This event made for a pretty fun get together with friends online as the sky lit up with fireworks, including custom designs, and Redd sold his party wares nearby. Plus, Isabelle had a rare outdoors appearance!
Growable Pumpkins & Spooky Items (Version 1.5)
Not too long after, the Version 1.5 Fall Update came to Animal Crossing: New Horizons on September 30th bringing a set of Halloween themed additions.
The concept of growing and harvesting vegetables had been floating around for some time from datamining, and Pumpkins delivered just that in this update.
Using those Pumpkins, a new set of Spooky Set items could be crafted with DIY recipes for the Halloween season. New Halloween themed clothing could be found at Able Sisters.
There were also new Face Paint, Eye Colors, and Reactions made available in a couple different ways. A dedicated Halloween event was added too, which we cover next.
October 31st: Halloween Event
Although the Fall Update added Pumpkins and some Halloween items to craft, the proper Halloween event didn't occur until October 31st.
During this spooky evening, villagers would both hang outdoors to play tricks on you and hide inside to offer you Candy. Meanwhile, you could dress up as Jack and collect Lollipops.
Christmas Toys, Storage Upgrade, Reactions & Hairstyles (Version 1.6)
A rather large Version 1.6 Winter Update for Animal Crossing: New Horizons released on November 19th with a pair of major holiday events and more.
For some fans, the best part of this update was a massive increase in available house storage space with a new upgrade allowing up to 2,400 items.
In addition to the actual holiday events, a very adorable set of interactive Christmas Toys were sold in Nook's Cranny as part of the update.
More new Reactions and Hairstyles were introduced as well, with the new hair options proving particularly popular.
Turkey Day Event (November 26th)
American Thanksgiving was celebrated on November 26th in Animal Crossing: New Horizons with a special Turkey Day holiday event!
During this event, players could help Franklin prepare four different dishes for their island's residents by collecting ingredients. A new set of Turkey Day crafting recipes were offered as prizes, alongside a few extra Thanksgiving items.
Toy Day Event (December 24th)
About a month later, Animal Crossing players had the chance to celebrate Christmas Eve on their island with the Toy Day event on December 24th!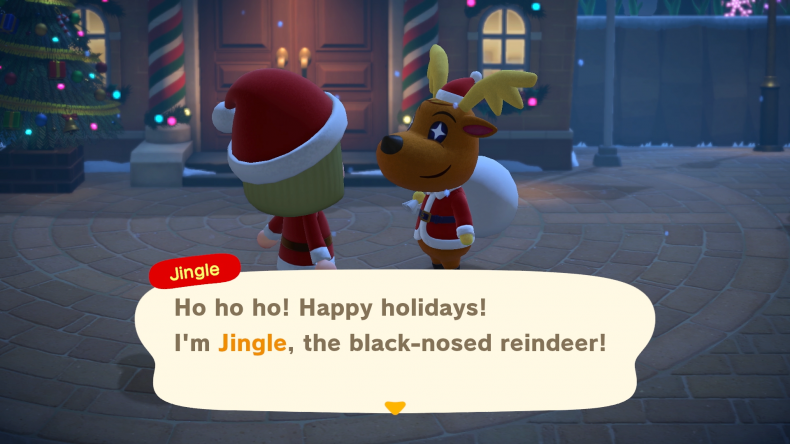 This holiday event had players meet Jingle, craft him some wrapping paper, and visit all their villagers to share gifts from the Magic Bag.
We found that the Toy Day event was received quite poorly by some fans though, due to how basic the gift giving mechanic turned out to be and how quickly it could be completed.
Festivale Prep, Mermaid Fence, New Reactions (Version 1.7)
The first update of 2021 for Animal Crossing: New Horizons arrived on January 28th with Festivale preparations and more in Version 1.7.
Most notably, the Festivale Set of furniture and some new Reactions began to appear in Nook's Cranny in a lead-up to the big event day later in February.
But as an additional surprise, a 'new' Mermaid Fence DIY crafting recipe became available too apparently due to a long-time bug being fixed by Nintendo.
Festivale Event (February 15th)
Animal Crossing: New Horizons celebrated the Festivale event in fully glory with Pave on February 15th as confetti rained from the sky!
During this special holiday, players could collect five different colors of feathers with their net as they float in the air. Trading the feathers to Pave awarded items from the Festivale Set, and most notably the massive Festivale Float item.
Special Rainbow Feathers could be used to customize the color of that furniture though, which we thought was pretty nifty.
Mario 35th Anniversary Items (Version 1.8)
The Super Mario series' 35th anniversary received a worthy celebration in Animal Crossing: New Horizons with a Version 1.8 update on February 25th.
An entire collection of Super Mario themed furniture and clothing were introduced in this update with many items having fun interactive elements.
But more importantly, the Warp Pipe took the starring role on as a special teleportation feature allowing players to travel across two points on their island instantly!
---
And now we're at present day with the Version 1.9 March Update released this week with Sanrio Villagers & Items! We're sure you already know everything about the latest update, so we'll save the spiel for this one.
We hope you enjoyed this lookback at the first full year of Animal Crossing: New Horizons updates and major events! It really brought back memories for myself going through everything that happened.
Stay tuned to Animal Crossing World for everything on Animal Crossing: New Horizons, including our extensive Guides section here. Our most popular pages include March Update, Sanrio Villages & Items, Sanrio Amiibo Cards, Super Mario Items, Spring Season, Young Spring Bamboo Recipes, Redd Art, and Sea Creatures.