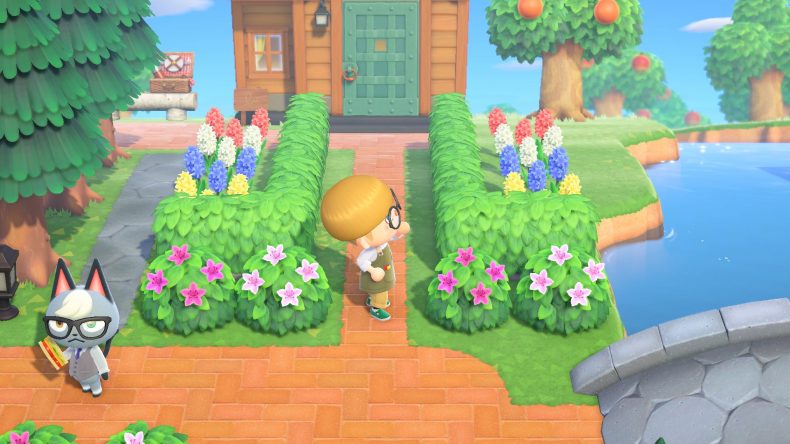 The Hedge Fence is a special type of fencing item for landscaping in Animal Crossing: New Horizons obtained in nontraditional ways. Learn how to unlock and craft this new fence item in our guide.
Unlike most other Fences in the game, you can't unlock the Hedge Fence by purchasing it from the Nook Miles section of the Nook Stop terminal at Resident Services. Instead, the Hedge Fence must be unlocked in one of two ways depending on when you're playing.
How To Unlock The New Hedge Fencing
Purchase Bushes From Leif's Flower Shop
The main method for most players to unlock the Hedge Fence in Animal Crossing: New Horizons is to purchase items from Leif when he visits your island as a traveling merchant. You'll find him outside of Resident Services on random days selling bushes and flowers.
When you've purchased enough goods from him, talking to Leif can trigger a conversation where he gives the Hedge DIY Crafting recipe to you as a thank you gift for being such a great customer.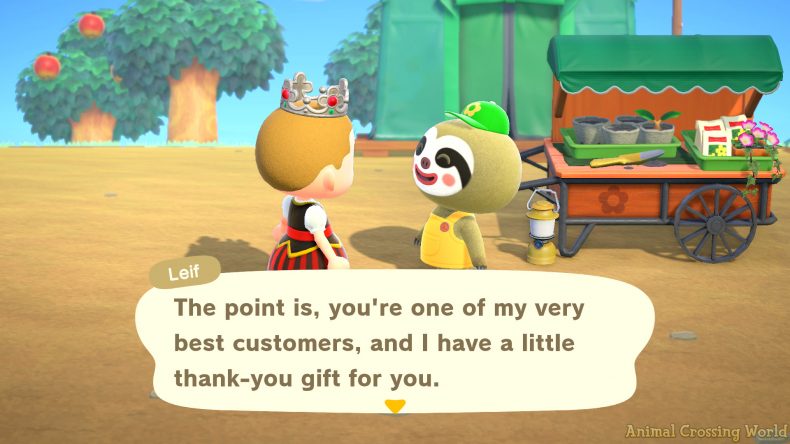 In our testing experience, purchasing 30 bushes from Leif was enough to trigger the Hedge Fence unlock conversation. These purchases occurred over multiple visits too, so it's possible that you will need to wait until his second or third visit. Buying flower seeds may work too, but we didn't do that.
Again, there's too many possible variables for us to produce an absolute exact requirement figure, but generally we suggest purchasing a significant amount of bushes from him until you get the conversation with him seen in the screenshot above!
Complete Nature Day Event Challenge
The new Hedge fencing item can also be unlocked as part of the Nature Day in-game event beginning on April 23rd and running through until May 4th! You'll need to be playing Animal Crossing: New Horizons during this date period to participate in the Nature Day event.
When Nature Day has begun on your island, head to Resident Services and speak to Tom Nook to learn more about this exciting new green event! He'll inform you of some brand new Nook Miles+ challenges available on your NookPhone for the Nature Day event.
Open up the Nook Miles app on your NookPhone to check out these new limited-time Nature Day challenges themed to nature activities such as planting new flowers, watering flowers, planting some of the new bush items, or other similar tasks.
If you don't see any Nature Day themed activities and you're certain the event has begun on your island, try clearing out some of your existing Nook Miles challenges so that new Nature Day tasks can appear.
Unlocking the brand new Hedge Fencing item is super easy — just complete your first Nature Day themed challenge in Nook Miles and head back to Resident Services to speak to Tom Nook. When you talk to him, he'll give you the Hedge Fence DIY Crafting recipe!
How To Craft Hedge Fence Item
The following crafting materials below are required to craft the Hedge fencing item:
10 Clump of Weeds
5 Tree Branch
2 Stone
When you craft the Hedge Fence, you'll get 10 pieces to place down. Craft the item again to get another 10 pieces if you need more!
The Hedge Fence Changes Based On Seasons
It's worth noting that the Hedge Fence actually changes its appearance based on the current season on your island. As far as we know, you have no control over this appearance other than changing the clock of your Nintendo Switch.
As an example, check out the early fall Hedge Fence theme in this screenshot below from a Southern Hemisphere town as of April 23rd:
If you're playing in other seasons and can send in a screenshot showing a different appearance with the current date, we'd super appreciate it so we can add it to this guide! Send in to @ACWorldBlog on Twitter or in the comments below — thank you.
---
Huge thanks to Murray and Laudine for contributing information and screenshots to this guide.