The Festivale Float is a rare furniture item in Animal Crossing: New Horizons (ACNH) found during the Festivale Event! Learn how to get the special item in this guide.
How To Unlock Festivale Float
To get the Festivale Float, you need to play during the Festivale Event held on February 15th, 2021 and deliver fabulous feathers to Pavé!
In particular, after trading feathers for all nine of the other regular Festivale Set furniture items that can be purchased at Nook's Cranny, Pavé will tell you about the 'ultimate Festivale reward' available for 3 Rainbow Feathers.
Simply give 3 Rainbow Feathers to Pavé and he will perform his most elaborate dance yet rewarding you with the rare Festivale Float item!
Unlike every other Festivale Set furniture item, you cannot customize the Festivale Float into different color or style variants — there is only one version.
How To Get Rainbow Feathers
Can't find those Rainbow Feathers to get the Festivale Float? They're definitely quite a bit harder to find than the other colors, but Rainbow Feathers can be found randomly floating in the air during Festivale just the same!
Craft Rainbow Feathers
If your luck of spotting Rainbow Feathers in the air isn't going well, another great way to easily get some is by crafting them at a DIY workbench.
After talking to Pavé outside of Resident Services, you'll get the Rainbow Feather DIY crafting recipe from him. Be sure to find this recipe in your inventory and learn it.
You'll then be able to easily craft 1 Rainbow Feather using the ingredients of 1 Red Feather, 1 Blue Feather, 1 Green Feather, and 1 Purple Feather combined together!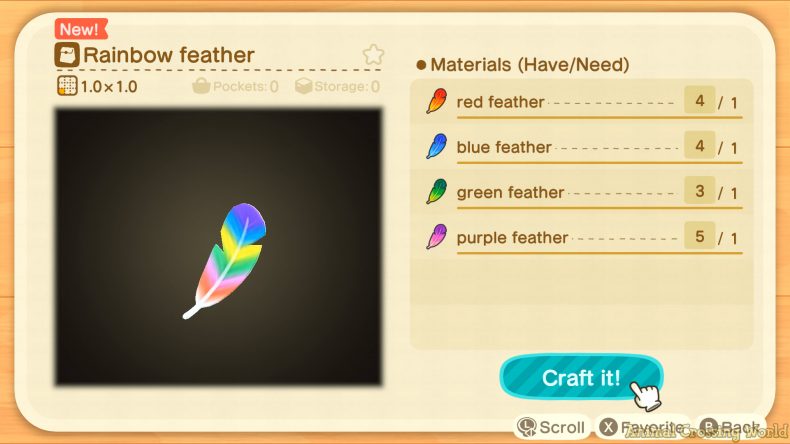 Of course, you should always try and catch Rainbow Feathers whenever you spot them in the air, but crafting is a great solution if you just aren't having the right luck.
If you need help getting the right feather colors for crafting Rainbow Feathers, don't forget to try trading with your island's villagers too.
Can You Get More Than One Festivale Float?
Yes, you can get as many Festivale Float items as you wish during the event! Simply repeat the event activity flow a second or third time to get another  Festivale Float furniture piece.
That means after giving Pavé the 3 Rainbow Feathers to get the item, you need to keep trading more feathers to him until all nine regular Festivale Set items have been obtained again. Then he'll ask for 3 Rainbow Feathers once again leading to another Festivale Float!
For more information on Festivale and how to get all of the items, refer to our complete Festivale Event Guide: Feathers, Rewards, Activities!