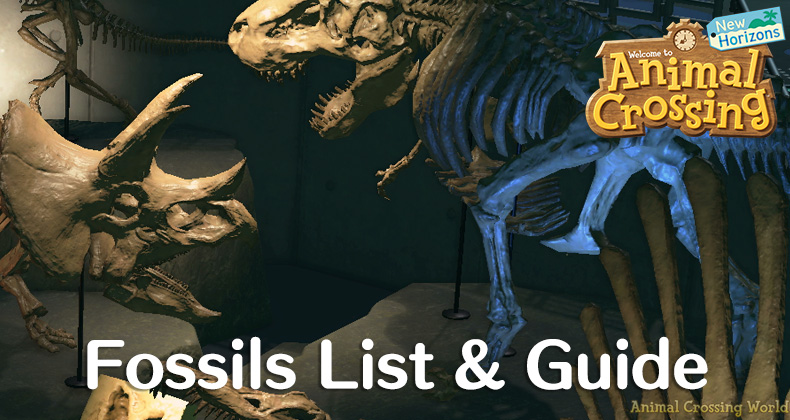 There are over 70 Fossils to discover and donate to the Museum in Animal Crossing: New Horizons! Find a complete list of every Fossil in the game and how to find them in this guide.
How To Find & Get New Fossils
You can find fossils in Animal Crossing: New Horizons by looking for star-shaped 'X' spots on the ground across your island. These spots mark buried items on the island that can be dug up using the Shovel tool! When you find one, take out your shovel and dig to reveal the buried item.
While most of the time you'll find a Fossil when doing so, it's possible for other items to be buried too like pitfalls or treasure from villagers.
If you do find a new Fossil buried in the ground, you'll need to have the fossil assessed to discover which fossil item you actually have! Talk to Blathers at the Museum and he'll help you out by accessing your fossil to reveal its identity.
How Many Fossils Appear Per Day?
Every day at 5AM in-game time, a fresh batch of four fossils will be newly buried on your island and you'll have to wait until the next day for more to appear. However, you can sometimes find additional fossils buried on Mystery Islands accessible using a Nook Miles Ticket! Be sure to look out for these when visiting other islands.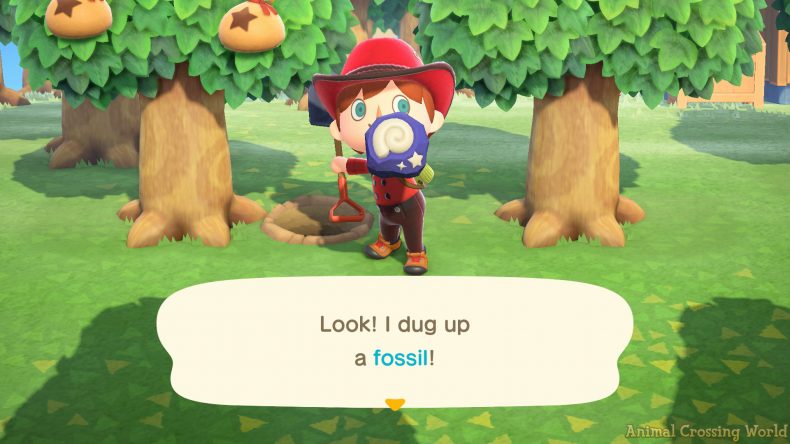 Sometimes it can be pretty tricky to find all of the fossils on your islands but don't give up! Remember to look in corners of your landscape that you don't usually visit, or behind obstructions like trees.
You Can Trade With Friends
If you want to speed up the process of completing your Museum's Fossils section, keep in mind that fossils are a fully tradeable item in Animal Crossing: New Horizons.
Instead of selling duplicate fossils that you already have donated, consider asking your friends if they still need the fossils you have duplicates of and conduct a trade with them! Maybe they have duplicates of their own that you're missing?
We've personally been doing this with our friends and have nearly completed the entire Museum in less than a month, so it's well worth the time and effort in our opinion. You can even use a collaborative Google Sheet or other online tools to simply the process by listing which fossils you are missing.
How To Easily Check Fossils You Already Have
One easy way to check which fossils you've already found and likely donated is to make use of the Nook Shopping feature! Head to the Nook Stop terminal at Resident Services, or the Nook Shopping app on your NookPhone if you've unlocked it, and select the icon showing wallpapers and flooring.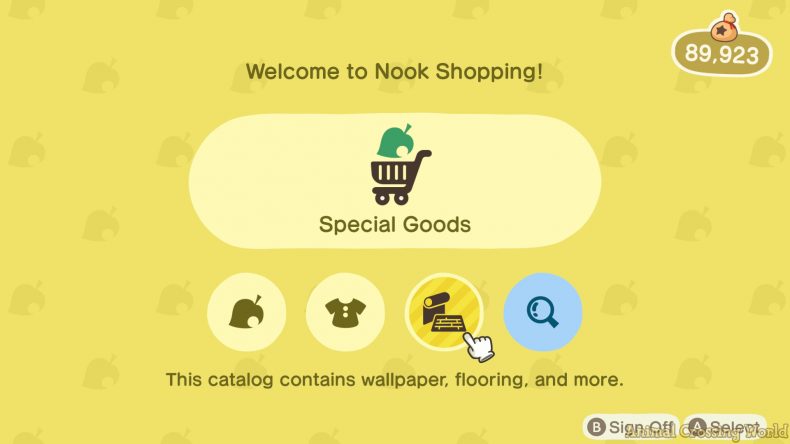 Inside this misleadingly named section featuring wallpaper and flooring items, you'll find a Fossils tab towards the end of the sections at the top of the screen. Select the Fossils tab to get a handy list of every Fossil item that you've ever cataloged!
You can use this catalog list to help deduce which fossils you're missing so far in conjunction with our complete fossil list below. Both the in-game list and our list in this guide are sorted in the same alphabetical order, so it's pretty easy to compare.
It's worth noting that this list includes any Fossil that your character has ever picked up for any reason. That means if you've ever gotten new fossils and chose to sell them for Bells rather than donate, then you might see them in your list even if they haven't been donated. Or if you sent it to a friend instead of donating yourself.
If that's the case, your only other option will be to manually go through your entire Museum checking the display plaques to put together a list of every Fossil you've donated. Unfortunately, Animal Crossing: New Horizons doesn't seem to have a handy donated items menu like in Animal Crossing: New Leaf.
Complete Checklist of Every New Horizons Fossil & Sell Price
A complete checklist of every fossil you can find and donate in Animal Crossing: New Horizons is available below, including the sell prices in Bells!
This list contains interactive checkboxes that you can use to keep track of which fossils you have already donated. Data will be saved to your browser's storage.
| Fossil Name | Sell Price |
| --- | --- |
| | 2,000 |
| | 1,200 |
| | 1,100 |
| | 3,500 |
| | 2,500 |
| | 3,000 |
| | 2,000 |
| | 1,300 |
| | 4,000 |
| | 3,500 |
| | 1,100 |
| | 5,500 |
| | 5,000 |
| | 6,000 |
| | 5,500 |
| | 1,100 |
| | 2,500 |
| | 3,000 |
| | 5,500 |
| | 5,000 |
| | 1,000 |
| | 4,000 |
| | 4,500 |
| | 4,500 |
| | 5,000 |
| | 4,500 |
| | 4,000 |
| | 3,500 |
| | 2,000 |
| | 4,000 |
| | 3,000 |
| | 3,500 |
| | 1,500 |
| | 4,000 |
| | 4,500 |
| | 5,000 |
| | 3,000 |
| | 2,500 |
| | 4,500 |
| | 3,000 |
| | 3,500 |
| | 1,500 |
| | 2,500 |
| | 2,000 |
| | 4,000 |
| | 3,000 |
| | 3,500 |
| | 2,500 |
| | 3,000 |
| | 4,500 |
| | 4,000 |
| | 4,500 |
| | 4,000 |
| | 4,500 |
| | 5,500 |
| | 4,500 |
| | 5,000 |
| | 2,500 |
| | 2,000 |
| | 1,000 |
| | 4,000 |
| | 2,500 |
| | 3,000 |
| | 5,000 |
| | 4,000 |
| | 4,500 |
| | 6,000 |
| | 5,000 |
| | 5,500 |
| | 5,500 |
| | 4,500 |
| | 5,000 |
| | 1,300 |