Leif' and his Flower Shop is a brand new traveling merchant that can occasionally visit your island in Animal Crossing: New Horizons. Learn how to find Leif, what special items he sells, and what he'll buy from you in this guide.
This beloved returning character and his shop were just introduced in the latest Version 1.2.0 April Update for Animal Crossing: New Horizons, so you'll need to make sure you've updated your game to this version to see Leif's Flower Shop on your island.
How To Visit Leif's Flower Shop & When He Appears
To visit and browse Leif's Flower Shop, you'll need to have him arrive on your island randomly as a visitor. When he visits your island, you can find him with his Flower Shop stall setup outside of Resident Services in the plaza area!
Since Leif takes up the same space that is usually used for some other visiting characters, you won't be able to get him on the same day as Kicks, Sable, or Mabel. Ongoing events like the Fishing Tourney or Bug-Off will block Leif's space too.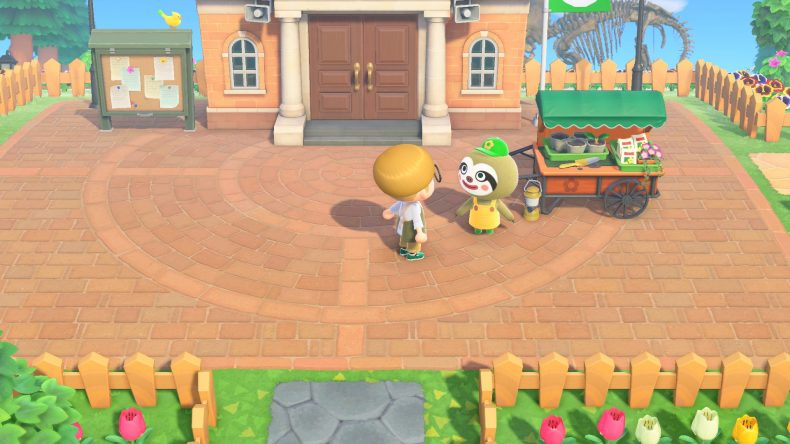 Unfortunately, this means that Leif does not currently have a permanent location on Animal Crossing: New Horizons islands, so you'll have to just hope that he shows up to shop at his store. It's possible that Nintendo will add a permanent Leif's Flower Shop building to the game in the future, but we don't think this exists yet.
From what we've seen so far, it's highly likely Leif will appear on your first new day (loading the game after 5AM) after installing the Version 1.2 April Update, but we can't say for sure if it's guaranteed yet. There are some reports of not getting Leif until another day.
If you didn't see him on your first day, try time traveling back to 4:55AM on April 23rd and he may reappear once the day begins at 5AM.
What You Can Buy At Leif's Flower Shop
When Leif visits your island with his Flower Shop at Resident Services, he sells two different types of items you can purchase — Bushes or Shrubs and Flower Seeds!
New Bushes Or Shrubs Sold By Leif
As far as we know, buying Bushes or Shrubs from Leif is the only way to get bush items in the game at this time. So be sure to purchase lots of bushes from Leif when you spot him on your island or it could be a while until you get another chance!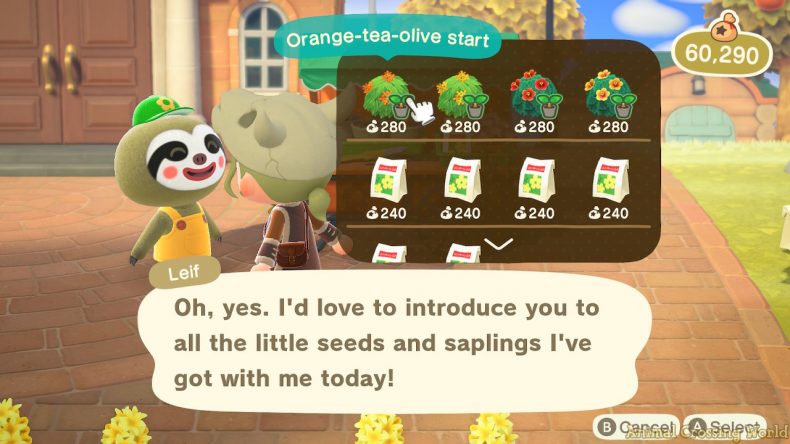 There are currently 11 different types of Bushes available to get in Animal Crossing: New Horizons with 6 different unique varieties. Leif will typically sell the type of bushes that are currently in-season on your island, plus a secondary type of bushes selected randomly.
Rare Flower Seeds Sold By Leif
In addition to his exclusive bushes, you can buy a variety of Flower Seeds or Bulbs from Leif's Flower Shop when he visits your island! While you can already purchase flower seeds and bulbs from the cabinet at Nook's Cranny normally, the seeds sold by Leif are a little more special.
As you've likely already experienced, each unique Animal Crossing: New Horizons island tends to have a set of flower types that are available far more commonly for sale at Nook's Cranny than others.
The types of flowers not commonly sold on your island can be quite difficult to find and obtain without visiting other player islands online. Thankfully, it seems that Leif's Flower Shop will help solve this problem by selling these 'rare' flower seeds and bulbs to you when he visits you!
Sell Weeds For Premium Prices At Leif's Flower Shop
In addition to selling shrubs or bushes and flower seeds on your island, Leif can purchase unwanted Clumps of Weeds items from you for an enhanced premium price!
To sell your excess weeds, simply speak to Leif near his Flower Shop stall at Resident Services a second time and he'll offer you the option to sell weeds. His premium rate is 20 Bells per weed item, which is double the typical selling price of 10 Bells per weed item when sold to Timmy & Tommy at Nook's Cranny!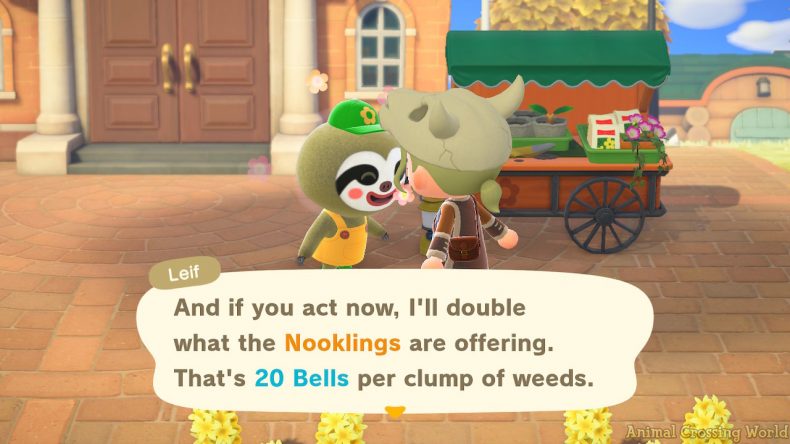 So if you've been hoarding up multiple stacks of a hundred Clumps of Weeds in your house storage for the past month of playing Animal Crossing: New Horizons, this might be a good opportunity to start selling off some of your stockpile to Leif at his Flower Shop.
Remember that there are a variety of uses for Clumps of Weeds as crafting materials in DIY Crafting though, so you may still wish to hand onto a healthy amount of weeds. In particular, the brand new Hedge Fencing item just added in the Version 1.2.0 April Update requires Clumps of Weeds to craft!
Special thanks to Murray for contributing screenshots to this guide.