Gift Pile is an exclusive event item for the Toy Day holidays in Animal Crossing: New Horizons added in the Winter Update. Learn how to craft and get your hands on this festive item.
How To Unlock Gift Pile DIY Recipe
The Gift Pile and its DIY Recipe can only be unlocked by playing Animal Crossing: New Horizons during the Toy Day event for Christmas Eve held on December 24th!
When the event is ongoing, just find Jingle the Reindeer outside of Resident Services during the event and speak with him to learn about Toy Day. Jingle will share his present wrapping troubles with you and ask you to help him out with delivering presents to all of the residents on your island!
Using the Magic Bag item given to you by Jingle, simply go around the island talking to your villagers to give them holiday presents from the magic bag. Once you've distributed plenty of gifts, come back to Jingle and talk to him to receive your reward — the Gift Pile DIY recipe!
Specifically, you'll need to deliver villagers to at least more than half of your villagers on Toy Day to get the Gift Pile DIY recipe from Jingle. So if your island is maxed out with 10 residents, you need to deliver 6 presents for the Gift Pile to be unlocked. For more information, check out our full Toy Day Event guide here.
You can also unlock the Festive Wrapping Paper DIY recipe during Toy Day.
How To Craft Gift Pile
Once you've completed Jingle's tasks and received the Gift Pile DIY recipe in your inventory, learn it to begin crafting.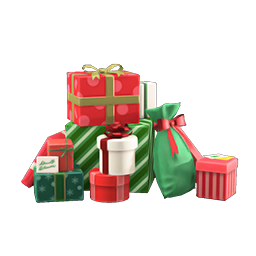 You'll need the following crafting materials to craft the Gift Pile:
1 Red Wrapping Paper
1 Wooden-Block Toy (3 Softwood)
1 Cardboard Box
Red Wrapping Paper in Animal Crossing: New Horizons can randomly be found for sale inside of the storage cabinet at Nook's Cranny. Exactly which colors of wrapping paper are available will change randomly every day, so keep checking until you find Red Wrapping Paper.
If you're still playing on Toy Day though, there's one more way to get your hands on some Red Wrapping Paper! Try speaking to a villager and requesting a gift exchange while missing any wrapped items in your inventory. They should help you out the first time you do this by giving you 3 Red Wrapping Paper.
You can find the Cardboard Box randomly in the recycling bin at Resident Services, sold at Nook's Cranny, or order it from your Nook Shopping catalog for 120 Bells if you've already had one in your inventory before.
Gift Pile Color Customizations
If you don't care for the default color scheme of the Gift Pile, there's good news for you!
The Gift Pile item can be customized at a DIY Workbench into 7 different variations of Red & Green, Colorful, Cute, Cool, Chic, Elegant, and Natural — see them all below: