Jingle's Photo is an exclusive event item for the Toy Day holidays in Animal Crossing: New Horizons added in the Winter Update. Learn how to get your hands on this festive item through the Toy Day event.
How To Get Jingle's Photo
The Jingle's Photo item can only be obtained by playing Animal Crossing: New Horizons during the Toy Day event for Christmas Eve held on December 24th. But you'll need to wait until you play on a day after December 24th as well to actually get the item! Confusing? We'll explain.
Get Toy Day Stockings From Jingle
Before you can get Jingle's Photo, you'll first need to get your hands on some Toy Day Stockings from Jingle himself during Toy Day on December 24th. Look for him outside of Resident Services and speak with him to learn about Toy Day.
He'll give you the DIY recipe for crafting Festive Wrapping Paper, which you'll need to create using 3 Red Ornaments, 3 Blue Ornaments, and 3 Gold Ornaments. Craft 3 of the Festive Wrapping Paper and give them to Jingle for him to hand you the Toy Day Stockings!
Need help finding Ornaments? You can ask Isabelle for some help inside of Resident Services, or check out our Christmas Ornaments guide here.
Hang Toy Day Stockings Inside
After you've gotten your Toy Day Stockings from Jingle, he'll share a hint about how something might happen if you hang them up inside your house tonight. That's not just writing fluff — it's the key to unlocking Jingle's Photo!
So make sure to head inside your Animal Crossing: New Horizons house and hang the Toy Day Stockings item on a wall somewhere inside. Jingle says to do this on the night of December 24th during Toy Day, but it may be possible to do so on other days — we're not confident either way.
Interact With Stockings To Get Jingle's Photo
Once you've got the Toy Day Stockings hung up inside your house, you'll want to check back on them during the next in-game day or later. So if you hung them up on December 24th for Toy Day, look out for Jingle's Photo on December 25th.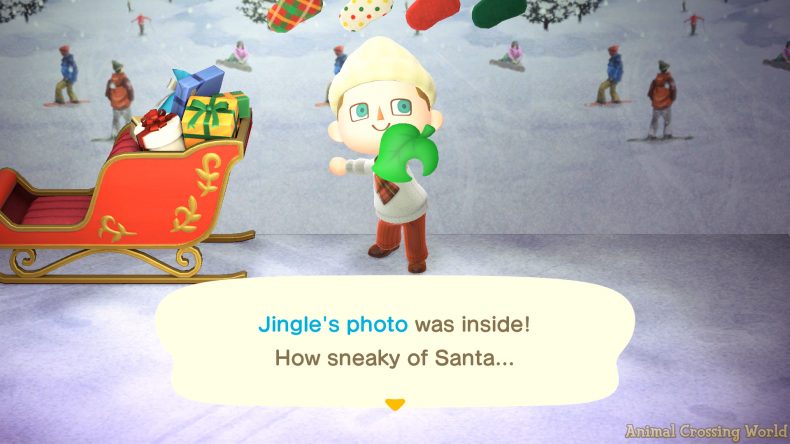 To check your Toy Day Stockings, simply walk up to them on the wall and press the A button to interact. If you've done everything right, you should get a dialogue pop-up about finding Jingle's Photo inside as a gift. This can only occur once though, so it won't happen if you already did this previously.
We've been able to confirm though that Jingle's Photo can still be found inside the Toy Day Stockings on a later day, like say December 28th, if you don't grab it right away on Christmas Day.