Ceiling Furniture is a new special item type that you can place on the ceilings of your house in Animal Crossing: New Horizons (ACNH) introduced with Version 2.0! Learn how to unlock this new type of item, and see all of the Ceiling Funriture items you can collect.
Newly introduced in the massive Version 2.0 Update released on November 3rd, you'll need to have your copy of Animal Crossing: New Horizons fully updated to experience Ceiling Furniture.
How To Get Ceiling Furniture
To get started with using Ceiling Furniture in Animal Crossing: New Horizons, you first need to unlock the feature by purchasing a license at the Nook Stop Terminal at Resident Services.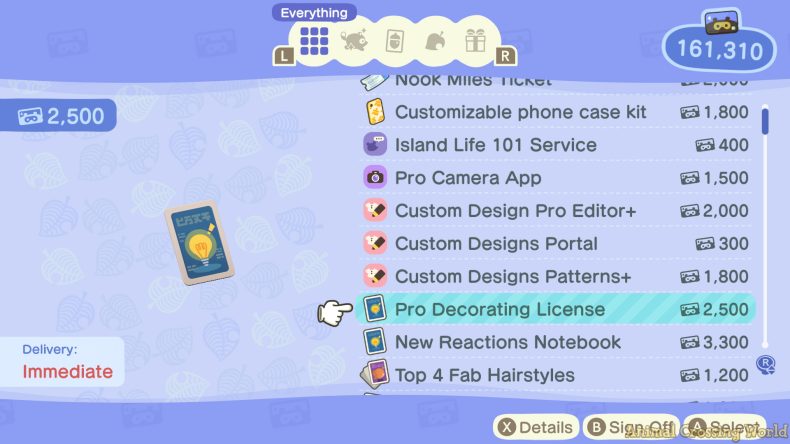 For a small fee of 2,500 Nook Miles, you can purchase the Pro Decorating License card under the Redeem Nook Miles section of the Nook Stop Terminal. Alternatively, it can be unlocked for free from Lottie as part of Happy Home Paradise DLC.
This license will unlock both Ceiling Decor and Accent Wall design options in  your home.
Buy at Nook's Cranny
Starting with the Version 2.0 Update, you can find new Ceiling Furniture for sale inside of Nook's Cranny! Note that these items can't be purchased without owning the Pro Decorating License.
Buy at Paradise Planning Office Shop
Additionally, you can discover new Ceiling Furniture items for sale at the shop inside of Paradise Planning's office in the Happy Home Paradise DLC!
Crafting
While the vast majority of Ceiling Furniture items are sold at shops, there are three items that can be crafted using DIY Crafting recipes: Festival-Lantern Set, Hanging Glowing Moss, and Vine Garland.
Complete List of Ceiling Furniture in Animal Crossing: New Horizons
There are 39 unique new Ceiling Decor furniture items that you can collect in Version 2.0 of Animal Crossing: New Horizons and place in your home! In the section below, you can find the names and default images for each item, but most of them have many different variations too.